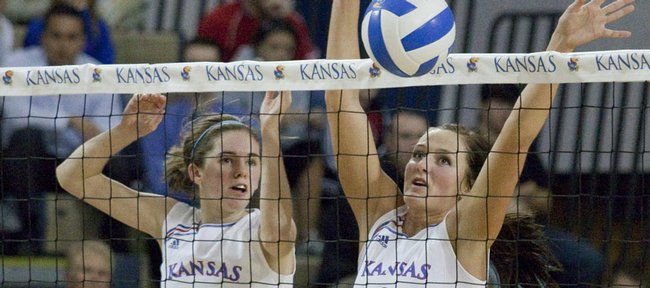 It's probably appropriate that Kansas University's Big 12 Conference volleyball home opener against Oklahoma went five sets, because the Jayhawks and Sooners were not separated by much on Wednesday night.
With both teams reaching the 20s for four straight games — OU winning 25-21 and 27-25 in sets one and four, and KU winning 25-20 and 25-22 in sets two and three — the match came down to which team executed best in the fifth and decisive set.
As it turned out, it was the Jayhawks who prevailed, 15-10, in the fifth set and moved to 8-3 overall and 1-1 in Big 12 play.
"I don't think anybody walked away from here without getting their money's worth," KU coach Ray Bechard said. "Overall, it was 21⁄2 hours of fun for people to watch. Sometimes it was agonizing for the bench, but overall it was a great win."
After not recording a single block in the opening set, the Jayhawks toughened up at the net in set No. 2 and finished with five total team blocks, which served notice that the Jayhawks would not be pushed around.
"We finally showed that we're not going to let anyone come in here and take anything from us," junior Karina Garlington said. "We really valued every single point tonight and I think that showed."
KU's bigger presence at the net paced the Jayhawks to a 25-21 victory in set No. 2, a set in which Kansas never trailed.
The Jayhawks took their first lead of set No. 3 on an incredible hustle play from junior Melissa Manda. After OU's Suzy Boulavsky smashed a ball off of Garlington, the Jayhawks scrambled to keep the ball up. That included Manda's mad rush to save the ball near the net, in which she raced out of bounds, flipped the ball over her head with the back of her hand and slipped it inside the antenna. OU failed to put the ball down on the return and KU went ahead, 9-8. On the next rally, senior Paige Mazour ripped a kill to the floor to put the Jayhawks up by two and force the Sooners into a timeout. KU trailed just twice the rest of the set and moved to set No. 4 with a 2-1 lead.
Garlington sizzled down the stretch all night, as she unloaded four straight kills in set No. 3 to turn an 18-all tie into a 22-18 KU lead. Later, in the fifth set, after Lawrence High product and true freshman Tayler Tolefree broke a 10-all tie with one of her seven kills, Garlington recorded the final four kills, including match point, which came on one bad ankle and with her off hand.
"When it's match point, you just have to make a play," Garlington said. "That's just part of fighting to the end and having those competitive instincts take over."
Added sophomore setter Nicole Tate, who recorded 64 assists on the night: "Karina was on tonight so I just kept feeding her the ball."
Garlington led all Jayhawks with 28 kills, the ninth time in her career she's eclipsed the 20-kill mark. Mazour was second with 14 — she also added six blocks and a career-high three solo stuffs — while sophomores Allison Mayfield and Lauren Hagan chipped in with 13 and 10, respectively.
While KU's attack was solid, it was defense that was praised by the head coach. Manda posted a team-high 29 digs, Tate finished with a career-high 21 digs and senior Katie Martincich recorded 19 digs.
"Ninety-six digs tells you about a tremendous effort on our side of the net," Bechard said. "Our kids were really willing to take a few risks and stay aggressive late."
Once they got there, there was no way the Jayhawks were backing down.
In the three sets they won, the Jayhawks were 3-for-6 on set points, including 1-for-1 in the fifth set that sent the Sooners home.
"Any time it's in five sets and you're at home, you have to get the win," Mazour said.
More like this story on KUsports.com