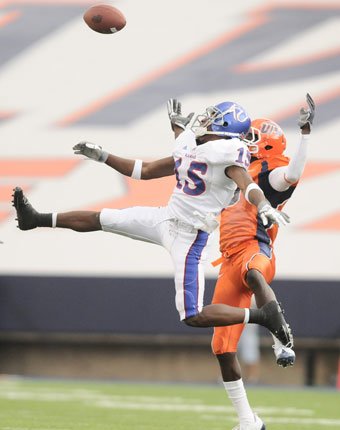 If you ask them, cornerbacks will tell you that playing their position ultimately comes down to confidence — a belief in one's own talents, the ability to shake loose the after-effects of an earlier miscue, the knowledge that the next play always will end favorably.
In the Kansas University meeting rooms, they call it "swagger," and they'll tell you no successful corner can function without it.
"Confidence is the absolute most important thing," KU cornerbacks coach Je'Ney Jackson said Tuesday. "If a corner loses confidence, then things can go downhill from there. So that's what I preach to my guys. That's something I tell them every day."
Last season, in the middle of a massive midseason secondary overhaul, that confidence was sometimes tested.
As the Jayhawks struggled to a national ranking of 114th in pass defense, giving up a handful of big plays a game and adjusting to the absence of former All-America cornerback Aqib Talib, players were admittedly unsure of themselves at times.
Through three games this fall, however, the No. 20 Jayhawks have been markedly improved. While they're currently allowing 225 passing yards per game — just 72nd nationally — this speaks more to their opponents' rampant use of the pass once they've fallen behind. In a display of bend-but-don't-break defense, the Jayhawks have allowed only two passing touchdowns in three games.
As a result, members of the secondary — including corners Daymond Patterson and Chris Harris — are feeling pretty good about themselves these days.
"I'll tell you what," Jackson said, "I've got some guys that are playing very confident right now."
Which is good, because a strong dose of self-confidence will probably go a long way Saturday at Memorial Stadium, when the team's corners will find themselves matched up against Southern Mississippi's talented — and particularly large — sophomore receiver, DeAndre Brown.
Having caught just nine passes for 82 yards in two games this season, Brown's numbers aren't especially earth-shattering, but his size (6-foot-6) and obvious talent (he caught 67 passes for 1,117 yards and 12 touchdowns as a true freshman last season to earn freshman All-America honors) have paved the way for a number of dominant performances, including a 221-yard, four-touchdown outing against Rice midway through the 2008 season.
In short, he's the kind of player who specializes in draining corners of their aforementioned swagger.
"You can't change the structure for one guy," Kansas coach Mark Mangino said, asked whether the team will make adjustments to account for Brown's size. "You've just got to play well. Play good, sound fundamentals, understand what he's trying to do and what his strengths are and how to play against those strengths.
"But he's a very talented guy."
Despite the upcoming challenge, however, Patterson, who is listed at 5-9, insisted his approach and demeanor will remain much as they have throughout the team's first three games this season.
"I don't think you can go out there and be like, 'OK, this play or this man — this guy is going to be good, so I have to have a different type of swagger out there,' or, 'I have to be more cocky this game or be more vocal,'" he said.
"I think you have it or you don't."
More like this story on KUsports.com