Podcast episode
KU football coach Mark Mangino addresses the recent incidents regarding the KU football and basketball teams.
Videos
Altercation between KU athletes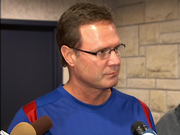 A fight between KU football and basketball players broke out Tuesday night, and was reignited Wednesday morning.
Up until two days ago, the biggest problem facing Kansas University football coach Mark Mangino was how to defend against Southern Mississippi's quirky "Wildcat" formation.
Following a tumultuous past two days, however, in which Kansas University police were dispatched to two separate incidents involving fights between members of the school's football and men's basketball teams, the coach found himself dealing with questions Wednesday about the status of his players heading into Saturday's 11 a.m. game against the unbeaten Golden Eagles.
"There's still a lot of things that have to get to me, in terms of exactly what happened and how it happened," Mangino said following the team's afternoon practice. "But based on what I have right now, I don't see anything that would have me discipline any particular player."
The trouble started Tuesday evening, when police responded to reports of fighting outside KU's Burge Union and sophomore basketball player Tyshawn Taylor, a starting guard for the projected preseason No. 1 Jayhawks, was treated at Lawrence Memorial Hospital for a dislocated left thumb that will likely sideline him for three to four weeks.
On Wednesday, meanwhile, another incident erupted near Budig and Wescoe halls just before 10 a.m. on the KU campus, which witnesses said may have stemmed from a player being pushed down a flight of stairs. A witness told KU's student newspaper the pushing was done by one of the Morris twins, basketball players Marcus and Markieff.
By Wednesday afternoon, university officials had organized a meeting among the football and basketball teams as well as the school's athletic administration, including athletic director Lew Perkins. There, the events of the past two days were discussed and, in the eyes of at least two players, resolved.
"I think everybody took (heed) of what was said and who said it, and we're just anxious to move forward," said senior wide receiver Kerry Meier, who added he believed the feud between team members had ceased. "This is not something that KU is proud of by any stretch, but what's happened has happened, and we're ready to move forward."
"It's just fine," added senior QB Todd Reesing. "There's no bad feelings. There's nothing that's going to be a continuation of this. It's past us. We're not going to let it distract us. We have a game Saturday and that's the most important thing."
As of Wednesday night, it remained unclear which Kansas football players had been involved in the fighting, though Mangino insisted that the recent incidents were fueled by the actions of just a few individuals, and rejected the notion that they reflected a larger problem between the basketball program and the 20th-ranked football team.
"We're just talking about probably a few guys here that let their emotions get the best of them," Mangino said. "But it's not nearly as big a situation as has been portrayed in some media outlets. It's not."
He added that while the events of the past two days left the programs "a little embarrassed," they wouldn't affect the team's preparations heading into Saturday's game.
"We've got 105 kids that have invested an entire year in preparing for these games," Mangino said. "... A few kids let their emotions get the best of them, probably over something silly, which is always the case. But I'm comfortable with the way the meeting transpired. I feel good about our kids, our basketball players, and we'll all be just fine."
More like this story on KUsports.com