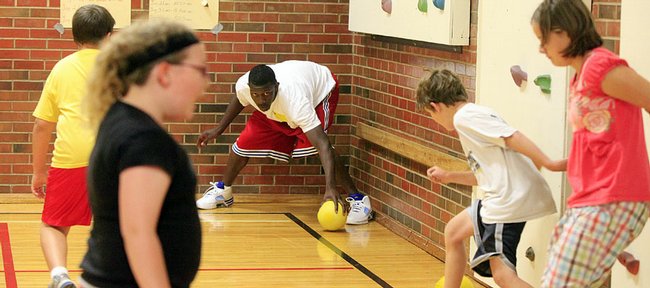 Some visitors to Sunset Hill School Tuesday morning had students looking up, way up.
Several members of the Kansas University men's basketball team — junior center Cole Aldrich, senior guard Mario Little and sophomore guard Jordan Juenemann — dropped in on physical education classes to make sure the students understand that healthy eating and exercise make for a great game plan.
"Not many people might think about that, but the better you eat, the healthier you eat, your body's going to respond that much better," said Aldrich. "It's really a big part of our lives."
While the three players make up almost 20 feet and 650 pounds of the Jayhawks, the Sunset students weren't intimidated.
"I thought they'd be taller," third-grader Brynn Kelly said. "They were telling us about fitness and healthy snacks and fun."
The Fun and Fitness with the Jayhawks program gives young students a chance to hear straight from the players about what it takes to be a college student-athlete. And before class ended on Tuesday, they squeezed in a quick pickup game.
The Jayhawks had quite a height advantage against elementary students, and Little said he'd rather play against kids his own size.
"It'd be easy, but it wouldn't be fun," Little said. "It's good to teach kids the right way to live, the right way to eat and just how to play the game."
The elementary school kids got their very own autograph session and asked questions of the big guys.
"I think it was really cool getting their autograph and I'm going to save that forever," Brynn said.
No matter if they swooshed or missed the basket during the shoot around, both players and kids felt like winners.
"These kids are great and they're so much fun," said Juenemann.
And maybe the players' good deeds off the court will pay dividends once the season starts later this fall.
"We're out here enjoying our time, taking a little step away from basketball," Aldrich said. "(We're) trying to give back to the community that gives us so much."
Freshman guard Xavier Henry, sophomore guard Tyshawn Taylor and junior guard Chase Buford will visit Langston Hughes School on Friday.
More like this story on KUsports.com