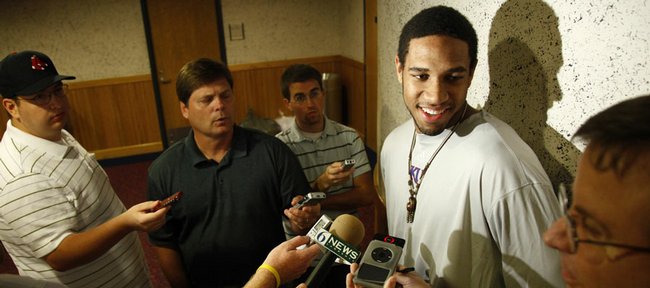 There are days Kansas University freshman Xavier Henry dominates pick-up games contested in the Jayhawks' new basketball practice facility.
"He's a tough guy to guard. When he gets hot, no one can stop him. We play first to seven or nine (baskets). One game he scored all of his team's seven points," junior guard Conner Teahan said.
Of course, no newcomer — not even Rivals.com's No. 8-rated player in the Class of 2009 — rules the two-hour sessions each and every afternoon. KU, which is expected to open the season ranked No. 1 in the land, is way too talented for that.
The 6-foot-6, 225-pound guard/small forward from Oklahoma City has his off days, too.
"Pick-up ... there are a lot of guys out there trying to get up shots. It's hit and miss on who is playing well," junior guard Brady Morningstar said. "But he (Henry) has definitely played well in pick-up so far. We're excited to have him around."
The former Putnam City High standout arrived on campus in August with a reputation as versatile player who could hit the outside jumper as well as attack the basket. He hasn't disappointed.
"He can dribble and drive, shoot the ball and handle it," Morningstar said of the McDonald's All-American. "Once he gets by the defender, it's tougher to stop him because he's a big body. He has broad shoulders and is strong."
Noted Teahan: "He has a good crossover. It's quick. He elevates. He's good at creating separation.
"I mean, he's naturally an athlete. He has some things to work on. That's how every freshman is. Nobody comes in here with all their skills to the max. He uses his body. He's a tough guard."
Henry — he averaged 28.7 points and 6.9 rebounds per game his senior season — is expected to battle Texas' Avery Bradley for Big 12 freshman-of-the-year honors.
"One thing that makes him fit with our team is his athleticism," KU junior center Cole Aldrich said. "He will be able to shoot the ball and take people off the dribble, which will help us."
Henry is definitely having fun running the court with his new teammates.
"It's competitive. Everybody wants to win. We all try hard. We've had some pretty good games," Henry said of the unsupervised pick-up basketball.
"It's probably around what I expected," he added of the competition. "They talk about the change of speed and all that. It's a little faster than high school, but not that big a transition yet just because we're in the early stages of pick-up."
Henry says he has found KU's individual workouts with the perimeter players and coaches to be most valuable.
"We do a whole bunch of shooting and conditioning. We always have something with the shot. We'll be cutting off screens or setting up for shots," Henry said.
"I've been working on my footwork off the screens and how to use screens. Repetition of the footwork stuff ... if you keep doing those things your shot will improve and your body will get better and balanced."
Morningstar and Teahan remember having problems with footwork early in their careers.
"One of the main things when you get to college is trying to figure out how to come off a screen, the quickest way to step into a shot and get your shot off, which we work on a lot," Morningstar said.
"You can never be too good with footwork," Teahan noted. "It keeps you in balance and helps you create separation."
Henry has impressed teammates with his willingness to listen to coaches during the individual drills and immediately put to use what he's been told.
"It's the only way to get better. There's no need to put something off," Henry said.
As far as his first general impressions of KU's team ... Henry likes what he's seen of senior Sherron Collins and junior Aldrich.
"You can tell they are the top people on the team. They know how to control the court," Henry said.
He was asked which Jayhawk has pleasantly "surprised" him.
"Jeff Withey," Henry said of the 7-foot University of Arizona transfer, who will be eligible to play at the end of first semester. "He's always active and he's 7-foot. That's a good combination."
Withey is part of a strong recruiting class that includes power forward Thomas Robinson and combo guard Elijah Johnson as well as Xavier's brother, Memphis transfer C.J. Henry. Xavier and combo guard C.J. will both be part of a crowded backcourt this season.
"We've got so many guys on the team it'll be hard for everybody to get a whole bunch of playing time, but I think coach (Bill) Self will set it out real well. Everybody will get just the right amounts they work for," Xavier Henry said.
He's been too busy making the adjustment to college to be stressing about minutes. Henry is enrolled in five classes.
"School is not really hard as long as you do your stuff on time," Henry said. "I'm doing everything when I'm supposed to and managing my time well, so it's been a good time so far."
As far as his least favorite part of college ...
"The thing I don't like is getting up in the morning for 8 o'clock classes," Henry said with a smile. "The thing I do like is how everything is spread out. You can take a class and come back three hours later for another class, then you've got basketball."
Xavier bonded well with his roommate, Chase Buford, and the rest of his teammates. C.J. is a popular player, also.
"X and C.J. are cool," sophomore Marcus Morris said. "They are level-headed, not cocky guys. They are good teammates. I play X in a video game almost every day. I always beat him. He's good, though."
"Yeah right ... right," Xavier Henry said, disputing the fact he is an easy mark in sports video game action.
He'd prefer the real thing.
"I'm taking it day by day, but I'm ready for it to start," Xavier said of his freshman season. "I want to get in the fieldhouse (the week of the Oct. 16 Late Night when renovations are complete). I've not seen it in a long time. That's a special place. I want to play in there."
More like this story on KUsports.com