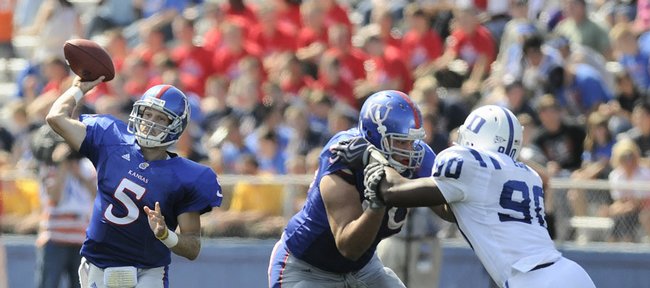 For those members of the Kansas University football faithful who struggle with the early 11 a.m. kickoffs — and there seem to be plenty who do — the team inadvertently might have provided a slight reprieve: Based on the happenings of the season's first three games, fans can feel free to sleep through the first 30 minutes without missing too much.
While the Jayhawks have outscored opponents by a lopsided total of 127-26 this season, they hold a much less daunting 17-7 first-quarter advantage, as the team's offense has typically taken some time to get comfortable.
"There's just something about coming out and getting going," KU senior receiver Kerry Meier said following the Jayhawks' 44-16 victory over Duke on Saturday. "We've been sputtering a little bit."
Against UTEP two weeks ago, for instance, Kansas managed just a field goal in the first quarter of what would turn into a 34-7 rout. And after quarterback Todd Reesing found receiver Dezmon Briscoe for a 14-yard touchdown pass with 7:10 remaining in the first quarter against Duke, the Jayhawks went scoreless on their next four possessions, punting three times and once failing to convert a fourth-down attempt deep inside Duke territory.
On Sunday, Kansas coach Mark Mangino blamed the slow starts on the various maneuverings of opposing defenses, which he says have gone out of their way to try to confuse Kansas' potent offense.
By way of disguised coverages and the introduction of new defensive elements, he said, the team's early-season opponents have sought to keep Reesing, who's averaging 268.7 passing yards per game this year, off balance in any way possible.
"Any time — in any sport — that you show up to play an opponent and they give you some different looks that maybe you hadn't been able to see in the past, of course you've got to take time to get a grasp on what they're doing," he said.
At the same time, Mangino insisted he didn't view the slow starts as a problem, citing a handful of situations in which an untimely penalty or dropped pass has stymied an otherwise successful drive.
And, as he pointed out Saturday, such strategies usually prove to be a temporary solution.
"People respect Todd Reesing," Mangino said. "Our opponents respect him. They're doing everything they can to try to distract him, try to give him different looks, try to bait him into disguises and change the coverage up.
"You can fool him for a while," the coach added, "but you won't fool him all day."
The good news for the Jayhawks is that, in each game so far this season, they've eventually settled into an offensive rhythm.
Against the Blue Devils, they scored on five of their final six possessions, while following up a seven-point first quarter against lowly Northern Colorado in the season opener with a 21-point outburst over the next 15 minutes.
For now, coaches and players don't seem to be putting too much weight into the unfavorable trend, though that might change as the level of competition gradually increases over the next few weeks — beginning with Saturday's 11 a.m. game against visiting Southern Mississippi.
At the very least, Meier allowed, it's an issue that, if cleared up, can only stand to help a team battling for its first outright Big 12 North championship in school history.
"Once we get that first drive out of the way, we seem all right," Meier said. "But if we come out and get things going right off the bat, it's going to make us that much better."
More like this story on KUsports.com