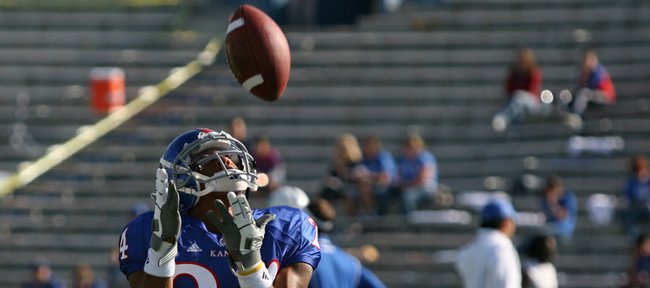 Beau White delivered the bad news to the Kansas University football receivers in the locker room.
As is tradition, the KU assistant media-relations director went to the wideouts to tell them their statistics from the game. White told Johnathan Wilson his final tally was 63 receiving yards.
"(Johnathan) just got mad, because he knew if he would have caught that post (route), he probably would have had 100," KU junior Dezmon Briscoe said after KU's 44-16 victory over Duke on Saturday.
Wilson wasn't the only one upset thinking about catches he could have made.
Though Briscoe finished with six catches for 117 yards, he couldn't help but wonder how much better the team's numbers would have been had he not dropped two second-half passes.
"As a wideout, it hurts bad when a ball hits you dead in the hands and you don't come up with the play," Briscoe said. "That's all wideouts. It's just the nature that we have."
Sure, it might be nitpicking, but even KU coach Mark Mangino voiced his displeasure after seeing some big plays sabotaged by receivers who couldn't quite hold on to the football.
"We've got to eliminate some drops," Mangino said. "I think we've had some crucial drops, and I'm not pleased with it, but it carries over to the practice field.
"On a Thursday practice, we had too many drops, and I always say, 'You play the way you practice.' We dropped some key balls tonight and did last week. We've got to get that cleaned up."
So what's the reason for the dropped passes?
Mangino said it could be that his receivers are turning their eyes upfield too soon. Or they could be relaxing too much when they are out in space.
"Good teams don't do that," Mangino said, "and we've got to learn, and we've got to mature as a team and not let that happen."
Briscoe said he was as surprised as anyone with the high number of balls that hit the turf.
"We go through practices and we catch everything usually around us," Briscoe said. "For us to come to the game and (have) it end up happening, it's just disappointing."
Many of KU's offensive players weren't celebrating their effort, despite putting up 490 total yards.
"Right now, we expect nothing but the best from everybody," KU receiver Kerry Meier said. "Personally, I think our performance out there was average."
Even with the drops, KU quarterback Todd Reesing managed 338 yards on 28-for-41 passing.
"I would just say it's a concentration thing," freshman wideout Bradley McDougald said of the drops. "You've just got to look the ball all the way in. You can't ever take a play off, because you never know when Todd's going to throw the ball out there."
More like this story on KUsports.com