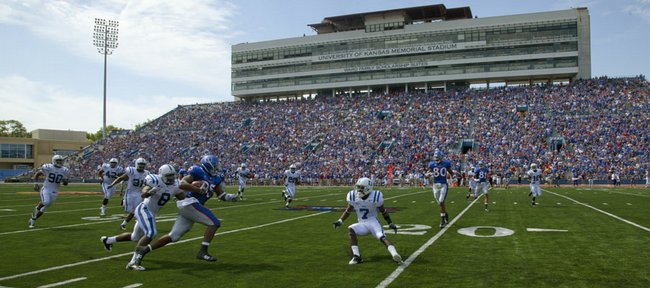 For the second time in three games, Kansas University's football team played without one of its top offensive players.
And for the second time in three games, the Jayhawks carried on as if everything was perfectly normal.
Two weeks after opening the season without preseason All-Big 12 receiver Dezmon Briscoe, who suffered a one-game suspension as a result of academic issues, the Kansas offense didn't miss a beat in the absence of starting running back Jake Sharp, turning in a typically potent performance in Saturday's 44-16 victory over visiting Duke.
"That's what you see in big-time programs," said KU quarterback Todd Reesing, who threw for 338 yards and three touchdowns on 28-of-41 passing against the Blue Devils. "If someone goes down, there are guys that are capable and ready to play."
Saturday, one of those guys happened to be backup running back Toben Opurum.
With starter Jake Sharp idling on the sideline for much of the afternoon, limited by an undisclosed injury suffered during practice last week, Opurum, a true freshman from Plano, Texas, enjoyed the finest game of his young career.
Despite a slow first half, in which the Jayhawks totaled only 61 rushing yards, Opurum piled up 120 total yards (70 rushing, 50 receiving) and two touchdowns. He also provided the game's top play with a one-handed catch in the second half and barreled into defenders with such vigor that, following the game, one reporter was compelled to ask KU coach Mark Mangino whether Opurum called to mind a young Jerome Bettis.
"Jerome Bettis?" Mangino said, in mock (or quite possibly legitimate) disgust. "He's played three college games, my friend. Jerome Bettis is in the Hall of Fame. You're way out in front of this train. Let's save that for a couple years, OK?"
Still, plenty about Opurum's performance left Mangino grinning.
"Toben had to step up, and he did a really, really good job," said the coach, whose 22nd-ranked team improved to 3-0 heading into next week's game against Southern Mississippi. "He's a true freshman, and he made a few mistakes, but he did some really awesome things."
Meanwhile, it's hard not to look at Opurum's performance as a testament to the depth that has been developed under the eight-year watch of Mangino.
Whereas in the past an injury to a player as prominent as Sharp might have spelled disaster, these days the team's foundation is such that it can sustain even with a key cog unavailable.
Playing without Briscoe against Northern Colorado, for instance, the team still finished with 547 total yards, and in the absence of Sharp — who entered the weekend as the conference's second-leading rusher — this week, the Jayhawks rolled up 490 yards of total offense and their second-highest point total of the season.
"I think that's a credit to what coach Mangino and his staff have done with recruiting," said Opurum, who chose KU over traditional powers Notre Dame and Florida. "I think it's provided depth so that if anything happens, if someone goes down, anybody can step in and take their place."
That was certainly the case Saturday, in a game in which the Blue Devils managed to hang tough early on.
It took Duke just two plays and 35 seconds to put Kansas in its first hole of the season. Quarterback Thaddeus Lewis completed a 66-yard pass to a slanting Austin Kelly and then rushed for a 21-yard touchdown that gave the Blue Devils a 7-0 lead.
Just over two minutes later, however, Reesing connected with Briscoe on a 14-yard touchdown pass to tie the game, then followed with consecutive scoring passes to Sharp and Kerry Meier before KU defensive end Maxwell Onyegbule returned a Thaddeus Lewis interception 48 yards for a touchdown in the opening minutes of the third quarter to push Kansas' lead to 27-7.
The Blue Devils never threatened again, thanks largely to a KU defense that, with the exception of two sub-par series, turned in another solid outing, giving up its highest yards total of the season — 394 — but forcing two turnovers and holding its third straight opponent to 16 points or fewer.
Following another example of Kansas' vast offensive options, meanwhile, players and coaches can sleep soundly with the knowledge that they can make it through some bumps and bruises.
"That's a good thing," said Meier, who finished with eight catches for 64 yards and a score. "(We know that) when one of our horses isn't running, we have a backup that can come in and fill in and do just as good."
More like this story on KUsports.com