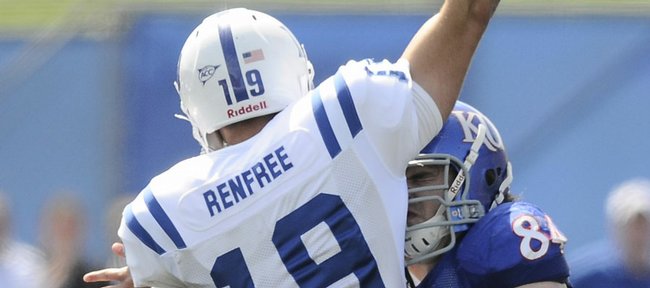 Duke quarterback Thaddeus Lewis didn't look like a guy nursing a sore ankle on a shocking 21-yard touchdown burst that opened the scoring on Saturday morning at Memorial Stadium.
"I ran as fast as I can run, actually," Lewis said after the Blue Devils' 44-16 loss to No. 22-ranked Kansas University.
"That was great," he added of the score, which followed a 66-yard pass completion to Austin Kelly on Duke's first play from scrimmage. "Just to come out there and do what you know you can do gave us a boost, gave us that edge. We kept that edge in our back pocket."
Lewis, a 6-foot-1, 215-pound senior from Opa-Locka, Fla., completed 16 of 27 passes for 184 yards and two interceptions. He split time with 6-3, 210-pound Scottsdale, Ariz., freshman Sean Renfree, who completed 14 of 23 passes for 115 yards and a score.
Lewis — he hurt an ankle and battled the flu in the preseason — also put some points on the board to open the second half.
He had a pass picked off by KU defensive end Max Onyegbule and brought back 48 yards for a Jayhawk score.
That interception turned a 13-point Duke deficit (20-7) into a huge 20-point hole.
"Oh, man, that was a great (defensive) call. I didn't even see him," Lewis said of Onyegbule. "They dropped the defensive line out, and they twist. I saw the passing lane. He (Duke receiver) was open. He (Onyegbule) did a great job of hiding behind the line. There were some big guys up front. I didn't see him at all. I threw it, and he made a great play on the ball.
"That hurts," Lewis added. "Coming out it was a two-possession game. But hats off to the team. We never quit."
Duke lost the overall yardage battle, 490 to 394.
"They are far better than the No. 22 team (in country) because people are going to have a hard time defending that team," Duke coach David Cutcliffe said. "They make you look a little worse than what you are. They will be a team that leads the country in explosives. The 20-yard plus plays ... we don't get enough of that."
Cutcliffe was impressed with the play of KU quarterback Todd Reesing, who rushed for 51 of KU's 152 yards and hit 28 of 41 passes for 338 yards and three touchdowns.
"He may be the best creator I've been around. I don't know how you hem him up," Cutcliffe said. "We tried every way we know how. We got some pressure and knocked him down some. He's a heck of a player."
Duke may have a budding star in red-shirt freshman QB Renfree. His highlight was an 11-yard TD pass to Donovan Varner in the fourth quarter.
"We lost. It's all that matters," Renfree said. "You can match them in yardage. It doesn't mean anything when you lose.
"They had a very good defense. They stepped up on third downs when they needed to and stopped us in the red zone."
Cutcliffe said there is no Duke quarterback controversy. He's just getting his freshman some playing time while going with the senior as starter.
"I thought it was fine today," he said of the system. "I didn't have any set routine, just did it on feel. I was proud of both of them keeping their heads in the game. Both are great youngsters. If you don't have great people, sometimes it's hard to do. They are both great young people."