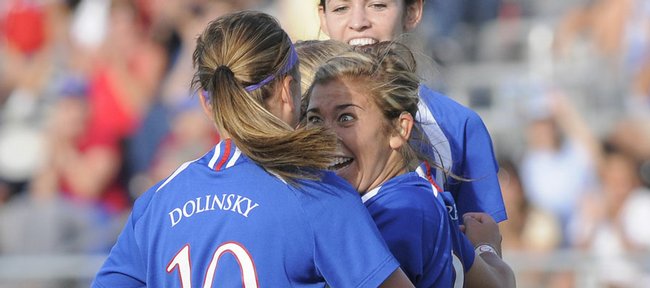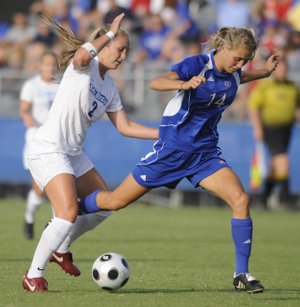 Eight games into the Kansas University soccer team's 2009 season, this is what coach Mark Francis has realized about his team: When it shows up ready to play, it can be a pretty good college soccer squad. When it doesn't, it's a fairly average one.
"Hopefully," he said, "we'll be pretty good more than we're average."
Go ahead and pencil Friday night's victory into the "pretty good" column.
In an offensive barrage that included goals from five players, the Jayhawks routed 18th-ranked San Diego, 5-0, on the first day of the four-team Jayhawk Invitational at the Jayhawk Soccer Complex.
The victory, which gives KU a 6-1-1 record, represented a welcome development for a Kansas team coming off its toughest week of the young season.
Despite heading into last weekend's Colorado College Invitational with a 5-0 record, the Jayhawks did not show up ready to play and thus left winless, falling 2-1 to Denver in the opening round and finishing in a scoreless tie with Colorado College in the next.
"We were definitely disappointed," said senior midfielder/forward Monica Dolinsky, who finished with two assists Friday, the second of which broke the previous school career record of 24. "We kind of let ourselves down, so it was more disappointed in ourselves. It was one bad weekend."
Friday, however, proved to be a redemptive outing.
With the exception of a 15- to 20-minute stretch in which Francis felt his team lost its composure a bit, Kansas looked like a team worthy of its No. 22 national ranking, moving the ball quickly and efficiently while rolling to its largest victory margin over a ranked opponent in school history.
Sophomore forward Emily Cressy scored the game's first goal in the ninth minute, off an assist from Dolinsky, and midfielder Shelby Williamson added an unassisted goal late in the first half to give Kansas a 2-0 lead at halftime.
Things didn't slow down much in the ensuing 45 minutes. In one three-minute period midway through the second half, Caitlin Noble and Lauren Jackson connected on goals to push the lead to 4-0, and Rachel Morris scored in the 84th minute on an assist from Sierra Miramontez to conclude the scoring — though at least one player insisted the team left a couple in the chamber.
"I felt like we could have kept going — like 10-0 — if we had more time," said Jackson, who provided what was arguably the game's top play when she dribbled the length of the field to net the team's fourth goal.
The dominating performance certainly bodes well for the start of Big 12 play next week, when Kansas opens conference play on the road against Oklahoma State.
But Francis was sure to point out their most recent effort will mean little if the Jayhawks don't take care of business Sunday, when they take on South Dakota State at 1 p.m. on the invitational's final day.
"I told the girls this win does us absolutely no good if we don't show up with the same mentality on Sunday," the coach said. "We'll see how that works, but I think that's going to be important. We don't think about conference now; we've got to win on Sunday."
More like this story on KUsports.com