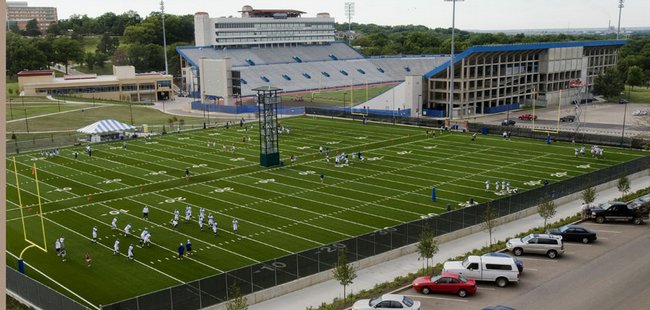 In the song, "Hold Up," with R. Kelly, famed hip-hop artist Jay-Z describes the relationship between the two icons with the following lyric, "I'm back, in a zone like Duke or Stanford... Me and the boy Kel, like Duke and Kansas."
Odds are, when Jay-Z wrote it, he wasn't thinking Mark Mangino and David Cutcliffe.
This week, however, Kansas and Duke fans are, as the No. 22 Kansas University football team (2-0) plays host to Duke (1-1) at 11 a.m. Saturday at Memorial Stadium.
The meeting will be the first for the two programs, but KU and Duke have a storied history of confrontations on the hardwood, including two Final Four clashes and a meeting in the 1991 national championship game.
Kansas has made great strides to become more than a basketball school under the leadership of Mangino, and Duke, led by Cutcliffe, now in his second season, is hoping to follow in the Jayhawks' footsteps.
While both schools have earned their place as a visible element of the college football world, it's no mystery to anyone what both remain known for.
When asked at Tuesday's news conference to share the first thing that came to mind when hearing the name "Duke," four Jayhawks uttered the same word.
"Basketball," sophomore defensive tackle Patrick Dorsey said. "It is kind of crazy because it's two predominant basketball names playing each other but football is on the rise at both places."
The most interested respondent of the four was sophomore cornerback Daymond Patterson.
"Growing up, I was a big Duke basketball fan," said Patterson, who credited television appearances and former Blue Devils point guard Jason Williams as reasons for his allegiance. "I always watched their games, and even when I came up here I still rooted for the Duke basketball team."
Although he realizes he won't be running a fastbreak or pulling up for three-pointers on Saturday, Patterson gushed at the chance to take on the Blue Devils.
"It's always fun to play teams you haven't played before, and we don't play teams like that too often, Duke, North Carolina, Kentucky, UCLA," Patterson said. "And we're taking every game, from Duke to USC and Florida, we're taking them all the same, we're not taking anybody lightly."
Mangino's feelings about the KU basketball program's role in his team's rise to relevance have been well documented. But with Duke, another basketball powerhouse on the docket this week, the eighth-year KU coach took time out to revisit the topic.
"The people here at KU said a while back, 'Hey, we're tired of this. Why can't Kansas have a good football program,'" Mangino said. "Are they afraid to try, are they afraid to put resources into it, are they just complacent and happy to have one good program? And the answer to that question is: No, they're not complacent. They want to be good in everything.' Sometimes, when people hang their hats on one thing, I think it's because they're afraid of the challenge. Kansas was not afraid of the challenge."
Mangino continued: "(KU athletic director) Lew Perkins came in and said, 'What do you need for football?' And I can distinctly remember telling him, 'Let me go to the restroom and get a roll of toilet paper because that's how long the list is going to be.' He hasn't met all the list, but he's done a pretty good job."
Because of what their coach has been able to do in Lawrence, many Jayhawks enter Saturday's game wary of Duke's position as a team on the rise.
"A lot of people don't want to give us the respect that I feel we deserve," freshman Bradley McDougald said. "We're working to establish not only a basketball name in the athletic industry but also a football name. And Duke is probably going through the same thing as us. They went through camp just like us, they went through conditioning just like us and they'll come out ready to play just like us."
More like this story on KUsports.com