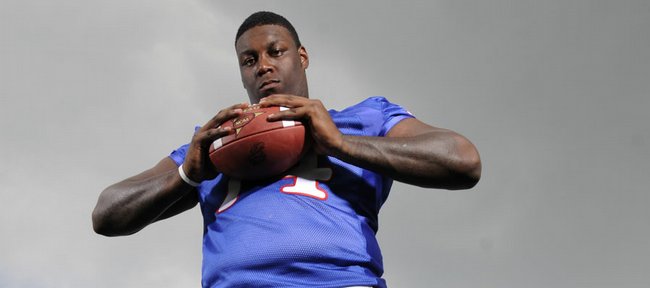 Lost amid the numerous changes on this year's offensive line — and the lingering questions about new left tackle Tanner Hawkinson and recently transplanted center Jeremiah Hatch — was talk of Jeff Spikes, Kansas University's mammoth right tackle.
After a sometimes tumultuous red-shirt freshman year in 2008, however, in which he underwent a midseason position switch and attempted to keep up with the various things being thrown at him, the sophomore has made some early noise this fall.
"I wouldn't say (it was) running around like a chicken with his head cut off," said Spikes of his inaugural season last fall. "But when you know the offense and you know the defense and you can read defenses and you can read different things ... the game slows down dramatically."
"And that's the difference from last year to this year."
So far, things have gone swimmingly for Spikes, a 6-foot-6, 314-pounder out of Painesville, Ohio, and the rest of the team's offensive line. The group has, somewhat improbably, paved the way for the nation's No. 7 rushing attack, as Kansas has averaged 291.5 yards per game and currently features three players —starting running back Jake Sharp, backup Toben Opurum and backup quarterback Kale Pick — among the top 10 rushers in the Big 12.
What's more, it has enjoyed a level of depth that few would have predicted when the season began. Last week, for instance, when Hatch left the game due to flulike symptoms and Brad Thorson moved from his starting left guard spot to take over at center, the Jayhawks still rolled up 255 rushing yards in a 34-7 road victory over UTEP.
"We practice to where everybody gets rotations," Spikes said. "Everybody gets the same looks. We have a two-deep, just like any other team, but if everybody's getting the same coaching, everybody's working on fundamentals, we're able to rotate like that through the game."
Kansas coach Mark Mangino, meanwhile, seems pleased with what he has seen from Spikes, who switched from left tackle to right tackle midway through last season.
Following Wednesday evening's practice, he praised the player's development, citing an increased tenacity and a newfound ability to understand the offense's objective in relation to various defensive schemes.
Asked whether Spikes has developed into a dependable member of the team's offensive line, the coach said, "He's more than dependable."
• Biere could miss Duke game: Mangino said Wednesday that tight end Tim Biere might miss Saturday's game against visiting Duke due to illness.
Biere, who started two games last season when the Jayhawks used a tight end on the first play of the game, caught one pass in the team's season opener two weeks ago, but wasn't listed on the participation report for Saturday's victory over UTEP.
"Tim will be OK," said Mangino. "He's been sick. I don't know exactly if we'll be able to use him this week or not, but he'll be ready for sure for the Southern Miss. game (on Sept. 26)."
• @KU_FANS: Mangino not big on tweeting: In case you were wondering, Mangino's stance on the wildly popular phenomenon that is Twitter is a definite "con."
The coach said Wednesday that he (very) briefly thought about the possibility of creating a profile, but ultimately decided against it. And as a man who knows the constant rigors of directing a Div. I college football program, he retains a bit of skepticism about coaches who find the time to post regular messages.
"I know that it's really big," the coach said. "(But) I still have a hard time believing that people who are really busy with jobs are actually doing that themselves."
More like this story on KUsports.com