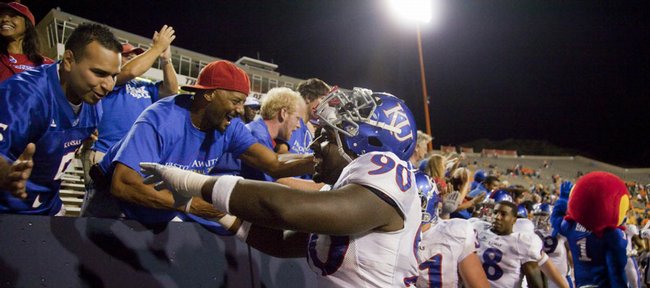 At some point during the past offseason, Kansas University football coach Mark Mangino decided his team's pass rush needed a proverbial kick in the pants.
Then, he set out to make sure it got one.
In addition to hiring a former NFL lineman as his defensive line coach, Mangino took a strong interest in the unit's development. He stopped by regularly to check on things, harped on it constantly, devoted considerable practice time to it, harped on it some more, and by the end of the day each day, he was pretty sure the team's defensive linemen were hearing his voice in their dreams.
"We drilled the heck out of pass-rush work in training camp," the coach said during his weekly news conference Tuesday. "I know the kids were probably sick of it, but they're probably starting to see the benefits of doing it."
In just two games this season, the Jayhawks have recorded nine sacks — including six in last Saturday's 34-7 victory over UTEP, when they held the Miners to just 208 total yards — and are on pace to easily surpass last year's sack total of 29.
During this early surge, meanwhile, perhaps no player has been more instrumental than senior defensive end Maxwell Onyegbule, an unlikely standout who, so far this year, has become arguably the unit's most potent pass-rush force.
"We've only played two games," Mangino allowed. "But I think he's going to be a solid player for us all year."
Heading into this season, however, some were beginning to wonder whether Onyegbule would ever make the leap to impact player. He was a senior-to-be without a college start on his resume — a daunting physical presence at 6-feet-5 and 258 pounds, but a player who'd struggled with the transition from linebacker to defensive end and hadn't managed to make a consistent impact in his first three years at the school.
After arriving in Lawrence as a linebacker out of Arlington (Texas) High, Onyegbule spent one uneventful season at the position before Mangino looked at him one day, decided he looked like a defensive end, and then decided to turn him into one.
From the start, the transition didn't go particularly well.
"It was completely foreign to him," said Mangino of playing on the defensive line. "He was not sure of himself — he was even having problems with alignments when we first moved him. But you could see, every once in a while, this flash of brilliance."
So the coach remained patient, and, in the meantime, Onyegbule kept at it. He got bigger and stronger. Learned how to use his hands and get off the ball with purpose. How to work out of a three-point stance, something he'd never before done.
And still, as recently as this past offseason, he was struggling to find a rhythm. He finished with a team-best 3.5 sacks as a sophomore in 2007, but he battled problems with consistency. He came on strong at the end of 2008, with 13 of his 17 season tackles coming in the final four games, but still lacked the confidence Mangino was looking for.
One day this summer, as he was battling to earn a starting spot for the first time in his career, first-year defensive line coach Tom Sims pulled him aside for a talk.
"I had, like, the worst practice I could ever have," Onyegbule said. "(He) just sat me down and told me 'You have so much potential, you just have to get your mind right — focus, concentrate.'"
"Just don't think," the coach told him. "Just go out and play."
Since that exchange, those flashes of brilliance have become a bit more regular.
He did enough this summer to earn a starting spot this season — despite the offseason arrival of transfer Quintin Woods, a former Michigan signee expected to help Kansas in its quest to get to get to the quarterback — and in his first collegiate start two weeks ago, finished with three tackles.
Last week, meanwhile, he piled up six tackles, two sacks, another tackle-for-loss and a pass breakup and was named the Big 12's co-defensive player of the week for his efforts.
"There was never a time where we thought he wouldn't make it," said Mangino, asked whether he ever worried that Onyegbule wouldn't be able to adjust to the defensive line position. "There was something about him, he wanted to do it so badly that we knew, eventually, the light would come on. And it has."
Of course, even as they praised the player's development Tuesday, coaches spent a good deal of time making sure to temper it with cautionary footnotes. Happy as Sims appeared to be for his pupil, for instance, he also insisted the player had a long way to go in order to become a player of impact in a talent-laden Big 12 Conference.
"As we looked at the film, it's not like he graded out even 80-percent," said Sims, a former defensive tackle with the Kansas City Chiefs, of last weekend's performance. "There's a lot of things that he can do better and that he will do better. The key for us is that we have to continue to improve."
As for Onyegbule, he seems to be up for the challenge.
Happy to finally be in the mix, he understands this season represents his final go-round, and he insists he's ready to make the most of it.
"I guess my time is now," he said. "It's time for me to perform."
More like this story on KUsports.com