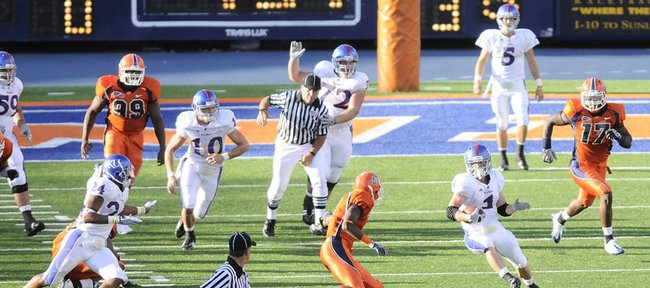 After being named the preseason starter at running back for the first time in his four-year Kansas University career, senior Jake Sharp has wasted little time proving the honor was deserved.
After two games, Sharp is the Big 12's second-leading rusher, having racked up 227 yards on 37 carries for a 6.1 yards-per-carry average as the Jayhawks have emerged as the Big 12's early-season leader in rush offense.
"Jake Sharp has run the ball real well," KU coach Mark Mangino said Sunday night. "I mentioned to our coaches (that) he looks a little quicker than he did last year. His footwork is quicker and faster, and his ability to accelerate seems to be faster."
The result is a Kansas ground game that has improbably surpassed a passing attack — 270 yards per game — led by standout quarterback Todd Reesing and a stable of talented receivers.
Through two games this season, the Jayhawks have rushed for 583 yards (last season, it took the team five games to reach that total) and averaged 291.5 yards per game. And while Sharp has highlighted the emerging ground attack — he also leads the conference in scoring touchdowns with five — he is one of three Kansas players currently listed among in the conference's top 10 rushers.
Backup running back Toben Opurum, a true freshman, is ninth with 141 yards on 24 carries, and backup quarterback Kale Pick, oddly enough, is 10th with 134 yards and a 26.8-yards-per-carry average that was aided by his 55-yard scramble in the final moments Saturday at UTEP.
"The O-line, for the second week in a row, did very well," said Sharp, who finished with 104 yards and three total touchdowns in Saturday's 34-7 victory. "I'm real happy with those guys. I'm real happy to be running behind those guys."
Heading into the season, the offensive line figured to be a question mark following the loss of three starters and the introduction of a left tackle, Tanner Hawkinson, who was playing the position for the first time.
To this point, however, the unit has left little to be desired in paving the way for an offense that's averaging 41.5 points per game.
"That group is getting better," Mangino said following Saturday's victory. "They're a little bit young, but they're talented, and they're tough. We've got two of the three things — we don't have experience, but we'll make it on those two."
More like this story on KUsports.com