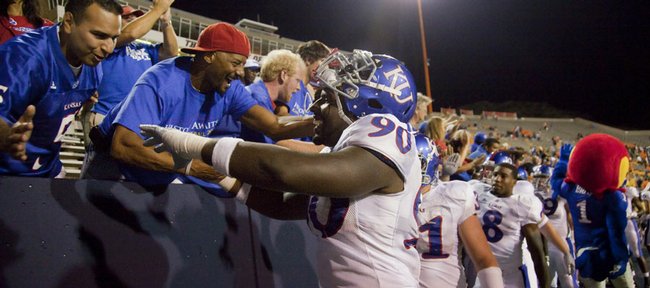 FINAL: KU defeats UTEP, 34-7
KU picks up one first down, and the "Rock Chalk" chant starts from the stands with just over a minute left.
Two more running plays, and it's over (though Kale Pick makes it interesting with a 56-yard run on the game's final play).
KU comes away with the easy victory, though the trainers are tending to Tanner Hawkinson after the final play. After staying down for a minute, Hawkinson gets up and hobbles off under his own power. He might be favoring his right leg just a bit.
KU 34/UTEP 7 — 2:48 left in 4th quarter
UTEP's center starts to snap the ball, then holds onto it. Another flag for UTEP. The Miners have committed 13 penalties for 137 yards.
Patterson can't seem to get the Dante Hall out of his system. Again, he runs backwards on a punt return, and this time, he loses five yards. It won't hurt the Jayhawks in this game, but it's a habit that needs to be broken before long.
KU 34/UTEP 7 — 4:11 left in 4th quarter
A promising drive for KU ends with an Opurum fumble. UTEP recovers but, true to form, is backed up 15 yards because of a personal foul penalty.
KU 34/UTEP 7 — 6:39 left in 4th quarter
KU continues to put constant pressure on Vittatoe. Jamal Greene even gets in the action with a tackle. UTEP once again has to punt after a three-and-out.
Look for a steady dose of running back Rell Lewis after the timeout.
KU 34/UTEP 7 — 8:51 left in 4th quarter
KU continues to extend the field, and Bradley McDougald makes his first catch, going up at the correct time for a deep, jump-ball for a 37-yard reception over the middle.
Branstetter misses another field goal, pushing a 33-yard attempt wide right. He's been one of the few disappointments on a good night for KU's special teams.
KU 34/UTEP 7 — 12:39 left in 4th quarter
Well, we received that answer pretty quickly.
UTEP's Donavon Kemp takes advantage of poor tackling by KU, breaking two tackles on his way to a 75-yard TD reception. The shutout is gone.
KU 34/UTEP 0 — 13:45 left in 4th quarter
Two plays later, Opurum plunges in for the 1-yard score. KU in complete control. But can the Jayhawks keep the shutout?
KU 27/UTEP 0 —End of 3rd quarter
UTEP puts two good plays together — with completions of 13 and 24 yards — but a holding penalty puts the Miners back again. Onyegbule foils a screen-pass attempt with a tackle from behind, and UTEP is forced to pass once again.
Reesing doesn't seem to be seeing his receivers well tonight. He had Opurum wide-open in the flat for one passing play, but instead opted to throw it into double-coverage over the middle.
KU's offensive line continues to impress. On third-and-10, Reesing has tons of time to throw, and he steps up in the pocket to find Johnathan Wilson for a long gain.
Opurum comes through with two powerful runs up the middle. He's up to eight carries for 48 yards.
The quarter ends with KU driving down to the UTEP 6-yard-line.
KU 27/UTEP 0 — 7:06 left in 3rd quarter
The Jayhawks take advantage of the great punt return, needing just four plays to push in the touchdown. Sharp finishes the drive with a 3-yard TD run around the left side.
Many orange-clad fans have seen enough and are headed for the exits.
KU 20/UTEP 0 — 8:47 left in 3rd quarter
UTEP isn't making its own breaks. On third-and-12, Vittatoe fires a nice pass over the middle to Jeff Moturi, but the receiver drops it for what would have been a 30-plus yard gain.
Following a 35-yard punt, Patterson shows some flash on the return, bursting up the middle for a 49-yard return all the away to the UTEP 24. KU has great field position, and with a TD can nearly seal this game.
KU 20/UTEP 0 — 9:54 left in 3rd quarter
Briscoe doesn't make a good impression on his first kickoff return of the year, as he catches a ball on the sideline but can't stop his momentum, falling out of bounds at the 3-yard-line.
KU is forced to punt, but the Jayhawks catch a huge break when UTEP is flagged for a roughing-the-punter penalty. I'm not sure it was the correct call. The rule was changed this year to say that if punters went outside the tackles to attempt a rugby-style kick, they were accepting the risk and were fair game to be hit. It looked like, while Rojas was attempting his rugby punt, he made it outside the tackles and was hit. Either way, KU regains possession.
Reesing tries to make a play on a scramble to his right, but another of his passes comes up short. Braxton Amy steps in front of the pass for an interception, and the Miners (and their fans) have a bit of momentum.
Halftime thoughts
• Lots of changes personnel-wise for KU, but they all seem to be working out well. Laptad's move to defensive tackle is the most dramatic, though KU's pass rush has been as good as I remember in the last two seasons. Forty-nine yards allowed in a half? That's good against any team, and even better against an offensively talented team like UTEP.
• It's almost weird to say this, but Reesing looked to be a little off in the first half. Of course, a little off for him means he was 17-for-26 for 134 yards and a TD with no interceptions.
• Can Briscoe still get 100 catches even after being suspended a game? He'll have a chance if he keeps this pace up.
Stats of interest
• Dezmon Briscoe: 6 catches for 121 yards. Making up for lost time.
• Maxwell Onyegbule: 2 sacks, four total tackles-for-loss.
• KU's defense: Five sacks total.
• Jake Sharp: 6 catches for 29 yards, two total TDs.
• UTEP: 49 net yards, -21 yards rushing.
KU 20/UTEP 0 — Halftime
Great pressure up the middle from Laptad. This move to defensive tackle is paying huge dividends for this game.
UTEP is flagged for a delay-of-game penalty. Already, the Miners have eight flags for 77 yards.
Following an eight-yard Patterson punt return, KU takes over at the UTEP 38 with 51 seconds left in the half to score.
Some miscommunication on routes (or poor throws by Reesing, I'm not sure which) forces KU to settle for a 38-yard field-goal attempt at the end of the half. Unfortunately for Branstetter, he becomes the plumber when he doesn't want to be one, banging his kick off the left upright. The kick is no good, but KU still takes a 20-0 lead into intermission.
KU 20/UTEP 0 — 1:21 left in 2nd quarter
KU's offense once again looks like it's back on track.
The Jayhawks need just four plays to go 40 yards for the score, as Reesing completed the drive with a 5-yard TD pass to Sharp on a wheel route. Briscoe contributed a pair of nice catches on the drive as well.
Though the game was close for much of the first half, KU's late burst has given the Jayhawks a comfortable lead.
KU 13/UTEP 0 — 2:58 left in 2nd quarter
Onyegbule comes up with yet another sack for the Jayhawks — their fifth of the game. A third-down screen pass comes up well short, and KU's defense forces another three-and-out.
Patterson is playing with fire on his punt returns. For the third time today, he runs backwards before going forward, but this time it works, as he gets to the edge for a 19-yard return. The Jayhawks will have great field position at the Miners' 40.
KU 13/UTEP 0 — 4:42 left in 2nd quarter
Brad Thorson is giving snaps to Reesing on the sideline. Will we see a change in centers on the next KU possession?
The Jayhawks' defense comes up with a huge play, and Tom Keegan's pregame prediction of a pick-six for Justin Thornton comes within an eyelash of becoming reality. Patterson bats up a Vittatoe pass, and Thornton intercepts it, taking a few steps before getting dragged down at the UTEP 21. If he had gotten by that UTEP receiver, he would have had Tom's pick-six.
Jeremiah Hatch is out of the game, with Thorson moving to center and Trevor Marrongelli going to right guard. Hatch looks fine on the sideline, so I'm thinking this is just a switch based on the high snaps early in the season.
Opurum bursts up the middle for 16 yards, but KU stalls inside the five. KU takes a delay-of-game penalty to give Branstetter a better angle for his field goal, and he knocks through a 25-yarder.
KU 10/UTEP 0 — 7:23 left in 2nd quarter
Finally, something opens up for the KU passing game. On third-and-5, Reesing finds a wide-open Briscoe over the middle for 21 yards.
The Jayhawks have picked up the tempo with their no-huddle offense, and it seems to be working well. KU forces a UTEP illegal substitution penalty with the hurry-up, and after faking a screen pass, Reesing completes an 18-yard pass to Johnathan Wilson.
Three plays later, Jake Sharp spins off a tackle and goes into the end zone standing for a 1-yard TD run. Branstetter adds the extra point, and KU has found its rhythm on offense.
KU 3/UTEP 0 — 9:53 left in 2nd quarter
What a weird series of events. A UTEP coach gets a 15-yard penalty for taunting Chris Harris on the sidelines, setting up the Miners in second-and-long. In third down, Vittatoe is crunched again by Wheeler, and KU has four sacks in just 20 minutes.
Two of the best passing offenses in the nation can't seem to get anything going.
KU 3/UTEP 0 — 13:09 left in 2nd quarter
On third-and-5, Reesing finds Meier for a first down before a flag comes out after the play. The call is offensive pass interference. Not sure if it was a good call or not, but I can tell you it was a late, late flag.
Reesing takes way too much time to deliver his pass on third-and-long, and he is taken down for a sack. It could have been worse, but Jeff Spikes quickly pounced on the ball after Reesing fumbled.
Interesting that after having so many rushing attempts last week, Reesing has only had one rushing attempt so far tonight.
UTEP has gained some position back, as after a KU punt, the Miners will take over at their own 38.
KU 3/UTEP 0 — 14:52 left in 2nd quarter
Hiett booms a 46-yard punt. Once again, Patterson can't quite make the first man miss, as he is ankle-tackled at the KU 42. Media timeout.
KU 3/UTEP 0 — End of 1st quarter
Patrick Dorsey is back in, and he sacks Vittatoe on second down. That's three sacks for KU's defensive line. Laptad nearly wrangles down Vittatoe in the end zone on third down, but the QB is able to get a screen pass away just in time. The Jayhawks' defensive line comes through again, and UTEP will punt after the quarter break.
KU 3/UTEP 0 — 1:42 left in 1st quarter
Jake Sharp gets KU out of its hole, slicing up through the UTEP secondary for a 30-yard gain.
On a third-and-short, KU substitutes to a quick power package, and Toben Opurum bowls ahead for three yards and the first down.
After seeing so much of the Pistol formation last week, we haven't seen it at all today. The UTEP coaches might have spent all week studying the formation for nothing.
A high snap on third-and-two ruins a KU option attempt, as Reesing is swallowed for a loss. Alonso Rojas punts from midfield, and UTEP will take over at its own 17.
KU 3/UTEP 0 — 5:02 left in 1st quarter
Vittatoe tries his first deep pass of the game, overthrowing Kris Adams on a fly route. Daymond Patterson was beat by about a step-and-a-half, but I'm not sure Usain Bolt could have caught up to that one.
The next play, Jeff Moturi slips on his route and is unable to come up with a one-handed grab. The Jayhawks already have been fortunate on the first two plays of this drive.
On third-and-10, Vittatoe guns a pass to Tufick Shadrawy for a 13-yard gain. KU isn't mustering any pass rush on this possession.
The Miners self-destruct on the next two plays, picking up a false start and a holding call. Jeff Wheeler comes up with a sack on the next play to force a punt. Mangino has really shuffled his line on passing downs, as Jake Laptad is playing defensive tackle and not on the end.
A bad snap on the UTEP punt (just like last week) and poor subsequent kick is negated by a KU offsides penalty. The offsides costs KU some 50 yards of field position, as instead of getting it on the Miners' 48, the Jayhawks will take over on their own 6 after a booming punt by Greg Hiett, a backwards punt return by Daymond Patterson and a block in the back penalty on KU.
KU 3/UTEP 0 — 9:08 left in 1st quarter
UTEP reverts back to old form on the kickoff, getting a holding penalty on the game's first play. The Miners killed themselves last week with flags, racking up 12 penalties for 101 yards.
Mangino has mixed up his secondary again, as Chris Harris has moved from nickelback to corner and Phillip Strozier is starting at safety. Anthony Davis, after three pass-interference calls last week, is not a starter. Defensive lineman Caleb Blakesley, though, looks to have regained his starting spot over Patrick Dorsey.
KU comes up with a stop on third-and-6, as Maxwell Onyegbule wraps up Vittatoe for a sack. Following a 56-yard punt, KU takes over at its own 21.
The Jayhawks open in a shotgun, two-back set, a look I don't remember seeing a week ago.
KU picks up 56 yards on a trick play, as on a reverse pass, Kerry Meier finds a wide-open Dezmon Briscoe over the middle.
Reesing misses an open Jake Sharp on a third-and-5, and KU is forced to try a field goal. Branstetter misses the 36-yard field-goal attempt, but UTEP is called for roughing the kicker, which gives KU a new set of downs.
The Jayhawks stall again, though, and Branstetter knocks through his second attempt, a 21-yarder. KU takes the early lead.
6:33 p.m. CST
UTEP wins the toss and will receive. KU's Jacob Branstetter was booming kickoffs in the pregame with the elevation, and we'll see if he does it here.
6:31 p.m. CST
It is a big stadium to fill, but UTEP fans aren't close yet to packing it to the top. In fact, across from us, about 20 rows remain unfilled at the top.
6:28 p.m. CST
I like how the UTEP players enter the field: through a "Mine Shaft" that actually is a tunnel from the actual stadium stands. Coach Mike Price leads the way, holding up a mining pick. Coming from the stands, to me, is a nice way to relate to the fans.
6:20 p.m. CST
The Sun Bowl is a pretty cool setting for a football game. The stadium is nestled between mountains on three sides, making the whole facility feel smaller than it is.
Some cumulus clouds hang overhead, and though they don't look threatening, we have been told there is a 30-percent chance of rain tonight. That will be something to keep an eye on.
6:12 p.m. CST
Looking at the posters in the press box, you could build a great fantasy football team from players who have competed in the Sun Bowl.
Some of those names include: Maurice Jones-Drew, LaDainian Tomlinson, Carson Palmer, Kyle Orton and Jonathan Stewart.
For the Chiefs fans out there, Priest Holmes and Derrick Thomas both played bowl games here at the Sun Bowl as well.
6 p.m. CST
Here are some notes I jotted down this week after watching UTEP play Buffalo on TV earlier this week. Consider it a short scouting report.
• UTEP Trevor Vittatoe isn't afraid to throw the ball deep. In fact, he threw deep passes at least four times in the first half to test the Bulls' secondary. Unfortunately for Vittatoe, he wasn't getting much help, as his normally reliable receivers dropped a couple they should have had.
• UTEP running back Donald Buckram showed a good burst through the line. Though he's only 5-foot-10, he consistently was able to pick up positive yardage for the Miners. He finished the first game with 14 carries for 108 yards (7.7 average), but with UTEP in catch-up mode, he wasn't utilized as much as I'm sure coach Mike Price would have liked.
• Whenever James Thomas II (No. 5) was on the field, usually he was involved in the play. He was used as the quarterback in the Wildcat formation and also was, at times, lined up in the backfield and as a receiver. The Jayhawks will have the be on the lookout for trick plays whenever No. 5 is around the football.
• Buffalo had great success against UTEP's defense with short passes. Three-step drops, wide-receiver screens and short passes over the middle all seemed to be effective against the Miners' secondary. I would expect KU to test UTEP deep some, but I also would guess that KU offensive coordinator Ed Warinner isn't going to ignore gametape that shows a way to attack the UTEP defense. Thus, Kerry Meier was my "Hawk to Rock" pick this week.
• Much like KU, UTEP had problems with snaps last week. The shotgun snap from center was high twice last week, and one snap to the punter was high as well. That's something to keep an eye on in this game, as the Miners' special teams hurt them quite a bit a week ago.
5:27 p.m. CST
Just a quick note for now: KU safety Darrell Stuckey is wearing a fairly heavy black brace on his left elbow.
As some fans noted, Stuckey landed awkwardly on his arm last week in the second half against Northern Colorado. It looks like he'll be fine to play, but we'll see if that brace affects him at all tonight.
Oh, and a quick shameless promotion: Here's an earlier blog that listed some statistical findings we can take away from KU's season-opening victory against Northern Colorado.
5:20 p.m. CST
Welcome back to the Newell Post Live, coming to you from the Sun Bowl in El Paso, Texas, where the Kansas Jayhawks are getting set to take on the UTEP Miners.
El Paso is an interesting city to say the least. From our hotel we could see far into the distance into the city of Juarez, Mexico, located just across the border. I never knew just how close El Paso was to Mexico until preparing for this trip. Mountains also loom in the distance. On one read big, block letters, similar to the Hollywood sign in California: "La Biblia es la verdad. Leela."
Translated: "The Bible is the truth. Read it."
It's a dry heat here in El Paso, which led to an interesting finding on weather.com. The current temperature here is 85 degrees. The heat index is 82.
I honestly didn't know that was possible when it came to heat indexes.
Back to the game. Obviously, this is a significant one for KU, especially given the Jayhawks' non-conference road woes in the past.
I know you've probably already heard this, but it bears repeating: KU hasn't won a road non-conference game since 2003. The Jayhawks have lost their last three non-conference road games against South Florida (2008), Toledo (2006) and Northwestern (2004).
We'll see if these Jayhawks can break an ugly road non-conference trend.
Check back later for more analysis as we get closer to gametime.
More like this story on KUsports.com