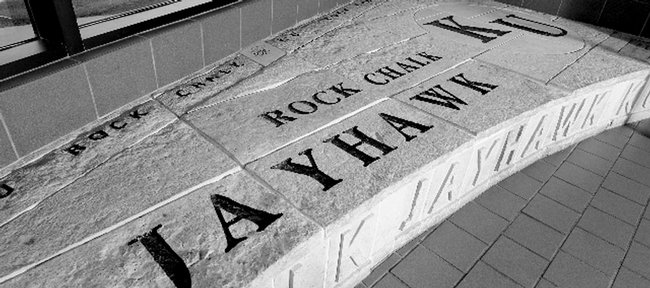 Rock Chalk. Jayhawk. Vote for KU.
Kansas University's unique Rock Chalk Chant is among 24 finalists for the 8 Wonders of Kansas Customs.
Anyone interested in ensuring the chant is elevated to one of the eight wonders can visit the Kansas Sampler Foundation's contest Web site — 8wonders.org — to vote.
The chant is up against a variety of other customs, such as saving twine, which resulted in the World's Largest Ball of Sisal Twine in Cawker City; cruising Main in Blue Rapids, which has the only round square in Kansas; and bringing musicians together in Cottonwood Falls, where a jam session gets under way nearly every Friday night at Emma Chase Cafe.
"This list gives a wonderful overview of our quirky humor, cultural traditions and our history, but it also reflects our hobbies, entertainment and recreational activities," said Marci Penner, foundation director, in a statement.
The Rock Chalk Chant evolved from a cheer a KU chemistry professor created in 1886, and continues to echo throughout the Sunflower State.
"Considering the chant's cadence was inspired by the sound of a train crossing the state, and its words by the chalk rocks found from western Kansas to the Flint Hills, it is a natural for this statewide honor," said Todd Cohen, a KU spokesman. "And it is indeed wondrous, as anyone who has heard the chant inside Allen Fieldhouse can attest. It is a custom all Jayhawks cherish."
Voting ends at midnight Oct. 20, and winners are scheduled to be announced by the end of October.