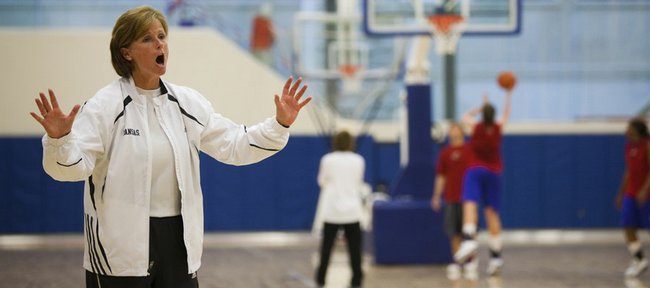 Are you constantly checking your BlackBerry for Twitter updates? Can't wait to upload images from that latest get-together on Facebook?
Kansas Athletics is hoping you include it among your friends and followers.
The department's Twitter account promises regular deals on Wednesdays — they used a promotional code to offer $25 football tickets earlier this month.
And the social networking possibilities have reached its teams, too.
Bonnie Henrickson, KU's women's basketball head coach, said she uses Twitter mostly as a way to keep fans updated on what's going on with the team.
"Initially I thought it might be effective in recruiting," she said. "It's been more of interest to fans."
She said she got the idea from a younger staff member, and now updates her page from her phone, and from home and work computers.
Henrickson said she keeps the feed free from personal information, instead focusing on day-to-day happenings with the program. Topics like the new practice space, Danielle McCray's performance with the national basketball team and other player updates have all seemed to interest followers.
She said she imagines that it still might be of interest to recruits, some of whom may watch the updates without subscribing to them, she said.
Henrickson said she also uses the service to follow other people and organizations in the women's basketball world, including ESPN.com writer Mechelle Voepel, and USA Basketball's official Twitter account.
Jim Marchiony, associate athletics director, said the department's marketing staff comes together and determines what will be sent out over KU Athletics' Twitter and Facebook pages.
"There are certainly a growing number of our fans that use social networks," he said. "It's another way we can our fans up to date."
The KU Athletics page on Facebook has more than 8,000 fans, who receive information on discounts, as well as links to outside media sources covering KU's teams.
Recent updates included mentions of KU's soccer team earning a national ranking, McCray's reaction to being placed on a pre-season award list and a link to video of an interview with football quarterback Todd Reesing on ESPN.
Social networking has also caused a small amount of heartache for some athletic programs. Earlier this year, the Southeastern Conference briefly banned the use of Twitter and Facebook during games, but later updated the policy restricting the use of the sites to provide play-by-play descriptions or in-game video of on-field action.
At KU, Marchiony said there have been no restrictions on the use of the sites for fans, but he said that it was important to protect the rights of entities that pay for the right to broadcast KU athletic events.
"Until I'm told we feel that it's somehow infringing on the rights of our broadcast partners, we're not going to do anything," Marchiony said.
More like this story on KUsports.com