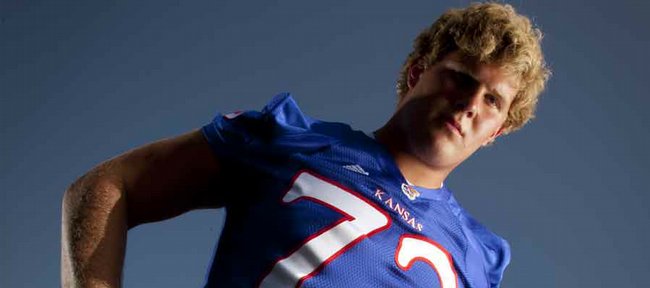 Having successfully protected the blindside of quarterback Todd Reesing for one week, Kansas University rookie left tackle Tanner Hawkinson would like to make clear that he is not opposed to a complimentary dinner courtesy of the senior signal-caller.
Steak would be fine, Hawkinson said following Wednesday's practice, though he's not picky.
"Lately, since I've put on so much weight, I've kind of dabbled in a lot of food," said the McPherson native, who has gained more than 80 pounds since arriving in Lawrence last year as a svelte tight end. "So I'm pretty open to whatever. I'm kind of a big Chinese buffet fan — they have some good ones around town — but obviously steak's always fine."
The nerves of his collegiate debut now behind him, Hawkinson will look to keep the momentum going heading into the No. 24 Jayhawks' weekend road matchup with Texas-El Paso. The red-shirt freshman said Wednesday he's settling into his position nicely, having developed a certain appreciation for offensive-line play since taking over the new, less-glamorous role earlier this year.
"Offensive line … they don't get a lot of credit, and it didn't really seem like a big glory position," said Hawkinson, who has worked at tight end, defensive end and offensive tackle in his first two years on campus. "At tight end, you catch balls, and on defense you make tackles. But it's actually a lot more fun than I thought it was going to be. It's a one-on-one battle pretty much every play."
For his part, Kansas coach Mark Mangino offered a seemingly positive review of the player's first collegiate outing Wednesday: did some good things; did some not-so-good things; there's always room for improvement.
"For his first college game, he had a satisfactory performance," Mangino said. "We could win with his performance, and we did. Now, he has to continue to improve, and he has to continue to progress, because as we go, the competition will improve, as well."
Dorsey unseats Blakesley at DT
With the exception of Dezmon Briscoe — whose academic troubles last spring led to a one-game suspension to start the season — the most glaring absence in the Jayhawks' opening-day lineup was that of defensive tackle Caleb Blakesley, a senior and All-Big 12 honorable-mention selection last fall.
Wednesday, Mangino indicated that Blakesley's demotion — he played in a backup role in last weekend's victory over Northern Colorado and is listed No. 2 on the depth chart heading into Saturday's game against UTEP — was strictly a result of performance, and not injury.
"He's healthy," Mangino said. "It's performance."
In his place, sophomore Patrick Dorsey has taken over the starting role, and, as far as Mangino is concerned, has been deserving of the increased workload.
"He's undersized, but he deserves the playing time," Mangino said. "... He plays harder than a lot of guys that have more talent than him. He really does. He gives effort, and that's why we have him out there."
Mangino: Woods not ready to make an impact
The offseason signing of junior transfer Quintin Woods was seen as a move that would immediately bolster a defensive line that, heading into 2009, was making a point to put more pressure on the quarterback.
Woods, a long, lean defensive end who originally signed with Michigan out of high school, seemed to excel at precisely that, but so far this season, he hasn't warranted a significant role on the defensive line.
"His progress has not been what I'd like," Mangino said of Woods, who played in a backup role Saturday and didn't record a tackle. "There's a lot of competition at D-end here, and right now he is not in a position to make an impact for us. He has got to get himself on the practice field in a position to make an impact. We'll play him in the game a little bit, but we're not going to play him a whole bunch of snaps until he proves he's ready to do that."
More like this story on KUsports.com