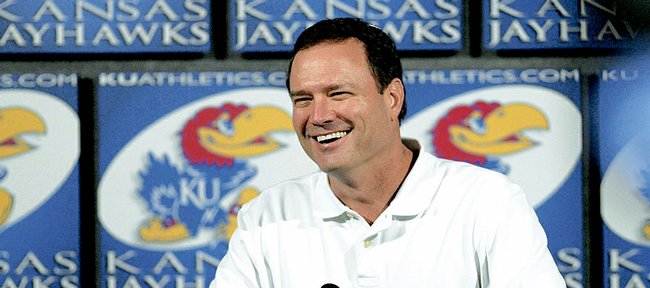 It's not often Bill Self receives a hearty ovation in the state of Missouri.
But that was the case Tuesday when Kansas University's basketball coach heard applause, not jeers, at the Basketball Hall of Fame Showcase news conference at the Scottrade Center in St. Louis.
"Although that wasn't the warmest reception I've ever received, it's the nicest one I've ever gotten in the state of Missouri, that's for sure," guest speaker Self joked at a session called to promote the Nov. 17 doubleheader in the downtown St. Louis arena.
KU will meet Memphis at 9 p.m., following a 6:30 p.m. Louisville-Arkansas opener. The KU-Memphis game is a rematch of the 2008 national title game, won by KU, 75-68, in overtime.
"Although the dynamics of the coaching has changed obviously with John going to Kentucky, he was replaced by a go-getter in Josh Pastner," Self said. He was referring to former Tiger coach John Calipari heading to UK to replace Billy Gillispie; Pastner filled the vacancy at the Conference USA school.
"Josh will definitely ripple waters. He already has in the recruiting world and will do a fabulous job. On paper they lost a lot, but they return some good players, and they recruited very well. Last year, we lost a lot on paper, but we still had some guys kind of waiting in the wings, and they performed at a pretty high level. Memphis is very capable of doing that this year," Self added.
Former Memphis player C.J. Henry has transferred to KU, while C.J.'s brother, Xavier, is also a Jayhawk after originally committing to Memphis.
"I'm sure there will be some incentive there (for Henrys), but I can't imagine there being any hostility or anything like that," Self said. "There will probably be some incentive for the Memphis players, saying, 'You could have been here, but you chose to go somewhere else.' That will be a big game for those two players, but that's not something that will affect how we approach things."
More like this story on KUsports.com