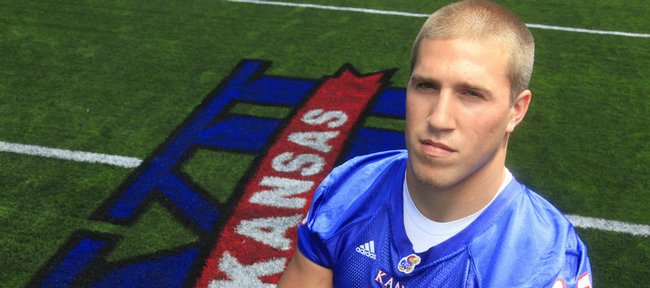 Growing up, there was never any real question that twins Justin and Jeremy Springer would end up playing football at the same university.
Through high school, they had never been apart for more than three days. They'd played little league together and learned to fish together. And so naturally, as they developed into prep football standouts and coaches began showing up with scholarship offers, the plan was to pursue those together, too.
So when that plan didn't exactly work out — none of the schools recruiting Justin went after Jeremy, and vice versa — the two swallowed hard and set off on their own, Justin heading to Kansas as a linebacker and Jeremy to in-state Texas-El Paso as a quarterback.
"We had always wanted to go to the same school," said Jeremy, a third-year sophomore at UTEP. "We'd always planned it. But it just didn't work out like that."
Now, however, through a serendipitous turn of events, they'll find themselves on the same college football field for one evening, during Saturday's Kansas-UTEP matchup at the Sun Bowl in El Paso.
For the brothers, it couldn't be cooler, although you get the impression that, despite their close relationship ("We haven't missed a day of talking since I went to college," Jeremy assures), neither has any kind of plan to leave the stadium Saturday night without a victory.
These are brothers, after all, who compete in everything — who can catch the bigger fish, who can eat more in one sitting, who can plow through the groceries fastest when they're home for spring break.
Currently, they're engaged in a long-standing debate centered on which twin has established himself as the better student.
"See, in high school, I was ranked No. 7 in my class, and he was ranked No. 8," Justin said. "But right now he has a better GPA than me — but it's because he goes to a school that's not as hard as this school."
"(My parents) always get mad at me for saying that," he added, smiling, "but that's what I believe."
This is what Jeremy believes: He thinks that, yes, Justin was the smarter twin during high school. And, yes, if you looked at the stats and the figures, Kansas might be more prominent academically than UTEP. But in college, Jeremy says, he has developed the kind of study habits that have given him an educational edge over his brother.
"And you can write that down in the paper, too," he said, "That's truthful."
Apparently aware of this bubbling sibling rivalry, the twins' parents, Donald and Kim, have come up with a way to remain neutral in their support during Saturday's game.
"They have a shirt, that says, 'One of my sons plays at Kansas'" said Justin. "And on the back (it says), 'My other sons plays for UTEP.'"
"So Kansas is on the front?" he is asked.
"Well, Kansas is on the front of my dad's," he said. "But on my mom's, it's UTEP."
What makes things more interesting is that, last spring, Jeremy made the switch from quarterback — the position he'd played for years — to linebacker in hopes of getting more playing time. And so far, he has shown quite a bit of promise at the same position manned by his brother. In his first game at the new position, a 23-17 loss to Buffalo last weekend, he recorded nine tackles, the second-highest total on the team — although, as Justin was sure to point out, "He should have had, like, 13 tackles, but he missed three; so I told him about that."
Meanwhile, Justin, who endured a season-ending ACL injury in November of last season, is in the process of working his way back to full strength, though he's expected to play Saturday after seeing limited action in last weekend's season opener. On Tuesday, he called himself "85- to 90-percent" and said he hopes to have made a full recovery by December, a year after undergoing surgery.
Now it's just a matter of counting down the days.
Over the past week, they've been talking about it quite a bit. The other day, in fact, they spent 30 minutes detailing how cool it would be to be reunited — athletically speaking — for the first time in three years.
"Now that we got an opportunity to play them, it's a once-in-a-lifetime thing," said Jeremy. "And I just can't wait to see my brother in action."
More like this story on KUsports.com