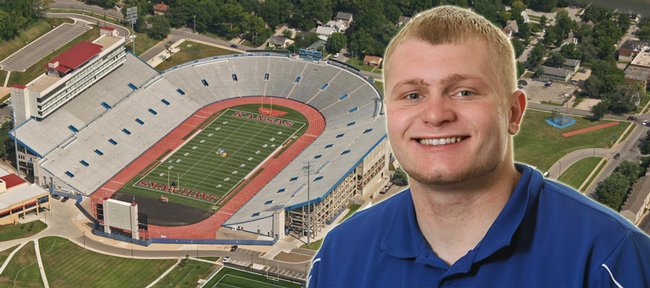 It took a couple years, but Kansas University red-shirt sophomore Steven Foster seems to have finally found a home on the Jayhawks' roster.
After arriving in Lawrence in 2007 as the fourth-best fullback prospect in the nation according to ESPN.com, the 6-foot-2, 242-pound Sedgwick native spent the next two years bouncing from position to position before being moved to defensive end — and a member of the special teams unit — before the start of this season.
And as far as Kansas coach Mark Mangino is concerned, Foster's new role is working out nicely.
"When he first got here, he was kind of a lost soul, so to speak," said Mangino during Monday morning's Big 12 coaches teleconference. "... And I think over this past year he has matured as a person, he has focused himself on being a better player, and I think he's found his niche being an edge rusher and special teams player for us."
As a reserve on the defensive line in the team's season-opening victory over Northern Colorado, Foster recorded three tackles and was originally credited with a first-quarter fumble recovery before game officials gave the recovery to defensive back Chris Harris.
"So far so good," Mangino said of Foster's production. "I think he's going to help us a lot in those roles."
UTEP's Price high on Reesing
Apparently, UTEP coach Mike Price has had some time to peruse game film of Kansas' season-opening victory over Northern Colorado.
During the Conference USA coaches teleconference Monday, the Miners coach spoke glowingly of Jayhawks senior signal-caller Todd Reesing, at one point calling him the best in the program's history.
"No offense to John Hadl and Bobby Douglass and all those great quarterbacks that they've had ... (but) he is one of the best college quarterbacks in America," said Price, whose team dropped a 23-17 game to Buffalo last weekend to fall to 0-1 this season. "You just can't sack him, he runs the ball, he runs option, he runs zone read, and he scrambles like crazy."
In last Saturday's season-opener, Reesing did a little bit of all of that, throwing for 208 yards and two touchdowns and adding another 79 yards and two touchdowns on the ground in just over three quarters of action.
Springer to face twin on Saturday night
KU linebacker Justin Springer, who played sparingly Saturday while working his way back from a season-ending injury last season, might have an extra incentive to stay on the field this weekend against UTEP (6:30 p.m. in El Paso): He'll be battling for household supremacy.
Springer's twin brother, Jeremy, is a newly-minted linebacker at UTEP who has shown some early promise at the position. In his first game since being shifted from quarterback to linebacker during spring practice, Jeremy finished Saturday's loss with nine tackles, the team's second-highest total.
More like this story on KUsports.com