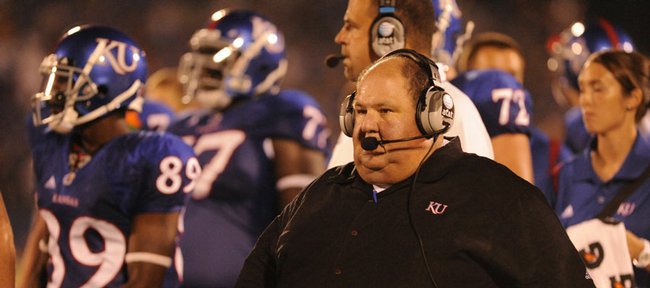 The first glimpses of the Kansas University football team's revamped linebacker corps came Saturday, and while the foe proved particularly inferior — NCAA Championship Subdivision Northern Colorado finished just 1-10 last season — there was reason enough to be encouraged.
With the Jayhawks working primarily out of a two-linebacker set, starters Drew Dudley (seven tackles, one sack) and Arist Wright (six tackles) contributed to a defensive effort that saw UNC manage just three points and 246 yards of total offense.
Justin Springer, meanwhile, who coaches said was nearing full strength after suffering a season-ending leg injury last fall, added a tackle-for-loss in a limited backup role, and true freshman Huldon Tharp finished with three tackles in his first collegiate game.
On Sunday evening, Kansas coach Mark Mangino praised the play of the unit — which featured only two collective starts prior to Saturday's game — but also indicated it had significant improvements to make before the start of Big 12 conference play Oct. 10.
"They got themselves in some positions where they over-ran some plays, and they just got to do a better job with pursuit angles," the coach said. "They also need to work a little bit more at getting better fits in the run game."
"It was decent," he added, "but it still has a ways to go."
Three suspended players to return against UTEP
Three of the four players who were held out of Saturday's game against Northern Colorado for disciplinary reasons will return Saturday against UTEP, Mangino said.
Preseason All-Big 12 receiver Dezmon Briscoe, defensive tackle Jamal Greene and defensive end Jeff Wheeler will travel with the team to El Paso, while receiver Raimond Pendleton will be held out of one more game before returning from suspension.
Mangino relishes early road test
Citing the importance of winning on the road when battling for "championships," Mangino said he's looking forward to his team's trip Saturday to El Paso, Texas, for a matchup with UTEP (0-1).
"Certainly, I think there's no question that it's good for our ball club to go on the road this early," Mangino said. "... It's very good for our kids to have to travel and play in an environment that's not very friendly. And I think these are the types of games that can help set the table for you for future games in-conference."
More like this story on KUsports.com