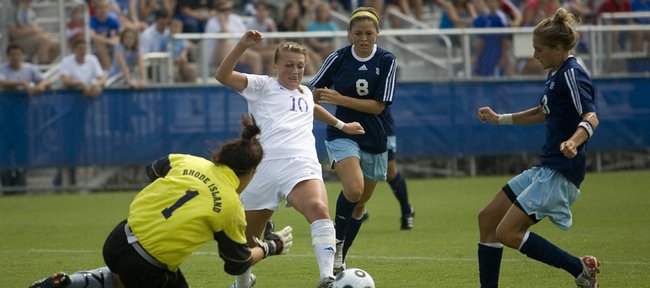 Photo Gallery
KU soccer 3, Rhode Island 1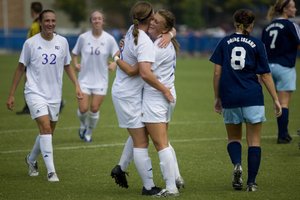 KU stretched its season-opening winning streak to five games by defeating Rhode Island, 3-1.
Yes, Kansas University's soccer team improved to 5-0 for just the third time in school history Sunday, and, yeah, the other two times the Jayhawks won their first five matches they've gone on to play in the NCAA Tournament.
But following their 3-1 victory over visiting Rhode Island, team members weren't patting themselves too heavily on the back.
"It's nice to be 5-0," Kansas coach Mark Francis said. "But to be honest with you, we're not getting too fat and happy about it."
Before coming out strong in the second half, the Jayhawks endured a sometimes-sharp, but sometimes-sloppy first 45 minutes of play that included — among other things — an unusually high number of offsides penalties.
The Jayhawks were whistled offsides a team-record eight times Sunday — penalties that, in some cases, negated promising stretches of offensive play.
"The way that their team plays, they like to step high and try to play the offsides trap," said KU midfielder Monica Dolinsky, who finished with a goal and an assist. "And they did a pretty good job at it."
Kansas rebounded in the second half, however, getting nine shots off — compared to just three by Rhode Island — and taking a quick lead on an unassisted Dolinsky goal in the 58th minute.
Thirty minutes later, sophomore forward Emily Cressy pushed the Kansas lead to two with her team-high third goal of the season on an assist from Jordyn Perdue, and senior goalkeeper Julie Hanley held the Bears scoreless after entering the game at halftime to secure the victory.
"As one of the players said after the game, we found a way to win," Francis said. "(It wasn't) the prettiest or the best performance for us so far, but it's a win, and we'll definitely take it."
The Jayhawks kicked off the scoring in the 37th minute, when freshman midfielder Shelby Williamson tapped in her first goal of the season off a corner kick.
Rhode Island managed to equalize seven minutes later, on an Amanda Thomas header off a free kick, but that would be it for the Rams (0-4).
With Saturday's game out of the way, the Jayhawks now can turn their attention to next weekend's Colorado College Invitational in Colorado Springs. There, they'll open play against a familiar opponent in Denver, the team Kansas defeated, 2-1, in the first round of last year's NCAA Tournament.
"I'm sure Denver's looking forward to seeing us," Francis said. "We ended their season last year, so I'm sure they're going to be fired up. For our guys, it's an opportunity to play some good competition and kind of see where we're at. So we're excited."
More like this story on KUsports.com