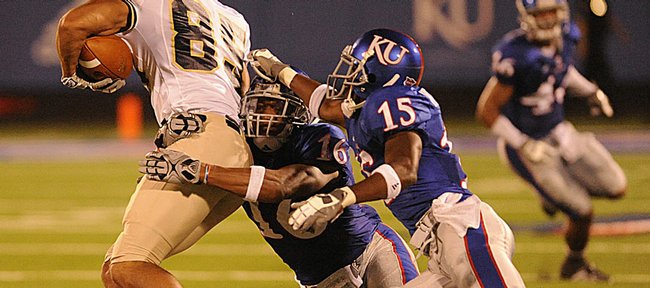 For Superman, it was Kryptonite. For Chris Harris, it was Kansas University's 2008 football season.
"I just couldn't figure out why I wasn't playing good," KU's junior defensive back said of the seasonlong slump that plagued him last year. "I just couldn't figure out why I couldn't go out there and play like I know I can."
No need to worry about that any longer.
Saturday night, during Kansas University's 49-3, season-opening rout of Northern Colorado at Memorial Stadium, Harris showed the kind of swagger and playmaking ability that made him a worthy pick to line up opposite All-America cornerback Aqib Talib during the Jayhawks' magical run to the Orange Bowl in 2007.
Harris' numbers Saturday were good: seven tackles, one forced fumble, one fumble recovery and one pass breakup. But his demeanor was even better.
"His confidence was back," senior running back Jake Sharp said. "And he was more aggressive. A confident DB is an aggressive DB. That's it right there. He's ready to play. There's no question about that. His game is at a high level right now, and we just want to keep it there because he's a tremendous asset to this team."
In the offseason, the Jayhawks shook up their defense by bringing in co-coordinator Bill Miller to join Clint Bowen in running the unit. Together, Miller and Bowen evaluated every player and analyzed every scheme that might improve the Kansas defense. The result was the birth of a new-look set that employs four linemen, two linebackers and five defensive backs. With safeties Darrell Stuckey and Justin Thornton, as well as cornerbacks Anthony Davis and Daymond Patterson locked in as starters, that left that fifth spot in the secondary up for grabs. Harris wasted no time in taking it and, Saturday, earned high praise from his coach.
"Chris did a lot of good things tonight," KU coach Mark Mangino said Saturday. "On screens he did a beautiful job containing, and he also came up to support the run and made tackles at the line of scrimmage. Chris is getting better all the time. We had him out of position (last year). He's not a pure corner. He's a better safety, and that's where he's at now."
Safety, fifth defensive back, third linebacker: Harris doesn't care what the position he plays is called. He just wants to keep playing it.
"The reason why I love this position is because they just let me go out there and play and let me be free," Harris said. "I get to be a lot more aggressive and help with the run and be more physical and can just go out there and help this defense. I love it."
That showed in the way the Bixby, Okla., native carried himself Saturday night. From the get-go, Harris was all over the field, making plays in the running game and in the passing game. About the only thing he didn't do against Northern Colorado was pick off a pass.
"A couple of times, I could've had an interception," Harris said. "I feel like I left two out there tonight. Next time, I'm going to get it."
Next time comes Saturday, when the Jayhawks travel to El Paso, Texas, for a matchup with UTEP. For Harris, Saturday can't arrive fast enough.
"I've just matured a lot," Harris said. "Coming into college, a lot of times guys haven't really experienced failure. But when you get to college, you will. I've been waiting for this (Northern Colorado) game for a year. It was very important to me and my family because of everything I went through last year. I know I can come out here and play. And I'm not done yet. I still have more work to do."
More like this story on KUsports.com