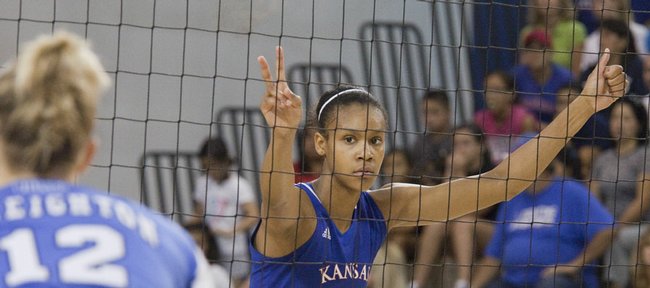 Sophomores Allison Mayfield and Nicole Tate each tallied double-doubles as the Kansas University volleyball team beat the Creighton Bluejays, 3-1, Saturday in front of a sold-out crowd at Horejsi Family Athletics Center.
The victory (26-24, 28-30, 25-21, 25-17) secured a second-place finish for KU in its own Jayhawk Invitational. Kansas improved to 4-2 with the victory. Creighton fell to 1-5.
"We responded very well after the set two break," KU coach Ray Bechard said. "We made fewer errors and came up with some big plays when we needed to. We also had some younger players really step up for us."
Mayfield recorded a match-high 19 kills and 10 digs for her second career double-double. Tate tallied 48 assists and 10 digs to mark her first double-double outing of the season.
Senior Paige Mazour and junior libero Melissa Manda were selected to the Jayhawk Invitational all-tournament team for their efforts over the weekend. Mazour had a .433 attack percentage in KU's last match against Creighton, and Manda had a team-high 16 digs in the contest.
In the first set, the Jayhawks recorded four aces early in the game, but fell behind when the Bluejays went on an 8-0 run to make it 9-13. The Jayhawks fought back as Mayfield and junior Karina Garlington each had three kills late in the game to bring the team to a 26-24 win.
The team battled in set two but took a 30-28 loss.
Mayfield led the Jayhawks with seven kills, while Manda helped the team with seven digs.
In set three, the Jayhawks never trailed. Creighton rallied back to tie the score at 15, but Garlington and Mayfield each had kills toward the end to take the set, 25-21.
The Jayhawks looked confident in set four as they went on a 6-0 run early and kept their lead over the Bluejays throughout the remainder of the 25-17 win. KU had a match-high five team blocks in the set and Garlington had four kills.
Kansas will have one final tune-up before its Big 12 Conference season opener as the Jayhawks travel to Fayetteville, Ark., next weekend for the Arkansas Tournament. KU will face North Texas, Jacksonville State and Arkansas during the tournament.
More like this story on KUsports.com