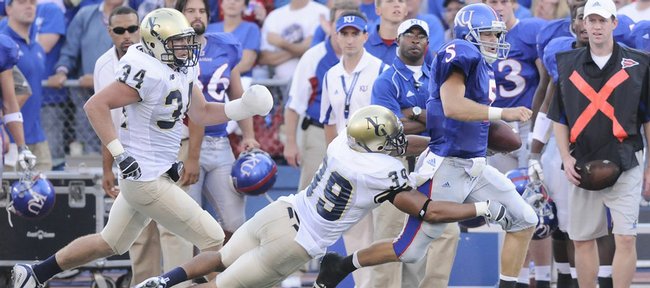 FINAL: KU defeats UNC, 49-3
After one UNC running play, the Bears wisely let the clock run out.
The Jayhawks start the season with a 46-point victory.
KU 49/UNC 3 — 32 seconds left in fourth quarter
KU's Dustin Spears falls on a UNC fumble, and the Jayhawks' No. 2 offense will get one more possession.
After a bad pass by Pick (which is actually ruled a backward lateral out of bounds), the QB makes up for it on third down with a 13-yard scramble for the first down.
More highlights from Opurum, who looks like a man that wants to get earlier carries. The freshman made a hard cut on a run to the right, bursting back to the middle for a 26-yard TD run. That makes two for him tonight.
Opurum will end the night with eight carries for 79 yards.
KU 42/UNC 3 — 4:38 left in fourth quarter
Drew Dudley gets a sack of his own, and Patterson's second return is better than his first, as he steps through a tackle and scoots down the left sideline for 14 yards.
Kale Pick check in, and on his second play, he scoots around the right side for a 20-yard gain. Two plays later, on an option left, he takes it himself again and runs for 13 more.
Tim Biere catches a pass, and that's something we didn't see often last year. The Jayhawks had just eight catches combined from Biere and Bradley Dedeaux last year.
Opurum looks impressive in consecutive carries, taking it 17 yards to the left then 10 up the middle for the TD. A nice drive for a pair of KU freshmen.
KU 35/UNC 3 — 10:24 left in fourth quarter
Two timeouts by UNC have slowed the game to a crawl. The Bears have found some success through the air, though, throwing for 158 yards. To Waggener's credit, he hasn't thrown an interception, either.
KU 35/UNC 3 — 14:17 left in fourth quarter
Three plays later, Sharp sprawls over a UNC defender for a two-yard score. I'm thinking the debut of Kale Pick is near.
KU 28/UNC 3 — End of third quarter
Following a string of positive plays, the Bears start to go backwards with penalties. A personal foul, false start and holding penalty put the Bears in a third-and-25, and Laptad cleans up by crunching Waggener for his second sack of the day.
Daymond Patterson doesn't make a great impression on his first punt return try, running backwards and losing two yards on a return.
Reesing makes it look easy, flipping a pass over the middle to Meier, who found himself behind the secondary. Seventy-one yards later, Meier has set KU up in great scoring position at the UNC 12.
KU 28/UNC 3 — 5:54 left in third quarter
KU methodically takes it down the field, driving into UNC territory with no plays over seven yards.
The Jayhawks stall at the UNC 33, and one of the most entertaining scenes of the night comes when Mangino decides to punt. Jacob Branstetter, who was eagerly awaiting his chance at a 50-yard try, put both his hands on his helmet and went back to the bench in disappointment. A few seconds later, he threw a white towel to the ground in frustration.
KU 28/UNC 3 — 12:27 left in third quarter
KU opens the second half with some sloppy play. A pass-interference penalty on Calvin Rubles (KU's fourth of the night) is followed by a roughing-the-passer flag on Patrick Dorsey. The Jayhawks are up to 58 penalty yards, and we're just a couple minutes into the second half.
York makes good on his second field-goal attempt, putting through a 29-yarder as UNC kills the shutout.
The attendance is announced at 52,530, a new KU home record.
Halftime stats
Kansas leaders
Rushing

Sharp 13 carries, 91 yards

Reesing 10 carries, 67 yards, 2 TDs

Opurum 3 carries, 12 yards
Passing

Reesing 9-for-15, 128 yards, 2 TDs, 0 INTs
Receiving

McDougald 2 catches, 49 yards

Meier 3 catches, 39 yards

Ingram 2 catches, 27 yards, TD

Sharp 1 catch, 10 yards, TD
UNC leaders
Rushing

Robinson 1 carry, 15 yards

Harris 5 carries, 9 yards

Waggener 3 carries, 8 yards
Passing

Waggener 7-for-11, 66 yards, 0 TDs, 0 INTs
Receiving

Thompson 2 catches, 43 yards

Gunn 2 catches, 11 yards
KU 28/UNC 0 — Halftime
A UNC third-down screen pass attempt goes awry when Waggener's pass hits offensive lineman Ryan Kemp in the back. Things are going from bad to worse for the Bears.
Toben Opurum gets his first three collegiate carries, and on the second tote, he makes a nice spin move to pick up extra yardage.
With the rushing attempts, Mangino kindly runs out the clock on the half, and the Jayhawks take a four-touchdown lead into the break.
KU 28/UNC 0 — 2:54 left in second quarter
Reesing back in midseason scrambling form, shuffling back and forth, back and forth before deciding to run. He picks up eight yards on third-and-5, then bounces up with a little bit of swagger and spring in his step.
Much like we discusses before the game, Sharp hasn't broken a huge run, but he has consistently picked up 8- to 10-yard gains. He's up to 12 carries for 79 yards (6.6 yard average).
Reesing seems determined to get himself on SportsCenter. He shifts to his right, then rifles a pass across his body to the far sideline to Tertavian Ingram. Ingram catches, then fully extends with his arm across the goal-line for a 15-yard TD. Reesing, meanwhile, goes wild back around midfield, throwing his arms up into the air to pump up the crowd.
Four TDs (two rushing, two passing) for Reesing. Not a bad day so far.
KU 21/UNC 0 — 8:27 left in second quarter
Second straight touchback by KU kicker Jacob Branstetter. That's an often overlooked part of the game that shouldn't be.
Anthony Davis isn't having the best of days. On a deep pass, he interferes with Thompson again, drawing his third flag of the game.
Chris Harris is calling his inner 2007. On a third down, he lunges in for another pass deflection, and he's been active for the Jayhawks' secondary so far.
KU 21/UNC 0 — 10:03 left in second quarter
Bradley McDougald with his first catch as a Jayhawk, turning a wide-receiver screen up the field for a seven-yard gain.
His next catch is better. Reesing slings a bullet over the middle to McDougald for a 42-yard gain all the way down to the UNC 10.
Two plays later, Sharp takes in an easy score, catching a shovel pass and scooting 10 yards untouched into the end zone.
So will it be Kale Pick at the beginning of the third quarter?
KU 14/UNC 0 — 11:45 left in second quarter
On a third and long, Jake Laptad made the most of his second effort. After bumping the QB Waggener once, Laptad didn't give up on the play, lunging to grab Waggener's legs for a sack. UNC will have to punt.
KU 14/UNC 0 — 13:42 left in second quarter
Another bad snap by Jeremiah Hatch. That's at least two for him already today. Guess his transition to center is still a work in progress.
Reesing comes up with his second rushing TD of the day, scrambling in from 13 yards out. The senior showed some nice footwork, as he pirouetted around UNC's Cameron Friend at the 2-yard-line before spinning into the end zone.
Great job by KU's offensive line on the play. The Bears only rushed three, but when Reesing decided to run, there was no one within five yards of him.
KU 7/UNC 0 — End of first quarter
Reesing sure is running/scrambling a lot for an early-season game.
On one scramble, Meier hurls his body and throws a huge block on UNC linebacker James Schrenk, drawing an "ooh" from the crowd. Schwenk winces in obvious pain after getting up.
Five combined runs by Reesing and Sharp have tallied 65 yards. KU back in the red zone at the UNC 15.
KU 7/UNC 0 — 1:56 left in first quarter
A promising drive results in no points for UNC, as Michael York misses a 25-yard field-goal attempt wide right.
KU 7/UNC 0 — 3:14 left in first quarter
UNC showing some life on offense. On a third-and-2, UNC QB Bryan Waggener lofts a nice pass down the sideline to Alex Thompson for a 36-yard gain. Anthony Davis was covering, but there wasn't much he could do on that one.
On the next play, Davis is caught holding a UNC receiver, and he is flagged for pass interference. The Bears have moved it all the way to the KU 10.
KU 7/UNC 0 — 5:35 left in first quarter
KU starts its first defensive set in a 4-2-5 defense. Maybe Mangino was trying to be deceptive when he said KU's base defense was still a 4-3.
KU comes up with the first turnover, as Chris Harris recovers a fumble by UNC's Andre Harris. The Jayhawks can't take advantage, though, as Reesing comes up short on a third-down scramble, and Alonso Rojas punts it away. UNC to take over at its own 17.
KU 7/UNC 0 — 10:10 left in first quarter
Facing a fourth-and-goal from the 1, Reesing scores his first touchdown of the year thanks to a great fake. On an option left, he deked a pitch to Sharp, then turned upfield and ran in himself. He followed by pumping his arms in the air towards the fans in the back of the end zone. He looks pumped.
Oh, and good call to go for it on fourth-and-1. Could it be that Mangino reads The Newell Post?
KU 0/UNC 0 — 10:57 left in first quarter
And the quest for 100 catches for Kerry Meier is off and running.
On the first play from scrimmage, Todd Reesing hits Meier over the middle for 30 yards. Two plays later, Meier catches another ball out in the flat and breaks a tackle to pick up the first down.
KU has set up early in the pistol formation, which puts Jake Sharp in a single-back set behind Reesing. I don't remember that formation from them last season (and if they did have it, it wasn't often).
The Jayhawks face a third-and-goal at the UNC four when Reesing sees something he doesn't like and calls timeout.
6:05 p.m.
Just saw the new pre-game video for football, and it didn't have airplanes destroying the opposing helmet. Instead, it was more like the KU basketball intro video, with clips from KU football past blended in with recent highlights. It was well done, but I wonder if some fans will long for the days of the airplanes blowing up the opponent.
Seventy-seven degrees here under fair skies. Great weather for the season-opener.
5:58 p.m.
I'd say about 90 percent of the student section is wearing blue shirts. In fact, I'd say about 80 percent of all the fans are wearing blue shirts. That percentage is much higher than it used to be.
5:42 p.m.
It's interesting that, even though they are suspended, Dezmon Briscoe and Jamal Greene were practicing on the field before the game in uniform. Neither showed up with their respective units in first-team drills, though.
True freshman Bradley McDougald was listed as the starter in the announcement of the lineups on the big board. I'd imagine Tertavian Ingram gets his fair share of snaps at receiver, too.
5:28 p.m.
In our first GameDay Cram Session of the year, Tom Keegan and I both picked our "Picks to click" for the Northern Colorado game.
Tom picked Daymond Patterson, citing the fact that he looks and acts more confident than a year ago.
I chose quarterback Kale Pick, who should (if KU wins in a blowout) get his first collegiate snaps today.
So who are your picks to click for today? Post your player in the comments section below or via Twitter using the "#kufball" tag.
5:15 p.m.
If you notice, we have a new feature on the left side of this blog: a Twitter widget for all of you following the game at home.
Just type in "#kufball" in your Twitter posts, and your message will appear with other fans' on the left side of the live blog. Our own Tom Keegan will be throwing in his two cents when he can as well.
I just have one request: Keep the language clean to respect others that are reading the posts. Otherwise, have fun with this new feature in the KUsports.com game blogs.
4:10 p.m.
Welcome back to the Newell Post Live, coming to you Lawrence where the Kansas football team is getting set to take on Northern Colorado in the season-opener.
First, let's get to the breaking news: Dezmon Briscoe and three other KU players have been suspended for today's game. Obviously, if a guy like Briscoe is going to sit out, this is most likely the best game for it to happen.
Anyways, let's get to some analysis — not of today's game, but for the KU football season in general.
If you've been reading the blog lately, you've noticed I've been on a statistical analysis kick ever since discovering the Web site FootballOutsiders.com.
I think this is my favorite part about advanced statistics: They show very little bias.
What I mean by that is this: A player isn't over-hyped because it's on the East Coast. A team isn't underrated because no one sees them on TV.
With the numbers, all teams are looked at the same way, based on the way their statistics shake out.
With that in mind, here are three things I bet you didn't know about the KU football team, based on some of Bill Connelly's* play-by-play statistical analysis.
We're going to be using some advanced statistics here. If you want more information on any of the stats (especially S&P;+), click here.
You can read more of Connelly's work at his blog, Varsity Numbers.
* — OK, time for full disclosure, especially because this is going to get figured out anyway. Connelly, himself, is a Missouri fan, and he blogs about the Tigers at his site Rock M Nation. He's also one of the best statistical analysis guys for college football out there. This is actually somewhat good news for KU fans if you like statistical analysis, because he gave detailed offensive and defensive previews for the Jayhawks. And, as he says himself in his KU projections blog, which has KU winning the Big 12 North with a 9-3 record, "Actually, this should be absolute proof that the numbers I'm working with have none of my own biases in them whatsoever."
1. KU's offense was better last year than in 2007.
From traditional statistics, this doesn't make sense. KU averaged 42.8 points in 2007 and 33.4 points in 2008. The Jayhawks couldn't have been more successful on offense when they scored almost 10 fewer points per game, right?
Wrong.
According to Connelly's stats, KU's offense improved nearly across the board last year. This was most evident in his S&P;+ stat, which seeks to measure both an offense's efficiency/consistency and power/explosiveness. Just so you know, with S&P;+ (for offense and defense), 100 is considered average, above 100 is above average and below 100 is below average.
Let's show Connelly's comparison of KU's offense in 2007 and 2008.
• S&P;+: 39th in 2007, 19th in 2008 (118.1)

• Rushing S&P;+: 35th in 2007, 21st in 2008 (118.8)

• Passing S&P;+: 41st in 2007, 25th in 2008 (115.2)

So if KU was more efficient and explosive on offense in 2008, why did it score fewer points?
Well, we've already talked some about KU's poor field position last year. Another huge factor was KU's schedule. According to Connelly's ranking system, KU played six teams last year in the top 23: Texas, Oklahoma, Missouri, Texas Tech, Nebraska and South Florida.
2. Jake Sharp has a running style more like Jerome Bettis than Barry Sanders.
Jake Sharp is fast. Really fast. But here's the funny thing about him: According to the statistics, he hardly ever breaks off huge runs.
Connelly created a statistic called "Points over expected" that measures a running back's explosiveness. In it, Sharp ranked 198th among 269 eligible running backs in Division I.
That doesn't mean Sharp can't be effective. Connelly himself calls Sharp, "... the least-scary good running back in the country."
What does he mean? Sharp is steady (like Bettis) and will help you move the chains and keep drives going. But, even with his speed, he's not an explosive game-changer (like Sanders) that you might expect him to be.
3. KU's defense, according to Connelly's stats, was worse against the run last season than it was against the pass.
I know. It sure didn't seem like it with all the problems in the secondary, but the S&P;+ statistic makes sure to take into account that KU was facing some pretty darned good passing offenses.
Let's check out the S&P;+ ranks from the last two years.
• S&P;+: #12 in 2007, #30 in 2008 (111.9)

• Rushing S&P;+: #8 in 2007, #38 in 2008 (111.1)

• Passing S&P;+: #20 in 2007, #27 in 2008 (113.3)

KU also was 61st in Rushing PPP+ (102.0), which is another measure of the explosiveness of an offensive unit.
What does it mean? It means the Jayhawks defense gave up an unusual amount of long rushing plays and that they could stand to improve their rushing defense as a whole this season.
I'll be back with more observations as we get closer to the game.
More like this story on KUsports.com