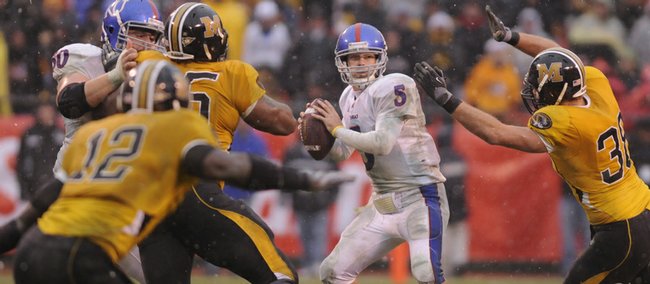 Ed Warinner's response was the only appropriate one: laughter.
The question: When you think about memorable Todd Reesing plays, which are the first to come to mind?
It's a question akin to asking Don Rickles to name his favorite put-down. So many from which to choose.
After a couple of seconds of thought, Warinner rattled off a few: the pass to Kerry Meier to win last season's Missouri game and three touchdown passes in three different road games in Big 12 stadiums were the first four that came to the mind of the innovative Kansas University offensive coordinator.
Warinner didn't rank them and wasn't asked to come up with any beyond the four that jumped to mind immediately. All four of those made the cut here, and so did six others in listing the 10 most memorable Reesing plays heading into today's 6 p.m. kickoff against Northern Colorado, Reesing's final season-opener. The game has been declared a sellout.
Some of the plays are memorable based on the importance to various games, others for the sheer thrills from watching Reesing pull huge gains out of what should have been sacks.
The top 10:
1. Christmas Comes Early (2008): With snow falling and both fan bases from the oldest college football rivalry west of the Mississippi nervous beyond belief, Reesing and Meier traveled together all the way back to the playground and fixed a broken play with a 26-yard touchdown pass that will be replayed every time the teams meet.
2. The Reesing Shuffle (2007): Three steps back, seven steps to the left, 11 steps back to the right, five steps forward, seven steps back to the left and one more step forward and then a long pass completion to Dexton Fields in Stillwater. With the ball in mid-air, veteran play-by-play man Brent Musburger said it best: "Shades of Doug Flutie."
3. The Crow Hop (2008): Never mind that Sam Houston State was the opponent and KU could have won the game without any heroics from the quarterback, this play belongs right near the front of Reesing's highlight reel.
Third and 25, Reesing goes left, then right, then back, then right, then forward, avoiding sack after sack. Then he has the presence of mind to know he won't be able to get the ball there with a conventional plant and throw. So he does a little crow hop, a la an outfielder gunning a throw to the plate. The ball travels 60 yards in the air and he hits Dezmon Briscoe in stride for a touchdown.
4. Run, Todd, Run (2006): When the game started, Reesing was a red shirt. As the half neared the end and the Memorial Stadium scoreboard showed Colorado ahead, 9-0, Reesing began tossing a football. He ripped off the red shirt at the half and rallied his school to victory. His 63-yard run made him the toast of the town. He scrambled left, scrambled right, ran through a hole, cut back to the middle of the field, cut back to the right and was brought down at the three-yard line. Trace KU's transformation into a football school to that play, even though Reesing fumbled soon thereafter.
5. Knocked Out, Still Standing (2008): Reesing rolled right and Nebraska's Eric Haag rammed into him with all the force of a George Foreman knockout punch. Without the aid of smelling salts, Reesing somehow came to and tossed a pass to a wide-open Meier, who took it in for a touchdown.
6. First-Play KO (2008): Just in case anyone from Minnesota might have been wondering why all the hype, Reesing showed why when he took his first snap of the Insight Bowl, dropped back, slipped a tackle, sprinted left and lofted a pass down the left sideline. Briscoe caught it and took it in for a 60-yard touchdown.
7. The Slant (2007): "One that people forget about in Manhattan, two years ago on fourth and 1," Warinner said. "He threw a slant to Dexton Fields for a (30-yard) touchdown. I don't know if everyone remembers that, but I do. That was a turning point in the game. We were on a drive to try to come back. We were behind at that time. They had just gone ahead. He hammered a slant in there to Dexton and we scored a touchdown and won that game."
8. Defense Blitzes, Sparky Yawns (2007): Another Warinner memory, this one from Boulder: "Sprint-out, they were blitzing, he set his feet, turned and threw back to Derek (Fine), hit him for a touchdown.
9 Back of the End Zone (2007): Oklahoma State's defense jammed the field so well that all the receivers were covered. Plus, Reesing was being chased down, so this play had failure written all over it. Reesing knew his only chance was to throw a high ball and hope that Marcus Henry zipping from left-to-right across the back of the end zone could haul it in. Reesing put it in the only place that could save the play, Henry caught it for one of his three touchdowns, this one covering four yards and finding a permanent place in Warinner's memory.
10. Outruns Ralphie Again (2007): 6. It's a sack. Oh no, wait, one, two, three slipped tackles later, it's a 53-yard run that sets up a field goal in a 19-14 victory in Boulder. Most Big 12 coaches see Reesing's passes at the end of long scrambles in their nightmares. Dan Hawkins sees Reesing tuck it and run.
More like this story on KUsports.com