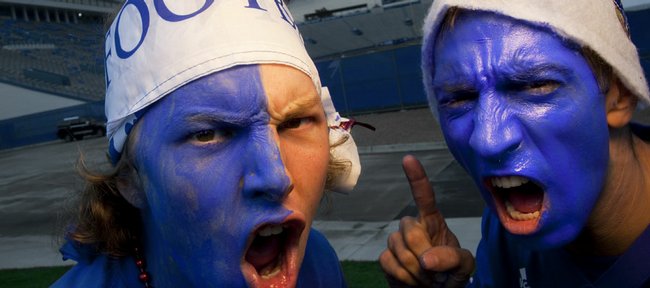 For the last four years, John-Mark Zini has been a mainstay along with his buddies in the front row at Kansas University football games.
Zini, a first-year law student from Overland Park who recently completed his undergraduate degree at KU, gets chills thinking about the Jayhawks running out of the Memorial Stadium locker room at 6 p.m. Saturday to take on Northern Colorado.
He and his friends have bonded with other KU fans over the years. But he also admits that something also changes in him when he settles into the bleachers. It's not uncommon for crimson and blue body paint and pre-game chants and cheers to work their way into the equation as Zini passionately cheers on the Jayhawks.
"When I hit Memorial Stadium, I'd rather people probably didn't know I was a law student," he said.
It's part of the psychological transformation that devoted sports fans — particularly football fans — undergo when they root on their favorite team, said Daniel Wann, a Murray State University psychology professor.
"People sort of get caught up in the moment and act as a member of the crowd without putting much emphasis on self awareness," said Wann, who grew up in Kansas and received his doctorate from KU.
From a sociological standpoint, fans often do things under cover of a large crowd that they normally wouldn't do on their own.
"You are more willing to sing and dance and get crazy if there's so many people right there next to you," said Katie Marton, a KU freshman from Montgomery, Ala.
That mentality can also turn negative in a large crowd.
"You'd be surprised at what people think they can get away with," Wann said.
Research has shown that because football is heavy contact sport, it often elicits more intense reactions from fans than other sports prompting verbal aggression, throwing things, etc., Wann said.
But the key thing for die-hard sports fans is that they feel a strong connection to their team and have a strong emotional connection to what happens on the field.
"You feel like things that are happening to the team are literally happening to you," Wann said.
KU junior Matt Stickles, from Kildeer, Ill., said it's obvious crowd members at football games, especially in the student section, are united in their cause.
"It's really fun to get pumped up to watch a big nationally recognized place that you go to," Stickles said.
Austin Rowan, a KU freshman from Kansas City, Mo., enjoys the excitement at football games. The environment also might convince him to wear body paint at some point this year.
"I wouldn't just wear body paint walking down the street going to class or anything," Rowan said.
Wann sees a psychological benefit for people who strongly identify with their local sports teams.
"It's very hard to live in Lawrence, to be a KU football fan and to feel lonely," Wann said.
Zini, the first-year law student, says he often sees other KU students and fans he meets out around Lawrence.
"It's the tradition and the people you see that make it so special and unique," Zini said. "True fans are almost familial."
More like this story on KUsports.com