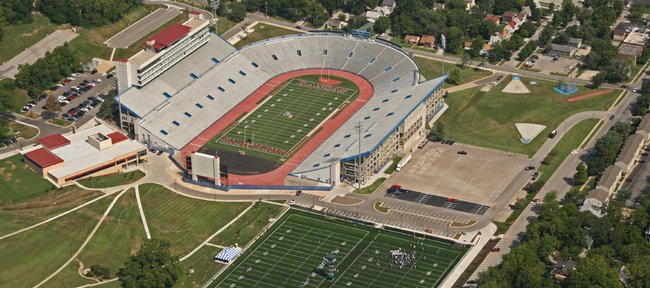 Lawrence will turn into tailgate city once again Saturday afternoon around Memorial Stadium as football season arrives.
But fans also have several options if they don't park at the stadium for the 6 p.m. Kansas University game against Northern Colorado. For them, there is the park-and-ride shuttle bus.
"There really is no change (compared to last fall)," said Danny Kaiser, KU's assistant parking and transit director.
The only major difference is that the shuttle buses to the stadium from downtown Lawrence will cost $1 round-trip per passenger this season. Rides were free last year.
The city started the shuttle service aimed at reducing parking demand in neighborhoods and bringing more people downtown before games.
City commissioners implemented the $1 fee to help cover some costs this year. In 2008, the service cost the city $13,720 while KU Athletics Inc. kicked in $7,000. This year, city officials estimated the service will cost $10,961 after including revenue from the fees.
Here's how to catch the shuttles downtown:
• Free parking is available in the garages in the 900 block of New Hampshire Street and on the lower level and on the ramps of the Riverfront Garage in the 600 block of New Hampshire Street.
• The shuttle buses that display "Downtown/Football Shuttle" will pick up passengers beginning at 4 p.m. Saturday near the two garages.
• Buses will drop off passengers on the east side of Memorial Stadium before the game, and passengers will be picked up there after the game and taken back downtown.
KU officials expect a large crowd for Saturday's opening game.
Jim Marchiony, associate athletics director, said Thursday KU had sold about 36,000 season tickets, about the same amount at this point in 2008. Also, Marchiony said Saturday's game was nearing a sellout.
That means plenty of tailgaters will be preparing for the game Saturday afternoon. Parking lots near the stadium are reserved for Williams Fund donors.
Other campus lots are designated for tailgating, and KU Parking and Transit will offer a free stadium shuttle buses starting two hours before the game that will pick up passengers on Irving Hill Road near the Burge Union and near the tennis courts on Naismith Drive.
Like last year, spaces will cost $20 in parking lot 90, across from Allen Fieldhouse. Also, some spaces in lot 72 between the Fieldhouse and the Burge Union will cost $20, Kaiser said.