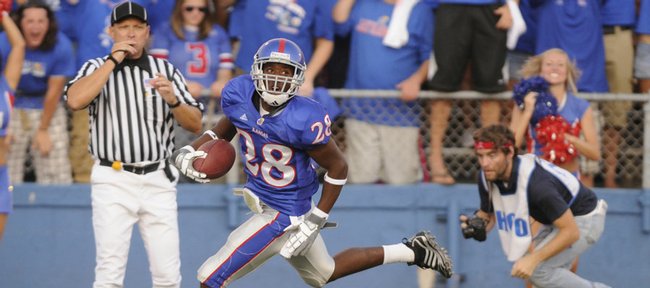 The weekly Tuesday afternoon media sessions with Kansas University football players can at least crack windows into their personalities.
At those sessions a year ago, Daymond Patterson's clipped responses to questions were delivered at low volume. His body language screamed he didn't want to be there. Now, he talks louder, looks into the eyes of his partner in conversation, never mumbles and appears to enjoy the exchanges.
Patterson fills two of the most difficult roles on a football team. He returns punts. And he covers wideouts, Big 12 wideouts. Both jobs require massive amounts of confidence. It's no great leap to predict his more confident demeanor on Tuesday afternoons portends a more confident football player, a better football player.
"I'm way more comfortable," Patterson said. "Just with the guys showing me different coverages, different techniques, seeing the formations and knowing what routes are coming. I'm a thousand times more comfortable with my technique and my ability to play the position."
Most freshmen spend the season practicing and not playing, wearing a red shirt. Patterson played. First he played at wide receiver and returned punts. Then, the week Kansas prepared for Heisman Trophy candidates Graham Harrell and Michael Crabtree of Texas Tech, Patterson was learning to cover receivers instead of catch passes.
Of course Patterson will be better. It's easier to cover Big 12 wide receivers when your head isn't spinning like Linda Blair's in The Exorcist. Patterson earned the respect of teammates the way he tackled the midseason switch to cornerback.
"Any time you're a freshman coming into a Big 12 conference playing one position and you get switched midway through the season to another position, that's impressive," senior safety Darrell Stuckey said. "It shows how athletic he is. It shows his will to help the team. And it shows how competitive he is as an individual. I think it's amazing you get a player who comes in and is willing to do that in college."
Patterson's name was the first senior receiver Kerry Meier mentioned when he expressed the opinion that going against an experienced receiving group daily in practice helps the team's secondary.
"Daymond's getting better and better and he's going to have a heck of a season," Meier said.
Sophomore Anthony Davis will start at the other cornerback and has developed rapidly enough that coach Mark Mangino felt comfortable moving Justin Thornton back to safety.
"Anthony's worked real hard and I'm expecting big things from him this season," Patterson said.
Kansas, which ranked 89th in the nation in total defense (396.7 yards per game) and 82nd in scoring defense (28.9), must withstand the loss of active linebacker James Holt and improve. That won't happen without a significantly better performance from the secondary.
Why, Stuckey was asked, will this season's defense be better?
"I would say big plays," he said. "I think we're going to force teams to beat us yard by yard, instead of big plays. I think our effort is a lot better and we're executing our assignments a lot better, so I think that will alleviate a lot of the big plays we gave up last year. Last year, we were doing great and all the sudden there would be one big play that gasses us. Avoiding those plays is what makes great defenses."
Patterson, a 5-foot-9, 175-pound native of Mesquite, Texas, agreed with Stuckey's analysis.
"Big plays come from the secondary a lot," he said. "A busted play or a receiver making a play and getting free on you. I think our secondary's matured a lot. We've all bonded since we all got switched around in the middle of the year, after the Oklahoma game, going into the Texas Tech game. Our chemistry is a lot better, so our communication is a lot better."
Patterson shares one feeling with so many people in Lawrence in that he can't wait the football season to begin at 6 p.m. Saturday in Memorial Stadium against Northern Colorado.
"I'm ready to put my new skills to work," Patterson said. "My technique is better. I'm faster. My cuts are better. I'm recognizing routes better. Everything's coming along real good and I'm ready for it to start."
• A previous version of this story contained an error.
More like this story on KUsports.com