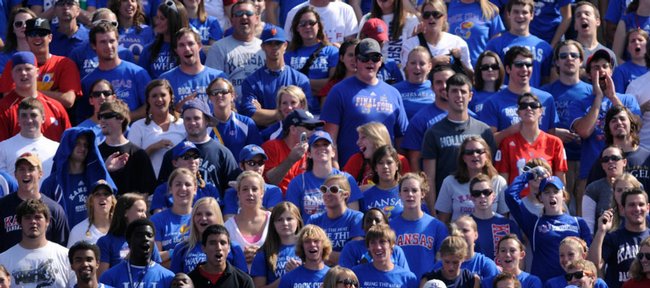 Feature

KU fans travel with the best of them. Join us as we build the best community for KU sports fans.
Everyone knows Jayhawk fans are among the best at traveling to support the team.
This week, KUsports.com will debut Road Hawks, an interactive, online, multimedia feature designed to help you have the best experience when you're on the road, watching the 'Hawks.
Road Hawks will provide readers with interesting and useful content on cities where Kansas University will play Big 12 Conference games. You can check out the best restaurants and bars in the area, find promotions from partner businesses, comment on your favorite stops in Big 12 country and get driving directions from your door to the venue.
Road Hawks will also help you orient yourself to the different Big 12 venues with photos, and eventually video, ticket information and a "Fly or Drive" meter to determine whether you're better off taking to the air or hopping behind the wheel to see the Jayhawks.
Longtime columnist Chuck Woodling offers "Words to the Wise," suggestions of interesting places to see in each Big 12 city and also tips on what to eat and where to go while you're in town.
You can also hop into the time machine and view "Memorable Moments" from the KUsports.com vault, including stories, photos or video from some of the Jayhawks' greatest games in each community.
The best part about Road Hawks, though, will be the contributions that you, the fan, make. Right now you can to leave comments on the best bets you have for each Big 12 city. In the coming days, before the first conference road game in October, you'll be able to edit the information on the page to include photos you've taken and posted to Flickr, great places for an alumni tailgate and your own Jayhawk memorable moments.
You can use our message board to find a ride to a KU game and submit fan photos from trips you've made to see the Jayhawks.
Between now and that first conference road game, poke around Road Hawks and help us build the ultimate community for KU fans looking to travel to KU road games.
Also, look out for contests built around being a Jayhawk road warrior. Strap in and take a trip to Road Hawks.
More like this story on KUsports.com