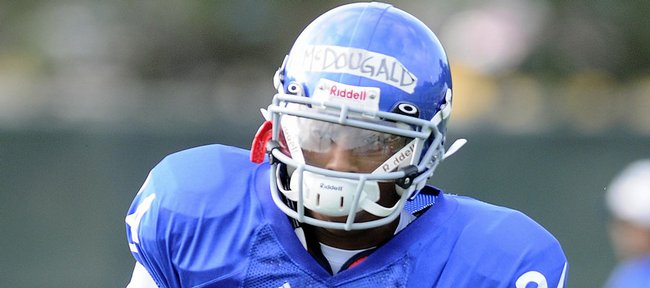 Bradley McDougald smiled like he knew the question was coming.
Hey, when your coach — who happens to be a guy not typically prone to hyperbole — calls you the most impressive true freshman he has seen in his eight years as a head coach, you figure you're going to get some questions about it.
"I've been trying to keep it under wraps," said the first-year Kansas University receiver, asked whether he has had any razzing from older players about Mark Mangino's recent praise. "Obviously, when you hear something like that, you're going to get a little confidence. But the biggest thing our coaches teach us is to be humble — because if you take things for granted, it will come back and bite you."
Keeping things quiet, however, seems to be getting more difficult by the day.
Since de-committing from Ohio State and signing with Kansas last spring, the 6-foot-2, 195-pound McDougald has made a quick splash with KU coaches. It started during summer conditioning — "You start hearing the kids talk in the building, and you start hearing the strength coaches talk, and you realize that maybe he has a chance to be pretty good," Mangino said Tuesday — and carried over into preseason training camp in August.
By last week, he was working with the first-team offense, and come Saturday's season-opener against Northern Colorado, he's expected to see plenty of snaps as a member of one of the nation's most formidable receiving corps.
Oh, and for the record, Kansas' coaches and players want you to know that Mangino's praise wasn't merely blown smoke.
"You know how careful he is with his words," said receivers coach David Beaty. "And when he says something like that, that's obviously a tribute to the kid and what kind of potential he has."
Said fellow receiver Kerry Meier, "I think he hit it right on the head. From what I've seen from Bradley, he's been great (in) everything that he's done."
Of course, now comes the hard part: backing up his coach's claims on Saturday afternoons this fall.
McDougald admits that he's still adjusting to Div. I football. Like most 18-year-olds, he still sometimes has to ask teammates about a play in the huddle. He still picks the brains of his fellow receivers. He still seems a bit in awe of the feats he sees teammates carry out on the practice field.
"Just the other day, we were going through 1-on-1's, receivers (against the defensive backs), and (Dezmon Briscoe) just goes up and makes a spectacular one-handed catch and lands with two feet on the sideline," McDougald said. "It's something that would have probably made the (SportsCenter) top 10, but it's just something that he does almost every day. Just another day with Briscoe."
To help ease his transition into big-time college football, Beaty already has spoken with McDougald at length about the things he can expect during his freshman season — from media exposure to the various in-game situations he's bound to see this fall — and has come away impressed with the youngster's mental fortitude.
It's not every day, he says, that a player can wrap his brain around the college game without the benefit of a red-shirt year.
"There are a lot of great athletes that come in and they're not able to contribute early because they're not able to make that mental transition," Beaty said. "And he's been a guy that's been a pleasant surprise in that regard."
For his part, McDougald seems to be entering his first season with poise. He says he feels no added pressure to be Superman — in Briscoe and Meier, after all, Kansas already has a couple of those.
He knows he'll make mistakes, he says. His goal is to make them as infrequently as possible.
"I'm just ready to go out there and play," he said. "Coaches are trying to make the transition easy, telling me to just let the game come to me. I don't have to make every play on the first play or the first time I touch the ball.
"Just go out there and do the things that got me out there in the first place."
More like this story on KUsports.com