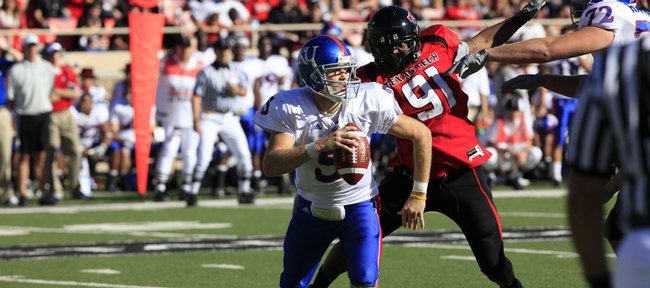 FINAL: TTU defeats KU, 42-21
KU runs a few rushing plays to run out the clock, and the game ends.
The Jayhawks fall to 5-3 overall and 1-3 in the conference, losing three straight for the first time since the 2006 season.
TTU 42/KU 21 — 2:05 left in 4th quarter
Tech picks up one first down, but KU's defense holds after that, stopping Batch short of the first down on a third-and-3.
The Red Raiders punt, but McDougald muffs it, and TTU's Gerardo Acevedo falls on the ball.
Two plays later, Batch runs 11 yards around the left side for another TD.
What a disaster of a game for KU.
TTU 35/KU 21 — 5:06 left in 4th quarter
Pick gets a 16-yard run, and on a third down, he eludes pressure and delivers a nice ball to Meier.
Only Meier drops it.
It's been that kind of day for KU. Rojas punts again.
TTU 35/KU 21 — 6:35 left in 4th quarter
Three weeks after saying his quarterback deserved Heisman Trophy talk, KU coach Mark Mangino has benched Todd Reesing.
Kale Pick now under center.
TTU 35/KU 21 — 7:05 left in 4th quarter
Well, that should about do it.
Reesing gets sacked after holding the ball a long time in the pocket. On third-and-17, Reesing completes a 16-yard pass to Meier on the sideline.
The Jayhawks decide to go for it on fourth-and-1 from their own 31, and Reesing fumbles the snap. After it gets bobbled a few times, TTU's LaRon Moore scoops it up and takes it 31 yards for the touchdown.
There will probably be a lot of second-guessing after this one.
TTU 28/KU 21 — 8:49 left in 4th quarter
On third-and-4 from the KU 17, the Red Raiders catch the Jayhawks by complete surprise with a draw play. Batch runs through a huge hole on the left side, going 17 yards untouched into the end zone.
KU 21/TTU 21 — 9:00 left in 4th quarter
KU media relations assistant Beau White has told me that with a catch and interception in the same game, McDougald becomes the first Jayhawk to do that since Aqib Talib against Kansas State in 2007.
McDougald fumbles the kickoff return, and it's the start of a bad possession for KU.
After getting a first down, Reesing throws to the outside to Meier, who fumbled the ball as he was being tackled. TTU recovered at the KU 24, and the Red Raiders have a great opportunity to take the lead.
KU 21/TTU 21 — 11:06 left in 4th quarter
After a roughing-the-snapper penalty on TTU, KU gets to kick off from the TTU 40. The most obvious play would be an onside-kick attempt, as the Jayhawks could take a chance at getting the ball right back. Instead, the KU coaches tell Branstetter to kick it through the end zone. I'm not sure why you wouldn't try an onside kick there.
On cue, TTU's offense puts together its best drive since the first half. Batch breaks free down the right sideline for a 44-yard run. Two plays later, Potts throws to Torres for 17 more yards to the KU 5.
TTU is whistled for an offensive pass-interference call in the end zone, moving the Red Raiders back 15 yards, but on the next play, Batch runs up the left side for 19 yards back to the KU 1.
The Jayhawks stuff Eric Stephens for a three-yard loss on second down, and Tharp saves a TD with a last-second hit on Stephens on third down.
On fourth-and-goal from the 1, though, Batch barrels in from 1 yard out, with the PAT tying the score.
A nine-play, 80-yard drive for Tech started with a weird call by KU's special teams.
KU 21/TTU 14 — 5 seconds left in 3rd quarter
Arist Wright is the main reason for the next TTU punt, as he gets pressure on second and third downs, forcing Potts into quick throws. Both fall incomplete, with the second-down pass knocked away on a good play by Chris Harris.
It only took 12 possessions, but KU's offense finally moves the ball with success.
Reesing throws to Briscoe for 19 then 11. On third-and-9, Reesing finds Meier over the middle for 16 yards and his first catch of the game.
Even the running game shows some signs of life, as Sharp puts together consecutive 12-yard runs around the left side.
On third-and-6 from the TTU 10, Reesing eludes a sack and fires to a wide-open Briscoe for a 10-yard touchdown. Finally, KU breaks through. It looked like Brad Thorson might have grabbed Whitlock on his way to Reesing, but a flag was thrown for roughing-the-passer instead.
TTU 14/KU 14 — 6:10 left in 3rd quarter
The answer is no, KU's offense can't take advantage.
A deep pass to Wilson is overthrown. An option right to Opurum goes for two yards. Reesing throws another incompletion Wilson's way.
KU needed about 15-20 yards for a field-goal attempt, but the Jayhawks only manage two. Out comes Rojas. He's going to need some ice after this one.
TTU 14/KU 14 — 7:04 left in 3rd quarter
The Red Raiders have decided they're tired of getting sacked, so Potts is being asked to make lots of short throws. TTU has some success, as the Red Raiders move it inside the KU 35.
When the Red Raiders are forced to throw long, though, they make a mistake. A deep pass over the middle is tipped by a TTU receiver, and McDougald comes up with the interception. The two-way player treats the interception like a punt return, moving up the left sideline 38 yards before getting taken down at the TTU 47.
Can KU's offense take advantage?
TTU 14/KU 14 — 10:42 left in 3rd quarter
KU's offense picks up where it left off in the first half, as after an 11-yard pass to Johnathan Wilson, the Jayhawks are forced to punt after short passes to Opurum and McDougald.
The Jayhawks catch a break when Rojas is roughed, giving KU an automatic first down on the TTU 46.
It doesn't help. Reesing continues to make horrible decisions, as he holds onto the ball too long on a scramble and is sacked for a six-yard loss. The next play, he takes off before his receivers can even get into a route, and the zero-yard run forces KU to punt once again.
Taylor Potts will enter the game at QB for Texas Tech.
Stats of note
Kansas
• Reesing 9-for-18, 88 yards
• Jake Sharp 6 carries, 21 yards
• Dezmon Briscoe 4 catches, 61 yards
• Kerry Meier 0 catches
Texas Tech
• Seth Doege 14-for-28, 159 yards, TD
• Batch 7 carries, 7 yards, TD
• Detron Lewis 4 catches, 79 yards, TD
• KU had 17 rushes for 18 yards. TTU had 15 rushes for -32 yards.
• Rojas is averaging 50.2 yards on his five punts.
• TTU was 5-for-11 on third-down conversions; KU was 1-for-7.
Halftime observations
• It's kind of strange that KU isn't testing Texas Tech down the field at all in the passing game. Could Reesing be hiding an injury? Just a guess, because I can't think of any other reason the Jayhawks wouldn't let Briscoe try to make a play down the field.
• This is why it's nearly impossible to try to predict KU games this season. You never know which team is going to show up. Who would have seen a performance like this from KU's defense coming?
TTU 14/KU 14 — Halftime
TTU throws a pair of passes before letting the clock run out on the half.
Both teams should feel fortunate to be tied at 14.
TTU 14/KU 14 — 47 seconds left in 2nd quarter
KU's defense just will not let this game get away from the Jayhawks.
Jake Laptad brings pressure from behind on Doege, slapping the ball away from the quarterback on the sack. Arist Wright scoops it up, but after getting hit, he fumbles, and KU's Lubbock Smith recovers and takes it to the TTU 2. On the next play, Toben Opurum pushes the pile ahead for a two-yard TD run, and KU somehow has tied this game back up.
If you're keeping track at home, the current KU score is KU's defense 14, KU's offense -7 and Texas Tech's offense 7.
TTU 14/KU 7 — 1:10 left in 2nd quarter
No more answers for KU offensively.
Reesing makes a nice run, bouncing off defenders and going forward for 12 yards. But on the next play, there is more miscommunication, as Reesing fires it to an area without a KU receiver anywhere close. TTU's D.J. Johnson nearly intercepts it.
TTU still gets possession, as Rojas sends off another punt.
TTU 14/KU 7 — 3:05 left in 2nd quarter
As is custom with KU the last three games, KU's offense gift-wraps points for the opposing team.
Colby Whitlock sacks Reesing, who fumbles deep in his own territory. Richard Jones recovers for TTU at the KU 6.
Two plays later, Batch falls into the end zone for a two-yard TD, and TTU takes the lead.
KU 7/TTU 7 — 3:30 left in 2nd quarter
On third down, Alex Torres comes down with a big reception for TTU, going over the top of Beshears for a 28-yard reception on the right sideline. We've seen both OU and TTU pick on the 5-foot-9 Beshears by throwing the ball high and letting their receivers go over the top of him.
KU's defense stands strong, though, forcing a pair of incompletions. On third down, Stuckey comes unblocked around the end and registers KU's fourth sack.
TTU punts. Again. That's 10 combined punts for the two teams.
KU 7/TTU 7 — 7:02 left in 2nd quarter
Maybe one good pass will get the KU offense going.
On third-and-10, Reesing slings it over the middle to Briscoe, who splits two defenders and falls forward for 29 yards.
Reesing's next pass goes to Briscoe again, and that's 14 more yards and another first down for KU. Reesing and the Jayhawks are making it look easy in the passing game after making it look extremely hard for the first 20 minutes.
Reesing has a pass slip out of his hands, though, and on third down, he has another pass batted down at the line.
Branstetter comes in for a 45-yard field-goal attempt, but his kick sails wide right. That breaks a string of six straight makes for the KU kicker.
KU 7/TTU 7 — 9:24 left in 2nd quarter
Reesing misses a wide-open Briscoe on what would have been an eight-yard gain. On second down, KU has some miscommunication, as Reesing throws a deep ball to Toben Opurum on a wheel route. Opurum never even looks up for the ball, and the pass is nearly intercepted.
TTU calls timeout before KU's third-and-10 play. No catches for Kerry Meier. Reesing is 5-for-10 for 30 yards.
KU 7/TTU 7 — 9:33 left in 2nd quarter
KU's defense comes up with another big play, as Lubbock Smith's hit on Tramain Swindall forces a fumble and Darrell Stuckey recovers.
After signaling KU football, the officials converge and decide incomplete pass, though. Then the call is reviewed, and the ruling on the field is upheld. That's a huge break for TTU, as it sure looked on the replay like Swindall caught the football, took two steps, and then fumbled.
The call ends up being costly, as TTU fakes a punt on fourth-and-2 from its own 32, and Ryan Hale runs forward for five yards and a fresh set of downs.
KU's defense gets a second stop, though, as Maxwell Onyegbule crunches Doege for his first sack since the Duke game. Doege's third-down pass is inaccurate, and TTU punts for the fifth time already.
KU 7/TTU 7 — 12:21 left in 2nd quarter
More ugliness for KU's offense. Sharp runs for a one-yard gain and a four-yard gain, and on third down, a swing pass to Sharp goes for three yards, which is still two short of the first down. The Jayhawks aren't even trying to throw the ball down the field.
Rojas delivers a booming punt into the wind (52 yards), and KU's just-burned defense will have to go right back on the field as TTU takes possession at its own 24.
KU 7/TTU 7 — 14:22 left in 2nd quarter
McDougald, perhaps still steaming after dropping a previous pass, comes up to make a big hit on TTU's Baron Batch to hold him to a three-yard gain. Once again, McDougald is getting some time at safety.
The play doesn't end up mattering, though. On the next play — a third-and-8 — Doege finds a wide-open Detron Lewis down the deep middle. Lewis catches the ball three steps behind the nearest defender, KU's Ryan Murphy, and the play goes for 61 yards and an easy touchdown.
The major breakdown in coverage gives TTU seven points and ties the game.
KU 7/TTU 0 — End of 1st quarter
No more luck for KU's offense. Reesing looks confused on a second-down play, and after pumping to his left, he gets smothered for Tech's third sack.
Reesing buys some time by side-stepping the rush on third down, but Bradley McDougald can't hold on to a pass, perhaps turning his eyes and body upfield a second too early. Rojas delivers another punt, and KU's coverage is poor, as TTU's Austin Zouzalik breaks three tackles on his way to a 26-yard return to the TTU 37.
KU 7/TTU 0 — 2:00 left in 1st quarter
Where, oh where, has KU's offense gone?
It's looking like 2005 all over again, as the Jayhawks go backwards on their next drive after a no-gain run from Sharp, a 9-yard sack by Brandon Sharpe and Colby Whitlock and an eight-yard run by Reesing. KU's offensive line doesn't appear to be stopping much of Tech's pressure.
Rojas' kick is a few inches away from being blocked by Jocques Crawford's brother, Aaron Crawford, who plays for TTU. The Jayhawks catch a break there.
Chris Harris drags down Doege for a sack on second down, and on third-and-long, Thornton makes a nice play to bat a Doege pass away. TTU has to punt.
Suddenly, TTU's offense is looking pre-Leach-like.
KU 7/TTU 0 — 6:15 left in 1st quarter
A positive sign for KU's defense is that it is getting constant pressure on Doege. It seems like he's been knocked down three or four times in the first three possessions.
KU gets pressure on a third-and-10, as Onyegbule hits Doege as he throws. The pass goes off the hands of a TTU receiver, and the Red Raiders are forced to punt again.
Great start to this game by KU's defense, and it all starts with the Jayhawks' guys up front.
KU 7/TTU 0 — 8:13 left in 1st quarter
For the first time in three weeks, we're going to see how KU plays with a lead.
On second down, Jeff Wheeler goes right around his man and sacked Doege, popping the football loose. Maxwell Onyegbule was there to grab it and walk three yards into the end zone for the touchdown. Somehow, the 258-pounder has two TDs this year.
Branstetter adds the kick, and KU's defense comes up with the first big play of this game.
KU 0/TTU 0 — 8:49 left in 1st quarter
Branstetter kicks off for KU and knocks it eight yards deep into the end zone. I guess Kalish isn't the kickoff specialist.
Some interesting starters in there for KU. After getting benched last week, D.J. Beshears gets the start at cornerback. Justin Thornton also gets the starting nod. Quinton Woods and Angus Quigley also make the field on early snaps for the Jayhawks.
Seth Doege indeed is the starting quarterback for TTU. His start is a bit shaky, as after picking up a passing first down, he throws two incompletions and is sacked on third down by Jake Laptad. TTU's streak of four straight opening-possession touchdowns ends, as the Red Raiders have to punt.
Jake Sharp looks a bit quicker in this game than he did last week. He breaks up the middle eight yards on a shovel pass, then runs for three more up the middle for a first down.
After picking up two more first downs, KU stalls after a high snap from Jeremiah Hatch slows down Reesing, who is tackled for a six-yard loss. Following an incompletion, another shovel pass goes to Sharp for a yard, and Alonso Rojas comes out to punt.
TTU will start its second possession from its own 20.
2:25 p.m.
An underwhelming crowd so far has gathered for today's game. Jones AT&T; Stadium is pretty big, but the corners of the upper decks remain almost entirely bare.
2:18 p.m.
A couple notes courtesy Mike Strauss, KU's football sports-information director.
• KU is wearing blue pants for the first time since 2004. It is the first time the Jayhawks have worn blue pants with their current adidas contract.
• Nathan Kalish has made the trip with the team and is wearing No. 12 today. Evidently, he is a kicker from Washington, Mo. We don't know much more than that.
Jacob Branstetter was kicking field goals earlier, and Alonso Rojas can kick as well, so I wouldn't think Kalish would play today. But he did make the travel roster, which is interesting. Maybe a kickoff specialist?
2:13 p.m.
I wouldn't count Missouri out of the Big 12 North picture just yet.
The Tigers are thumping Colorado, 33-3, at halftime in Boulder, Colo.
Here is MU's remaining schedule: Baylor, at Kansas State, Iowa State, vs. Kansas in Kansas City, Mo.
Even after starting 0-3, I wouldn't say that 5-3 would be out of the realm of possibility for the Tigers.
1:50 p.m.
Here are some notes about today's game between KU and Texas Tech:
• TTU redshirt freshman quarterback Seth Doege was 18-for-25 for 146 yards last week in second-half action against Kansas State. Doege, who is expected to start today, had not played in a game in more than four years. Both his junior and senior years of high school he sat out with knee injuries. His last game was playing for Crane (Texas) High School in the 2005 playoffs.
• When Texas Tech faced KU last year at this point in the season, its offensive line had allowed one sack all season. This year, the Red Raiders have allowed 21 sacks, the most in the Big 12.
• Tech ranks 11th nationally with three sacks per game of their own. Brandon Sharpe (No. 92) is second in the Big 12 with eight sacks.
• Tech has thrown for at least 400 yards in six of its eight games this season.
• The Tech defense is allowing opponents to convert 41.5 percent of their third downs, which is the second-worst mark in the conference.
• Last year, KU allowed 418 passing yards to Texas Tech. This year, the Red Raiders are averaging 418.9 passing yards per game.
• Tech is tops in the nation in passing yards per game. The Red Raiders are 118th (out of 120 teams) in rushing yards per game (69.6).
• KU is second in the Big 12 in pass completions with 191. Texas Tech is first with 93 more completions than the Jayhawks (284).
• Tech has attempted 115 more passes this year than KU (408-293). The Jayhawks are second in the conference in pass attempts. The Red Raiders have just nine fewer completions than the Jayhawks have passing attempts (293 KU attempts; 284 TTU completions).
1:23 p.m.
A quick note: The KU players have emerged from the locker room with a new look: blue pants with a red stripe down the side. I don't think the Jayhawks have ever used this look with the road white tops.
1:13 p.m.
Welcome back to the Newell Post Live, coming to you from Jones AT&T; Stadium in Lubbock, Texas, where the Kansas Jayhawks are getting set to take on the Texas Tech Red Raiders.
The drive west into Lubbock from Wichita Falls was full of one thing: lots and lots of cotton. Cotton fields stretched as far as we could see, making the fields around us look like they were filled with snow. Loose cotton that had fallen out of trucks also blew around the shoulders of the road.
After making a quick stop at Starbucks near the stadium, we ran into Darrell Stuckey's mother, Michelle Foulks, decked out in her blue, personalized, No. 25 Stuckey jersey. She said she told the defensive players her expectation was at least five interceptions today.
Obviously, Michelle has lofty goals for her son's defense.
We'll get to some analysis of this game in a few minutes, but first, be sure to check out the poll question on the left.
KU's struggles in the first quarter and in the first possessions of the game have been well-documented. Last week, Todd Reesing's first pass was intercepted by Oklahoma.
So will the slow-start syndrome end today?
Here's something else to consider: Texas Tech has scored opening-possession touchdowns in its last four games.
The Jayhawks have had to play catch-up the last two weeks, and if history is any indication, they might need an opening-drive score to avoid doing that again today.