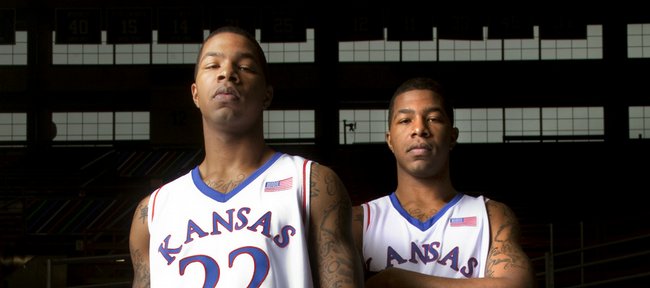 There was a time last season when Markieff and Marcus Morris left members of the Kansas University basketball team wondering if they actually could dunk.
The two post presences from Philadelphia — Markieff at 6-foot-9 and Marcus 6-8 — rarely announced their presence with an authoritative throwdown last year in games.
This season, the Morris twins' assertiveness above the rim figures to be more noticeable.
They're dunking in practice now with regularity. After a vigorous offseason regimen in which the Morris twins worked their tails off in the weight room, the results are speaking for themselves. Marcus even mentioned a signature jam that he has developed in the process.
"If I ever get a chance, I could do a reverse-windmill," Marcus said. "I haven't gotten a chance on a (fast) break, so I haven't showed it yet."
The better dunker?
"I would say I am," Marcus said, laughing. "Off one leg, I can jump higher. Off two feet, he can jump higher. Off one foot, you can do a little more."
Markieff agreed.
"When we were in high school, we had a lot of dunk-offs," Markieff said. "I won a lot in high school, but he's kind of stepped his dunking game up. He's probably got me now. He can do all different types of back dunks. I feel like since he's got here, he's had a little more tricks up his sleeve."
If it's up to the sophomore forwards, the 2009-10 season will be significantly different from their rookie campaigns.
Speaking this month at KU's Media Day, the Morris twins went over how much had changed in their lives since March 27, when the Jayhawks fell to Michigan State in the Sweet 16.
Their eating habits. Their weight. Their strength and conditioning. Their work ethic.
"I saw how hard it was last year. I think if I would have been a lot stronger and a lot tougher on the court, we could have gone further than we did," Markieff said.
No more than a week after KU's NCAA Tournament loss, the twins hit the gym six days a week — "I've never worked that hard," Markieff said — and the results were obvious.
Marcus said he weighed about 214 pounds at this time last year. He's now up to 230.
Markieff weighed 212 pounds in October 2008. Fast forward a year, and he's up to 243.
The twins credited several people for the results: KU strength and conditioning coach Andrea Hudy, whom Markieff said pushed them to give a second wind they never knew they had; their mom, Angel, for cooking a variety of dinners that much of the time included pasta, chicken or steak; and most importantly, themselves.
"We pushed each other," Marcus said. "There were some days in the morning where I was like, 'Man, I can't get up this morning.' (Markieff) would come in and be like, 'Come on, we gotta do it.' That comes with being a twin, you know what I mean? You always have someone right there to talk to and push you that extra step that you need to go. When you wake up in the morning, and it's 6 a.m. and you're like, 'I can't do it,' he'll always say we need to."
Marcus, who averaged 7.4 points, 4.7 rebounds and 18.5 minutes per game last year, wants to be a dual threat from the perimeter and the post. He'll play the 3 (small forward) and 4 (power forward) spots this year.
He mainly played the 4 last year.
"He's a skilled 4 man or he's a big 3," Kansas coach Bill Self said of Marcus. "The way we play our perimeters is pretty much interchangeable, but I could see putting a big team out there some. A really big team. And then I could see playing small with him at the 4. He'll be much more consistent and much more improved."
Marcus said he's been mainly working on the little things: putbacks, rebounding and extending the possession with his hustle and newfound desire.
"I want to give coach quality minutes," Marcus said. "If I don't start, I want to be a good teammate off the bench. As a starter, I'd play my hardest in whatever role he gives me, whether it's being the trash man or shooting when I'm open."
Markieff's game figures to change this season as well. With his 31 pounds of added weight, he's hoping to be more of a post presence at the 4 spot than he was a year ago.
Markieff averaged 4.6 points, 4.4 rebounds and 15.6 minutes per game last year. He only registered double-digit rebounds in one game — the first of the season.
"I'm going to battle inside more," Markieff said. "Not get pushed around. Be able to catch the ball in the post and finish more. Finish above the rim more. Things like that. Coach told me he needs me to be an energy man. He needs me to be a double-double man. And that's what I'm trying to give him."
Markieff also emphasized a propensity in his game to shoot more from the outside this season. In practice, he'll bring a rebounding machine to the gym and put up jumpers and threes until he's tired and can't shoot anymore. Markieff made only three shots from long range last season.
"I think shooting threes is going to be a big strength of mine this year," he said. "Being able to stretch the defense more."
A lot has changed for the Morris brothers in the past seven months. They hope it translates to the court when Kansas opens its season Tuesday with an exhibition game against Fort Hays State in Allen Fieldhouse.
"Mainly, I think work ethic," Marcus said, asked what's changed for him the most. "I was starting to buy into what coach Self was saying, and I knew I had to have a big offseason and come back ready for this season."
More like this story on KUsports.com