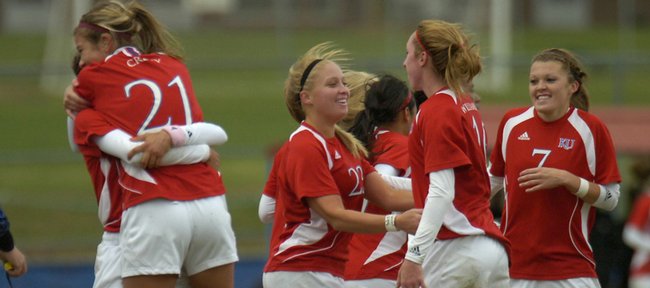 Not a bad day for the Kansas University soccer team.
The Jayhawks downed No. 20 Missouri, 3-2, on Friday at Jayhawk Soccer Complex, then squeaked into next week's Big 12 tournament thanks to the conference's three-way tiebreaker rule.
The Jayhawks will face the Tigers again at 5:30 p.m. on Wednesday in the quarterfinals of the Big 12 tournament in San Antonio.
Kansas (12-7-1 overall, 4-6 Big 12) finished the regular season tied for seventh place with Texas Tech (3-4-3) and Baylor (3-4-3).
The first step in the Big 12 tiebreaker is a mini round-robin among tied teams. All three teams finished 1-1 against each other.
The second step is goal differential. All three remained tied with a zero differential versus the other two tied teams.
The third step compared "goals scored against" among the tied teams. Baylor gave up the fewest goals, with two combined against Kansas and Texas Tech to earn the No. 7 seed in the Big 12 tournament. At that point, the tiebreaker reverted to head-to-head competition. Kansas beat Texas Tech in the regular season to garner the No. 8 and final seed.
Kansas has qualified for the Big 12 tournament 10 straight years, but has yet to advance to the championship round. KU was eliminated in a shootout last season by tournament champion Missouri in the semifinal round after the teams played to a 1-1 tie in double-overtime. The 10 consecutive seasons in the tournament is tied for the third-longest streak in league history.
On Friday, sophomore Emily Cressy scored two goals, while senior Monica Dolinsky added her team-leading eighth assist in KU's victory over Missouri, which lost for the first time since Sept. 20.
The win was KU's fifth straight over the Tigers at the Jayhawk Soccer Complex. Missouri hasn't won in Lawrence since 1996.
The Jayhawks honored Dolinsky, Kim Boyer, Julie Hanley, Estelle Johnson and Shannon McCabe in a short ceremony after the match for Senior Day.
More like this story on KUsports.com