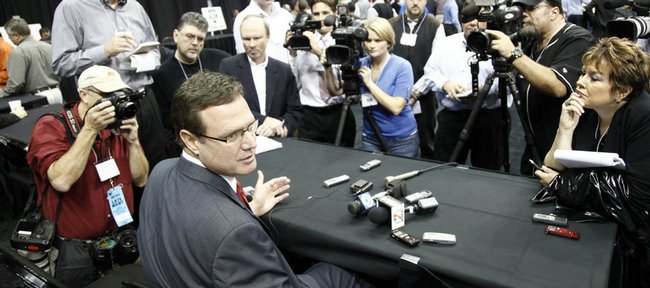 Kansas University's tradition-rich men's basketball program — which has claimed five national championships — has been ranked preseason No. 1 by the Associated Press just twice in 49 years.
That would be in October of 2004-05 and again ... today.
The Jayhawks on Thursday received 55 first-place votes from a 65-member national AP media panel to total 1,612 points and easily outdistance runner-up Michigan State, which had five first-place votes and 1,515 points. No. 3-ranked Texas, No. 4 Kentucky and No. 6 North Carolina had one, three and one first-place vote respectively. Ranked fifth, Villanova recorded no firsts.
"Definitely it is a big honor," KU sophomore forward Marcus Morris said Thursday afternoon. "KU has always been one of the top basketball schools ever made. It's a great honor to be on a team that is preseason No. 1."
"I feel it's a great accomplishment for the school and city of Lawrence," senior forward Mario Little noted. "We work hard each day to try to keep that going, to stay No. 1 and continue to get better."
The AP ranking came hours after the release of the USA Today/ESPN coaches poll, which also had Kansas No. 1 in the land.
KU coach Bill Self, who jokingly referred to No. 1 ranking as a certain "kiss of death," says the 2009-10 team doesn't look like the eventual NCAA champion as of today.
"The team is not the same team as last year right now," he said of a squad that went 27-8 overall, won the Big 12 and reached the Sweet 16 of the NCAAs. "We've got to improve from a maturity standpoint in so many areas and get to the point we practice at a consistent, high level. I think this team feels they can turn it on when they want to, and that obviously is not the case, and that will be a tough lesson to learn if we don't pick it up from an intensity standpoint.
"We aren't practicing like a team that's preseason No. 1 in the country. It has been a very few good days of practice, but we do have good players. ... There's a lot of excitement surrounding these guys."
The players agree with their coach's assessment that practice hasn't been great since the Oct. 16 Late Night in the Phog.
"I think we should work harder," Marcus Morris said. "To be No. 1 is a very big thing. In his eyes we should be acting like we are No. 1. We should be practicing like we are No. 1. We should be preparing like we are No. 1, and our effort should be like we are No. 1."
What has been the problem?
"At times it's been sloppy," Little said. "Like coach says, our attention span starts wandering. That's when practice gets sloppy ... when we are thinking about getting out of there and (are) not thinking of getting better.
"We've got a lot of new guys. We are trying to get them right," Little added. "The older guys sometimes are struggling (too). With time, we'll be great."
Morris said there has been more teaching at practice this year than during his freshman campaign.
"Last year we didn't have a choice but to catch on. Everything came fast last year," Morris said. "Coach is moving a little faster than last year. With a lot of new (guys), we can show them the plays, but they have to go through a lot of reps to get it."
Self, of course, was coach of the 2004-05 team — the only other squad in school history to be preseason No. 1. That team went 23-7 and won the Big 12, but lost to Bucknell in the first round of the NCAAs.
"That was a tired team that fizzled late," Self said. "This team is more talented, deeper and probably has more margin for error than that team. But that team had some great leaders with Aaron (Miles), Wayne (Simien), Keith (Langford) and Michael (Lee), and I have yet to see that leadership except from Sherron (Collins) and Cole (Aldrich). We have to have some young guys step up."
The Jayhawks, who have been ranked in the AP's preseason Top 10 15 times in the last 18 years, have been ranked in the Top Five nine times in that span. As such, they know what it's like to be the big game on everybody's schedule.
"That's how it was last year, people storming the court because we just came off a national title run," Little said. "People felt this was their chance to beat us. We will come out with a sense of urgency and be ready to play every night."
Self hopes so.
"I almost hope there is pressure because I hope they realize that if they are not their best every day and try to get better each and every day, someone else has our game circled on their schedule. I hope we don't have to be taught a lot of valuable lessons," Self said.
For now, the Jayhawks can enjoy some positive publicity heading into Tuesday's 7 p.m. exhibition opener against Fort Hays State.
"I think we do deserve to be No. 1," Little said. "We return a lot of guys. We didn't lose anybody except for two seniors who were walk-ons. We've got the best point guard in the nation. We've got the best big man in the nation, and we've got a lot of other guys that fall in between that."
UNC comparison: Self was asked by the AP to compare this year's team to last year's unanimous preseason No. 1 — eventual champ North Carolina.
"There are some similarities, but that North Carolina team had been through a lot more experiences than our guys have," Self said. "The North Carolina team had been through Final Fours, had been to Elite Eights, had had some heartache, been through some tough times. I don't know that this group has been through tough times like they had. The fact we return nine guys and a good recruiting class is the reason people are so optimistic about us."
Naismith watch list: KU's Sherron Collins, Cole Aldrich and Xavier Henry have been named to the 50-player Naismith Trophy Preseason Watch list for 2009-10, the Atlanta Tip-Off Club announced Thursday. KU is the only school to have three players on the list, while five other schools have two candidates.
Collins and Aldrich were also named Wooden Award preseason candidates in August.
Henry is on his first preseason list.
"I sure didn't expect this, but did expect it for Sherron and Cole. It is a great honor," Henry said. "Right now we are just trying to work hard as a team in practice and listen to our coaches and learn."
"Like the Wooden Award, this is really cool for Cole and Xavier," Collins said. "But this is preseason and as a leader, I have to get my team better day-in and day-out."
Kansas (55) 27-8 1,612 14
Michigan St. (5) 31-7 1,515 8
Texas (1) 23-12 1,397 —
Kentucky (3) 22-14 1,372 —
Villanova 30-8 1,347 11
North Carolina (1) 34-4 1,320 2
Purdue 27-10 1,284 17
West Virginia 23-12 1,115 —
Duke 30-7 1,064 6
Tennessee 21-13 897 —
Butler 26-6 864 22
Connecticut 31-5 844 5
California 22-11 800 —
Washington 26-9 776 15
Michigan 21-14 578 —
Ohio St. 22-11 465 —
Oklahoma 30-6 410 7
Mississippi St. 23-13 393 —
Louisville 31-6 335 1
Georgetown 16-15 326 —
Dayton 27-8 318 —
Georgia Tech 12-19 301 —
Illinois 24-10 282 —
Clemson 23-9 217 24
Minnesota 22-11 172 —
Others receiving votes: Maryland 171, Siena 112, Notre Dame 107, Florida St. 92, Vanderbilt 90, Syracuse 83, Oklahoma St. 65, UCLA 63, Florida 53, Wake Forest 50, Xavier 42, Gonzaga 37, South Carolina 28, Kansas St. 24, BYU 21, N. Iowa 16, Tulsa 16, Mississippi 15, Texas A&M; 10, Missouri 8, Boston College 6, Pittsburgh 4, Utah St. 2, Va. Commonwealth 2, W. Kentucky 2, Holy Cross 1, Old Dominion 1.
The Associated Press contributed to this report
More like this story on KUsports.com