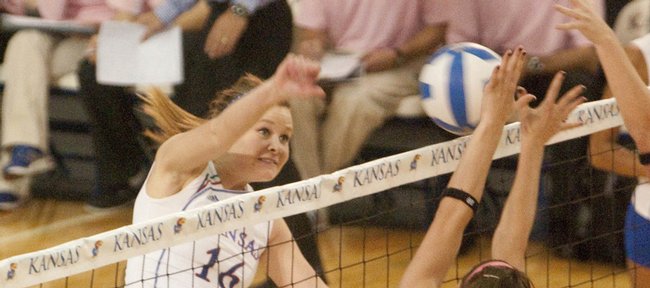 A run-away, three-set victory over UMKC gives Kansas University's volleyball team three victories in four matches heading into Saturday's 6:30 p.m. showdown against No. 25-ranked Texas A&M; in Horejsi Center.
"It's a huge match. I guess it falls on Halloween. We'll look forward to it. Hopefully we can trick 'em," KU coach Ray Bechard said with a smile after Tuesday night's 25-14, 25-16, 25-21 home rout of the Kangaroos.
"We just talked with the team about our next block of matches: A&M;, at Colorado, (at) Oklahoma and K-State, how we can prepare for that. It's what we look forward to."
Tuesday, the Jayhawks (12-9 overall, 4-7 in Big 12) rolled in a tune-up to their match versus the Aggies (13-5, 6-4), who swept KU on Oct. 3 in College Station, Texas.
Nicole Tate recorded her second consecutive double-double (13 digs, 39 assists, with four kills) and ninth of the season. Melissa Grieb had a season-high 18 digs in her first match at libero. Morgan Boub had a career-best five digs.
Also, Allison Mayfield and Karina Garlington had 12 and 10 kills respectively.
"It was fun. There were a lot of long rallies," Grieb said. She replaced Melissa Manda, whose back tightened up during warmups. "(I'm a) little worn out, but it's a good experience."
She's looking forward to Saturday's rematch with A&M.;
"In the past (on Halloween), we've been at Baylor. Their fans dress up and get a little crazy, so we'll see what happens here," said Grieb, a senior out of Olathe South High School.
"I think it'll be a fun time. There's always extra competition when a ranked team comes into your house."
Mayfield, who has led KU on offense in three of the last four outings, collected her 12 kills on a .333 attack percentage.
"I think it's good to get some momentum, have this one under our belt," said Mayfield, a sophomore out of Overland Park's St. Thomas Aquinas High. "We had a tough loss on Saturday (versus Missouri) and a big match this coming Saturday against A&M.;"
Bechard may have given the Aggies something to think about, using a new lineup that included hitters Mayfield, Garlington and Jenna Kaiser (four kills) at the same time.
"We hadn't done it in a while and wanted to see what that looked like," Bechard said. "I didn't think it was great early on. They got comfortable, better as the game went on."
More like this story on KUsports.com