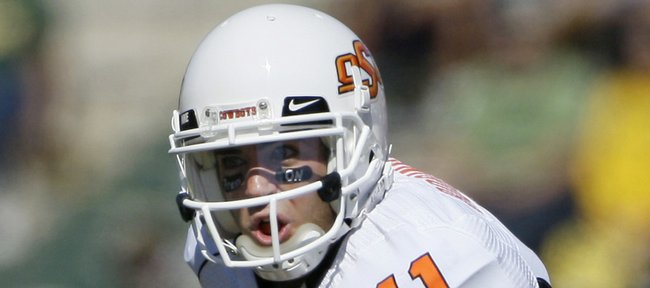 Oklahoma City — Oklahoma State quarterback Zac Robinson honors his late grandfather on game day with two simple, encouraging words written on adhesive strips under his eyes: Press on.
The message could also refer to the struggles his team has faced this season.
The No. 13 Cowboys (6-1, 3-0 Big 12) have been without all-conference tailback Kendall Hunter for nearly half a season now with an ankle injury and a starting cornerback, linebacker, safety and defensive lineman have all been out hurt, too. Their All-America receiver, Dez Bryant, has missed four games and is out for the rest of the season for lying to the NCAA.
An early breakthrough win (Georgia) was almost immediately forgotten with an upset loss (Houston) just a week later.
Yet through it all, Oklahoma State heads into Saturday night's game against No. 3 Texas (7-0, 4-0) with its preseason goal of winning the Big 12 championship still in its sights.
"It is kind of, I guess, maybe a motto for our season and what we've been through. Obviously there's been a lot of injuries, the Houston loss, Dez — everything that's gone on," Robinson said. "We've just kind of had to just keep going, and I think our team has responded really well and just kept playing."
At the center of it all is Robinson, the lone star from the team's trio of offensive playmakers who has been able to remain on the field this season despite his own struggles. A preseason leg injury seemed to affect the mobile quarterback's performance early and he needed time to grieve after his grandfather's death the same week Bryant was declared ineligible.
Since then, Robinson has put together three solid performances in a row while wearing the tribute on his face. He followed his two biggest games of the season in terms of total offense with last week's 23-for-27 outing at Baylor that broke the school record for completion percentage in a game. He is 218 yards away from breaking the school's career passing mark held by his coach, Mike Gundy.
He has also climbed to the top of the Big 12 in passing efficiency and now ranks seventh in the country.
But perhaps more than his production, the Cowboys have been leaning on Robinson's leadership. They seem to be acting out the words Robinson's grandfather would tell him every time he left his house.
"I think right now it's been needed more than ever," Robinson said. "Obviously with a lot of the guys that are out, especially on offense, they need somebody to look to that's been in that situation and being a senior and playing in a lot of games, being in a lot of situations, I think they look to me.
"I just try to keep it loose for them and know that if you're not having fun then things aren't probably going to go well. You're going to play uptight."
Tight end Cooper Bassett, a redshirt freshman thrown into the mix after starter Jamal Mosley left the team the week of the season opener, described Robinson's approach as "cool and calm and positive."
"Everyone's got kind of a whirlwind of coaching and listening and Zac's always in the center there kind of looking at us and bringing us together and letting us know that we can do this, just stick to the basics," Bassett said. "We always have faith in him. ...
"He's a great person and a great leader and a great football player, and I'm definitely glad he's my quarterback."
More like this story on KUsports.com