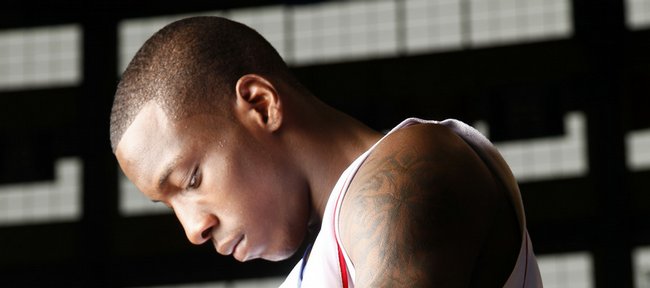 After each game last year, Tyshawn Taylor could always expect three or four missed cell-phone calls from his mother critiquing him on his play.
If the Kansas University sophomore guard thought that was tough, he's in for an even more difficult chore this year: an in-person encounter with his mom, Jeanell, after each home game.
"She's going to be in my face. 'Why did you miss the free throw? Why didn't you block out? Why didn't you block that shot?' Even though I don't block shots," Taylor said with a laugh. "She's going to just throw stuff at me, so it's going to be interesting to see what she's got for me this year."
A year after moving away from home, Taylor's family has moved home to him.
Jeanell, along with Taylor's two sisters (Taquana and Ghariana) and his stepfather, have moved from Hoboken, N.J., to Lawrence to be closer to the 6-foot-3, 180-pound guard.
Tyshawn is already taking advantage of the benefits of having his mother closer.
"She cooks a lot, and I need those home-cooked meals. And she washes my clothes," Taylor said. "The negatives is she always wants to be around me, man. 'Tyshawn, what are you doing? I'm coming to your room. I'm coming to your room.'
"I'm like, 'Mom, just chill for a little while. I'm tired. I want to lay down.' She always wants to be around me. She's always talking my head off."
A few times, when his mom has been working at Hy-Vee, Taylor has been asked to pick up his sisters from school. The small favors aren't a big deal, he said, especially with the support his family members have given him during their short time in Lawrence.
"I think just having that more home-like feel, being able to go to my house and just chill with my family, my two younger sisters, my step-pops, having a home-cooked meal ... it makes me feel more like home," Taylor said. "It's definitely been good for me, especially in these last couple weeks. Things have been going tough for me, so she's been here helping me out with things."
When KU coach Bill Self played at Oklahoma State from 1982-85, he didn't remember any players' families packing up to move closer to their sons.
"I think times have changed a little bit. You look across America, and it's kind of becoming a vogue thing to do where parents are relocating or trying to get close to their kids to watch them play more," Self said. "I don't have any problems with it at all."
Self believes that many times, parents that live in college cities with their sons help "recruit" other parents to do the same after having good experiences.
Though the perception might be that Self's job gets more difficult with parents so close to him, he said that's usually not the case. In fact, his policy is that he will talk to parents about any issue regarding their son — such as their academic standing or social lives — but he won't discuss playing time.
"Parents have been really supportive and understanding that they gave their sons to us to coach," Self said, "and we coach them, and they support them."
As for Taylor, he's expecting a big year after thriving this summer at the FIBA U-19 World Championship in New Auckland, New Zealand.
Taylor helped the USA Basketball U-19 team to a gold medal by posting team highs in points (10.8 per game) and assists (35).
"I think it just boosted my confidence," Taylor said of the trip. "I think I'm such a better player when I've got confidence behind me."
Following a Sept. 22 incident in which he dislocated his left thumb in a fight on campus, Taylor admitted he's been trying to lay low.
"I've been in my own world these last couple weeks, because it's been tough," Taylor said. "I've been doing exactly what I was supposed to do, going to class, working out and just chilling."
He's also picked up a new hobby in video games. Oftentimes, he faces off against roommate Travis Releford.
"That's my way of coping with everything — just chilling in my room playing video games," Taylor said. "I never played video games until I got to college, and now, I'm a big video-game head. That's all I do these days."
He's also had time to reflect on some of the choices he's made the last few months.
"I made some immature mistakes, and looking back at it, I realize how immature they were," Taylor said. "I think this is definitely a learning experience for me.
"When I'm put in a situation again, I'll handle things differently."
More like this story on KUsports.com