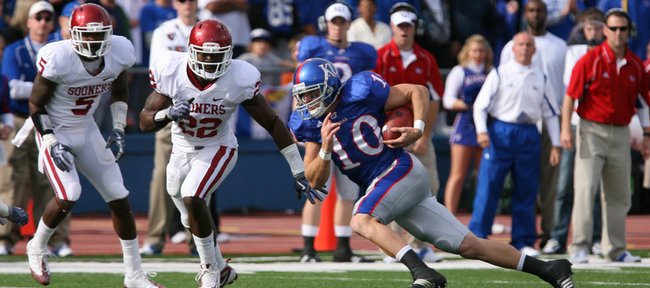 Simple mathematics tell us that if "A" is greater than "B", and "B" is greater than "C", then "A" is most certainly greater than "C."
Unless, of course, you're talking Big 12 college football.
In what is proving to be a strange and unpredictable conference race, the developments of the past four weeks have proved that common logic — particularly as it pertains to Texas Tech, Kansas State and Texas A&M; — can be tossed out the window.
Three weeks ago, for instance, Texas Tech beat Kansas State, 66-14, in Lubbock. The following week, Kansas State beat Texas A&M;, 62-14. Based on these occurrences, it was safe to assume that Texas Tech was in position to easily handle last Saturday's home matchup with A&M.;
Except, in keeping with the bizarre trend of this year's Big 12 season, the then-No. 21 Red Raiders fell 52-30 to the Aggies, and, in the process, left a lot of college football coaches wondering what to make of the significant discrepancies.
"I spent a little bit of time yesterday trying to figure that out, and I came to the conclusion that those (questions) are for better minds than mine," said Kansas University coach Mark Mangino, whose Jayhawks will take on Texas Tech on Saturday in Lubbock. "I just can't figure it out, so I figure I better get busy trying to get our team ready to take care of our business."
At the same time, Red Raiders coach Mike Leach has a theory as to why his team, having throttled a Kansas State team that throttled a Texas A&M; team, fell to the Aggies last Saturday.
In his opinion, it comes down to teams spending too much time reading their press clippings and too little time respecting their upcoming opponent.

"We pound on Kansas State," Leach told the Lubbock Avalanche-Journal following his team's loss. "So A&M; looks at the film all week. The (Aggies) strut around and laugh — you know, ho-ho-ho, ha-ha-ha, and they listen to their fat lil' ol' girlfriend, and pretty soon, (they lose to the Wildcats).
"Well, the first thing we do (the next week) is we go in our meeting and we talk about how we're going to respect everyone; ... we're not going to compare scores and we're not going to listen to our fat little girlfriends."
But having apparently done both last week, the Red Raiders now find themselves with a 2-2 conference record and fighting an almost impossible battle for a South Division title.
The moral of the story?
"Here's what I've learned from all this," Mangino said. "You better be ready on Saturday to line up and play and play well, or you get beat."
Springer impresses
In his most productive performance since suffering an ACL injury mid-way through last season, Kansas linebacker Justin Springer finished with a team-high nine tackles — two for loss — and recorded the Jayhawks' only quarterback hurry in Saturday's loss to Oklahoma.
"He's not totally recovered, but I don't know if he'll ever regain some of the mobility he had prior to his injury," Mangino said. "But he's playing better football ... and we're pleased with his attitude and the way he's approached things coming off an injury. He really has improved greatly."
DT Williams progressing
For an offensive lineman, KU's John Williams looks to be developing into a pretty efficient defensive tackle.
Despite playing defense for just two weeks — he began the season as an offensive lineman before switching sides of the ball before the team's game against Colorado on Oct. 17 — Williams earned his second consecutive start against Oklahoma and has done enough in limited action this fall to earn the praise of coaches.
"He's kind of on a crash course, but his physical abilities alone have been able to put him in position to make plays," Mangino said of the 6-foot-4, 309-pound red-shirt freshman. "He's still a work in progress, but we're real excited about him. We really think that he has a bright, bright future on the defensive line."
Reesing, Briscoe honored
Two of Kansas' top offensive players were named semifinalists for prestigious national awards Monday.
For the third straight season, quarterback Todd Reesing was named one of 15 semifinalists for the Davey O'Brien national quarterback award, while Briscoe was listed as one of 10 semifinalists for the Biletnikoff Award, given annually to the nation's top receiver.
Through seven games this season, Reesing is among the top 10 nationally in passing yards per game (314.9), completions per game (26.4), total offense per game (326) and points responsible for (142.3).
Dezmon Briscoe, meanwhile, ranks third in the nation in receiving yards per game (121.83) and is tied for seventh in receptions and 10th in all-purpose yardage.
KU-KSU time unknown
The Kansas-Kansas State football game set for Nov. 7 in Manhattan will not have an official kickoff time until this weekend.
ABC will televise two of the following three games that week: Kansas at K-State; Oklahoma at Nebraska; or Oklahoma State at Iowa State. Versus will show the third game.
If the game is on ABC, kickoff time will be 2:30 or 7 p.m. If the game is on Versus, gametime will be 11:30 a.m.
More like this story on KUsports.com