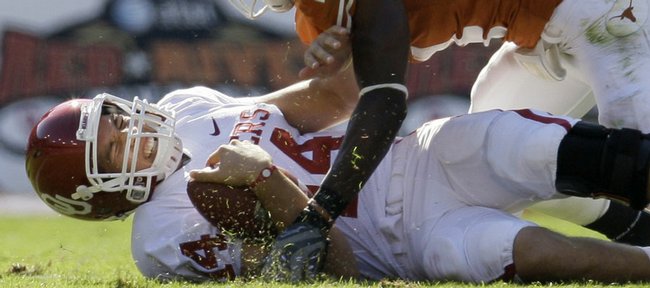 St. Louis — Heisman Trophy winner Sam Bradford will have season-ending shoulder surgery and expects to enter the NFL Draft in April.
The Oklahoma quarterback injured his right, throwing shoulder twice this season, most recently against Texas on Oct. 10.
The school announced Sunday that Dr. James Andrews will perform the operation Wednesday in Birmingham, Ala. Bradford is expected to address reporters following the Sooners' practice on tonight in Norman, Okla.
"I dreamed about coming to Oklahoma my whole life," Bradford said Sunday in a statement. "That's the reason I came back for this season. And I came back to play, not sit on the bench. That's the reason I tried to play after the injury. I'm very disappointed that it didn't work out differently.
"Under these circumstances, and after talking to several people, this is the right thing for me to do at this point."
Bradford passed up the chance to be a first-round NFL Draft pick this year — he was projected as high as No. 1 overall — to play another season with the Sooners, who he grew up following as a child in Oklahoma City.
After he was hurt against the Longhorns, reaggravating a sprain of the AC joint in his shoulder, Bradford initially said he was going to wait until the end of the season to make a decision about his future. He then called a news conference for Wednesday on campus, then canceled it about two hours before it was scheduled to take place.
He accompanied Oklahoma to its 35-13 road victory at Kansas on Saturday.
According to his statement, Bradford expects his recovery time to be four to six months. As of Sunday, the April 22 draft was about six months away.
"I'll be up to the challenge," Bradford said in the statement.
Bradford led the Sooners to the BCS championship game last season as a sophomore, setting school records with 4,720 yards passing and 50 touchdowns while throwing only eight interceptions. Oklahoma lost to Florida, 24-14, in the championship game, and Bradford announced less than a week later that he intended to return for his junior year.
More like this story on KUsports.com