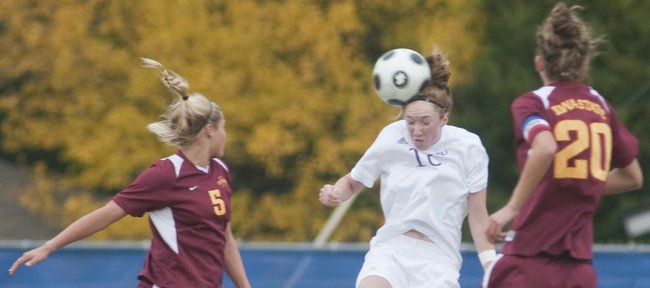 Lined up a few yards in front of the goal mouth, Monica Dolinsky seemed to have a gimme penalty kick.
Except for one factor.
Dolinsky, a Kansas University senior, had been in the same situation against Iowa State last season.
"There was a lot of pressure," Dolinsky said, "because I had a PK against them last year and missed. So that was in my head."
Not to worry.
This time Dolinsky drilled the soccer ball into the left corner of the net past the Cyclones' sprawling goalkeeper, and KU held on for a 1-0 victory on Sunday afternoon at the Jayhawk Soccer Complex.
By winning, Kansas kept its slender hopes of earning a berth in the Big 12 Championships next week in San Antonio, Texas, alive.
Kansas has to win its finale against Missouri on Friday — hardly a guarantee with the Tigers the league's lone unbeaten — and hope a couple of other teams lose.
"It sucks not being able to control our own destiny," KU senior defender Estelle Johnson said, "but hopefully we can go out and beat Missouri, and get lucky."
Kansas wasn't all that lucky Sunday. The Jayhawks (11-7-1 overall, 3-6 Big 12) unloaded 25 shots, nine on goal, yet the only one that went in was Dolinsky's PK early in the second half.
Meanwhile, Iowa State (7-8-4, 2-7) had only seven shots, three on goal, and was eliminated from postseason competition.
Friday, the Jayhawks had hoped to solidify their postseason stock with a victory over Nebraska. Instead, the Cornhuskers stunned KU, 7-4.
So Sunday was a bit of a gut-check, and the Jayhawks responded.
"Today we just went out and had fun and played good soccer," Dolinsky said.
More like this story on KUsports.com