Podcast episode
Jesse Newell and Tom Keegan discuss the KU football team's 35-13 loss to Oklahoma. What does the future hold for KU football this season? How many more games will the Jayhawks win? Do they still have a shot at the Big 12 championship game? Who is the favorite for the ...
Reader poll
0

8%

235 votes

1

13%

404 votes

2

31%

898 votes

3

33%

956 votes

4

10%

305 votes

5

3%

89 votes
2887 total votes.
Reader poll
A loss to Colorado and a win over Oklahoma

70%

149 votes

A win over Colorado and a loss to Oklahoma

25%

54 votes

Undecided

4%

9 votes
212 total votes.
Videos
KU vs. Oklahoma video highlights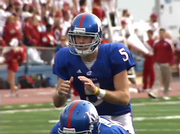 Oklahoma defeated KU, 35-13 Saturday, Oct. 24, 2009 at Memorial Stadium.
KU vs. OU
Any question as to whether the Oklahoma defense was for real was quickly answered Saturday, as the No. 25 Sooners had their way with what was supposed to be one of the nation's most potent offensive attacks.
In addition to forcing three turnovers in a 35-13 victory over Kansas University, Oklahoma finished with three sacks, six quarterback hurries and eight pass breakups — the Jayhawks, on the other hand, went sackless, managed just one quarterback hurry and finished with four pass breakups — to slow down a KU offense that entered the game ranked second nationally in total offense and fifth in scoring offense.

"It was a big challenge," Jayhawks center Jeremiah Hatch said. "We were going against one of the best. But we played as a team, and we've got to play as a team no matter who we're going up against. But they were good."
The Sooners entered the game ranked third nationally in scoring defense and eighth in total defense, and by the end of the day had done enough to make believers out of Kansas' offensive players.
"I was very impressed with them," said KU running back Jake Sharp, who finished with just 14 yards on seven carries. "They definitely have a great defense and a great line."
Still slow to start: The Achilles heel of the Kansas offense this season has been an inability to get going early, and that problem proved detrimental once again against Oklahoma — a team that seems to have no problem out of the gates.
Following Saturday's victory, in which they led 7-0 after the opening quarter, the Sooners have now outscored opponents 58-0 in the first quarter, while Kansas has managed just nine first-quarter points in three Big 12 games.
"We just put ourselves behind early, and you can't do that against Oklahoma or any good football team," KU coach Mark Mangino said. "You just can't do it. So we have to learn from these experiences and understand that if you're playing behind, then it changes the way you approach some things."
Defense puts together solid half: The KU defense has been the subject of much criticism so far this season, but through two quarters of the loss to Oklahoma, it single-handedly kept the Jayhawks in the game.
The Sooners finished the first half with only 110 yards of total offense, and their two touchdowns came on an interception return for a score and a drive that began after a Reesing interception gave OU the ball on the Kansas 46-yard line.
"Our defense was not bad at all," Mangino said. "We're much improved (from the past two weeks), but we have areas that need work. We have things that need to be corrected."
"We were happy about it, but we weren't satisfied," added senior safety Darrell Stuckey. "
Free State's Murphy leads KU in interceptions: Following Saturday's interception of OU quarterback Landry Jones, Kansas defensive back and former Free State High quarterback Ryan Murphy is the Jayhawks' leader with two interceptions this season.
"We've had a lot of pressure on us, we've had to answer a lot of questions, and we knew that we had to come out and have a good game," said Murphy, who added three tackles and a pass breakup. "Going against Oklahoma, we know they have a high-powered offense. We got to come out and play and play tough."