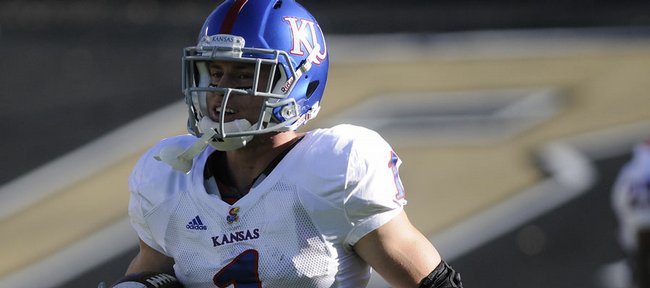 The undisclosed leg injury that forced Kansas University running back Jake Sharp to miss nearly three games earlier this season has continued to hinder the player even after his return to the lineup, coach Mark Mangino said Sunday night.
"The fact of the matter is that he doesn't have entire strength in that leg back yet, he just doesn't," said Mangino, who originally said he'd wait until Sharp was 100-percent before putting back into the lineup. "And he's just playing because he really is a tough kid; he wants to play, he wants to contibute. But it's not where it was prior to his injury."
Since returning to the field against Colorado two weeks ago, Sharp has looked far from the player he was in the team's first two games this season, when he averaged 113.5 yards per game on the ground and looked to be playing the best football of his career.
He finished with just 37 yards on 13 carries against the Buffaloes and managed just 14 yards on seven carries in Saturday's 35-13 loss to Oklahoma, failing to record a rush for more than five yards in either game.
Sharp, who for the first time in his career was listed as the team's starting running back going into the fall, sustained the injury during a mid-week practice prior to the team's Sept. 19 matchup with Duke. At the time, Sharp was considered as day-to-day and was held out of victories over Southern Mississippi and Iowa State.
Asked Sunday whether the team's medical staff believes Sharp will return to 100-percent health before the end of the season, Mangino said he wasn't sure.
"We're very hopeful of that, but I think that the type of injury that he has sustained does take time," he said. "He's made some major gains in the healing process, and things are coming along. But it needs time. I think we just got to use Jake the best we can and keep his best interests in mind, but we're hoping that over time it will improve greatly and give him a chance to regain his speed and ability to change direction that he had prior to the injury."
More like this story on KUsports.com