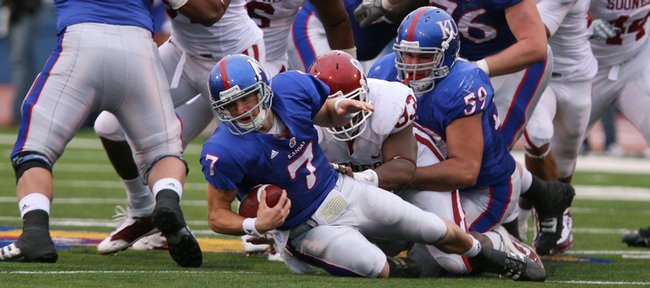 Final statistics
Kansas
• Reesing 22-for-42, 224 yards, three interceptions; 8 carries, 17 yards, rushing TD
• Opurum 13 carries, 59 yards
• Sharp 7 rushes, 14 yards; 3 catches, 62 yards
• Meier 8 catches, 54 yards
• Briscoe 7 catches, 60 yards
Oklahoma
• Landry Jones 26-for-38, 252 yards, two touchdowns, interception
• Chris Brown 22 carries, 66 yards, 2 TDs
• Ryan Broyles 11 catches, 121 yards
FINAL: OU defeats KU, 35-13
After picking up a first down, OU is able to run off all but three seconds. The Sooners punt it away, and on KU's final play, Opurum runs for 13 yards.
The Jayhawks fall to 5-2 overall and 1-2 in the Big 12.
OU 35/KU 13 — 4:27 left in 4th quarter
Justin Thornton forces a fumble by OU's Jermie Calhoun, and Laptad recovers at the KU 46.
At the end of a 10-play drive, the Jayhawks break their touchdown drought on a five-yard TD run by Reesing. The last time KU had been held without a touchdown in a game was in 2005 against — you guessed it — Oklahoma in a 19-3 loss at Arrowhead Stadium.
OU 35/KU 6 — 8:55 left in 4th quarter
It's becoming fashionable to call offensive pass interference on the Jayhawks. Tim Biere picks up another one for KU, which moves the Jayhawks back 14 yards. Officials are making sure the Jayhawks get at least one of those calls each game.
A shovel pass and a throw in the flat to Meier don't do any damage, and Rojas delivers his eighth punt. He had only 22 punts in the Jayhawks' previous six games.
OU 35/KU 6 — 11:10 left in 4th quarter
The feast-or-famine tendencies of KU's defense continues.
After forcing two straight punts, the Jayhawks' defense gives almost no resistance on the next OU possession.
Broyles breaks a 45-yard reception. Brown follows with runs of 10, 8 and then a 26-yard run and dive into the end zone.
It's gone from bad to plain ugly for KU.
OU 28/KU 6 — 14:10 left in 4th quarter
Reesing is pressured and has to roll out on second down, finally throwing the ball away. Auston English comes with penetration again on third down, and he crunches Reesing for a nine-yard sack. It appears for the second straight year, OU's defensive line will be a major reason for a Sooners' victory over the Jayhawks.
OU 28/KU 6 — End of 3rd quarter
Reesing continues to be inaccurate throwing into the wind. A low throw on second down is followed by a high throw on third down. Rojas comes out to punt again.
OU looks content to make KU's offense win this game. The Sooners call a pair of conservative runs on second-and-3 and third-and-1, and Jake Laptad stuffs the latter, forcing a punt back to KU.
The Jayhawks strike for a big play down the field, as after rolling right, Reesing finds Wilson down the sideline for 31 yards. Reesing tries for the home run again on a deep ball to Meier in the end zone, but Meier can't rip the ball away from an OU defender and the ball falls incomplete.
OU 28/KU 6 — 2:47 left in 3rd quarter
We see the first round of KU's version of the Wildcat-style offense, and the results aren't pretty. Kale Pick comes in for two plays — a four-yard rushing loss and a one-yard rushing loss — and a short pass to Meier on third-and-15 forces another KU punt.
The Jayhawks' defense follows with a quick stop, forcing a three-and-out after an incompletion from Jones on third-and-5. KU is on life support, but because of the quick stop, the Jayhawks aren't quite dead yet.
OU 28/KU 6 — 6:18 left in 3rd quarter
It's a full meltdown for KU's defense. Jones passes to Caleb for 13, Miller for nine and Broyles for 14.
Beshears flat out tackles Tennell on a deep pass, and he draws three flags for pass interference and also a substitution.
Brown ends the drive with an eight-yard TD catch on a screen. KU's defense has no answer for the Sooners' no-huddle, hurry-up offense.
The KU students hung in there for a while, but many of them have seen enough and are heading for the exits.
OU 21/KU 6 — 8:45 left in 3rd quarter
The halftime adjustments for KU don't work on the first offensive possession of the half.
The Jayhawks pick up 10 yards on the first three plays, but a Reesing pass is tipped at the line, and an underthrown pass to Briscoe is knocked away. Briscoe picks up eight on third-and-10, and Rojas punts it away.
KU is in danger of seeing this game fall out of reach.
OU 21/KU 6 — 11:29 left in 3rd quarter
KU's defense shows signs of cracking on OU's first possession of the second half. Jones finds a wide-open Brandon Caleb for 13 yards on a third-and-6. Jeff Wheeler is flagged for a roughing-the-passer penalty, which gives OU a first down on what would have resulted in a third-and-15.
OU continues to go hurry-up to tire KU's defense. It works.
On third-and-6, Tennell breaks a tackle attempt by Beshears and runs 18 yards down the sideline. Two plays later, Tennell catches a nine-yard pass and reaches into the end zone.
Jimmy Stephens adds the extra point, and KU has lost any momentum it gained heading into the half.
Stats of note
Kansas
• Reesing — 11-for-21, 121 yards, 3 interceptions; 21 rushing yards
• Sharp — 6 carries, 14 yards; 2 catches, 62 yards
• Opurum — 7 carries, 19 yards
• Meier — 5 catches, 27 yards
• Briscoe — 3 catches, 25 yards
Oklahoma
• Landry Jones — 12-for-21, 82 yards, interception
• Ryan Broyles — 7 catches, 53 yards
Team stats
• KU is leading OU in offense (171-110), passing (121-82) and rushing (50-28).
• The Jayhawks have had the ball 19:19 to the Sooners' 10:41.
•KU has four penalties for 25 yards. OU had no penalties in the first half.
• OU is just 1-for-7 on third-down conversions.
OU 14/KU 6 — Halftime
A questionable play call and player decision could end up haunting OU.
KU had just one timeout left, and with the clock running and 1:20 to go in the half, OU called a running play to the outside. Brown ended up going out of bounds to stop the clock, in essence giving KU another timeout.
On the next play, Jones' pass over the middle was batted in the air, and Ryan Murphy came down with the interception at the OU 40.
KU had a touchdown in its grasp on the next play, as Reesing delivered a low throw to Briscoe, who bobbled it up to himself four different times before it fell to the turf in front of him. Had he caught it, he would have scored a 40-yard touchdown.
Reesing is sacked, and on third-and-long, a shovel pass to Sharp goes for six yards and is greeted with boos from the crowd.
With just two seconds remaining in the half, Mangino elects for a 57-yard field goal attempt from Branstetter with the wind. The kicks sails just over the crossbar, going through the uprights for Branstetter's longest field goal (by far) of his career. The kicker, an emotional guy anyways, raised his fist as he led his team sprinting into the halftime locker room.
KU, after all the offensive struggles, is down just one possession at half.
OU 14/KU 3 — 2:03 left in 2nd quarter
Once again, KU's offense can't fully capitalize on an opportunity given to it.
After short passes to Briscoe and Meier, Reesing scrambles ahead for one yard. The senior QB is not making quick decisions with the football.
After briefly entertaining the idea of going for it on fourth-and-2, Mangino makes the wise decision and sends Branstetter out for a field-goal attempt. The junior splits the uprights on a 39-yard attempt, and KU breaks the shutout.
OU 14/KU 0 — 2:55 left in 2nd quarter
After handing OU all the breaks, KU finally is the beneficiary of a gift from the Sooners.
KU's defense continues to shut down OU's passing game, and after three incomplete passes, the Sooners have to punt.
OU's Tress Way gets a good snap, but he drops it, and KU's Steven Foster tackles him to make sure he can't get a kick away. The special teams miscue gives KU the ball on the OU 28. Twice the Jayhawks wasted opportunities like this last week against Colorado. We'll see what they do here.
OU 14/KU 0 — 4:40 left in 2nd quarter
The scoreboard doesn't show it, but KU's defense has played extremely well today. The Jayhawks hold again on third-and-9, as the sure-handed Beshears makes a textbook tackle, this time holding Adron Tennell to a five-yard reception.
Following a punt, KU has good field position at its own 36. But after picking up a first down, the Jayhawks go backwards, as a false start and OU sack by Taylor, followed by a Reesing incompletion, force KU to punt.
OU 14/KU 0 — 10:03 left in 2nd quarter
McDougald bobbles the kickoff for KU, but the thrown-off timing actually works in KU's favor, as the freshman finds a seam and returns the ball 34 yards to the KU 47.
Reesing comes through with a good throw on his next attempt, slinging the ball over the middle to Briscoe for 13 yards. All three of Reesing's picks have come on passes attempted to go to the outside. Will KU look to go to more routes over the middle.
On third-and-5, Reesing's pass to Meier is a little high, and Meier catches the ball out of bounds. The Jayhawks give the appearance of trying a 49-yard field-goal attempt, but a direct snap to Jacob Branstetter it punted instead. KU downs the ball at the OU 2, but once again wastes good field position.
OU 14/KU 0 — 13:41 left in 2nd quarter
Another big third-down pickup by Reesing using his feet. On third-and-5 at the 15, Reesing squirts through a small hole ahead for five yards, picking up a new set of downs by a couple feet.
And just like that, Reesing has nearly thrown the Jayhawks out of this game. He tries a long throw on a wide-receiver screen, and Dominique Franks easily steps in front of it and takes off 85 yards down the sideline for a touchdown.
Reesing's line: 6-for-13, 89 yards, three interceptions.
OU 7/KU 0 — End of 1st quarter
Briscoe's back in, and he makes an all-hands catch for an eight-yard gain over the middle.
On third-and-two, Opurum is stopped a yard short of the first down, but powers his way two more yards forward after contact. First down KU. That's the benefit of having a power back like Opurum in there.
On second-and-13, Reesing has tons of time, but after surveying the whole field, he short-hops Opurum on a pass to the flat. On third-and-13, KU tries a shovel pass to Sharp, but even that doesn't go well, as Reesing doesn't put enough zip on it and Sharp can't hold on. It looked like Sharp had a lot of room to run had he been able to come up with the catch.
KU's defense comes up with a stop, though, as D.J. Beshears makes a nice open-field tackle on first down and on third-and-8, Chris Harris tackles Jaz Reynolds four yards short of the first down.
On KU's next possession, Sharp breaks free for KU's best play of the day. On a shovel pass, he ripped his way away from one defender, then broke into the open for a 56-yard gain to the KU 29. Credit Johnathan Wilson for helping spring the play, as he continued with a downfield block and helped Sharp pick up an additional 20-30 yards.
OU 7/KU 0 — 4:55 left in 1st quarter
A huge play by KU is negated by an offsides penalty by the Jayhawks' Caleb Blakesley. Darrell Stuckey came on a blitz, sacking Jones and forcing a fumble with the Jayhawks falling on it. It was all for naught, though, as Blakesley jumped offsides a second early.
Stuckey knocks away a pass on third-and-5, and OU is forced to punt. KU will start its third straight drive on its own 20-yard line.
OU 7/KU 0 — 6:22 left in 1st quarter
On KU's kickoff return, Briscoe is walloped at the 20, and the nation's leading receiver is slow to get up. Trainers go out to check on him, and he walks off the field under his own power.
KU's first run of the game — a five-yard carry by Jake Sharp — is negated by a chop block on Tanner Hawkinson.
Reesing, after dropping back, waits for the defensive linemen to penetrate then runs right by them, gaining 17 yards on a QB draw. As I mentioned earlier, UT's Colt McCoy had a lot of success running that same play last week. Reesing will have to be careful to avoid getting hit hard once he picks up some yards.
KU's offensive line has done a great job of run-blocking so far and knocking OU's talented defensive linemen off the ball. A four-yard rush by Sharp is followed by an eight-yard gash up the middle by Opurum.
Reesing once again uses OU's defensive aggressiveness against the Sooners. On third-and-8, he runs right past the rushing linemen, sliding for nine yards and another first down.
A promising drive turns sour for KU in a hurry, though, as Adrian Taylor gets penetration then tips Reesing's pass, which is intercepted by OU's Jeremy Beal. The Sooners will take over at their own 24.
OU 7/KU 0 — 11:06 left in 1st quarter
Yep, the first-quarter struggles continue.
Todd Reesing makes a horrible read on the game's first play, failing to see that Dezmon Briscoe was double-teamed with a cornerback and a safety. Reesing's toss is well overthrown, too, and Quinton Carter comes down with the easy interception for the Sooners at the KU 46.
OU comes out firing offensively. Landry Jones completes a pass over the middle to Dejuan Miler, who gets tripped up after a 13-yard gain. The Sooners go into an extreme hurry-up after the first down, and Jones hits Broyles for four more. On a naked bootleg, Jones finds a huge hole around the left side for 15 more yards.
KU's defense holds off OU for four straight plays inside the two-yard line. Jones is stuffed on two straight QB sneaks from the 1, and Chris Brown is knocked out of bounds on third-and-goal for no gain. On fourth-and-goal from the 1, with KU's crowd going crazy, Brown finds a crease on the left side and falls forward into the end zone.
For the second straight week, KU's offense has put the Jayhawks in an early hole.
2:35 p.m.
OU wins the toss and defers. KU will receive. We'll see if the Jayhawks can reverse their first-quarter blues offensively.
2:32 p.m.
Let's set the scene here a bit.
This game was listed as a sellout before the game, and almost all the seats are filled in already.
Sooners fans are taking up two full sections, and there are also some sprinkles of crimson shirts around the stadium. Otherwise, it's all blue, which is a good sign for the Jayhawks, who will need the home-field advantage today.
It's nearly perfect weather here. Sixty-five degrees, partly-cloudy skies, winds out of the southwest gusting up to 15 miles per hour.
2:20 p.m.
The word around the press box is that OU running back DeMarco Murray is out for the Sooners. That's a huge break for KU.
2:12 p.m.
After watching the OU-UT game tape from last week, I'm thinking that if KU is ever going to tinker with running a Wildcat-based offense, this would be the week to do it.
OU's defensive line, led by Gerald McCoy, is a tough unit to defend against. The defensive linemen were constantly getting pressure in UT's backfield and seemed to always get penetration.
UT countered this partly by calling a ton of runs to the outside to avoid the OU defensive linemen. Another way the Longhorns attacked it was by running draw plays or by having quarterback Colt McCoy run past the penetrating defensive linemen after they started their rush to make it to the next level.
A third way to possibly attack OU's defense would be to use the Wildcat-type offense.
By putting someone back in a Wildcat-based offense (Kale Pick seems like the best candidate for KU), the Jayhawks could attack the perimeters of OU's defense easily. They also could gain an additional blocker to try to double-team McCoy inside.
Though we haven't seen any Wildcat-like set so far from KU, I would think that if it's going to happen at all this season, this would be the day for it.
1:07 p.m.
The KU-CU game was featured in friend-of-the-blog Bill Connelly's Varsity Numbers column this week, albeit for the wrong reasons if you're a KU fan.
You can check out some of his observations there. Here are a few of the things I found interesting after looking at his "Beyond the Box Score" box score of the game.
For a refresher on the terms such as S&P;, click on this link.
• KU's turnover equivalency points — 13.45
• CU's turnover equivalency points — 13.49
What does this mean?
Remember, equivalent points measures the number of points an average NCAA team scores when it is given the ball on a particular yard line.
All week, I talked about how Todd Reesing's two turnovers killed KU. We can see that here, as following those two turnovers, an average NCAA team would score 13.45 points on KU. CU scored 14.
Here's the interesting thing, though: On average, KU should have scored more points off CU's turnovers than CU did off KU's turnovers.
Following CU's three turnovers last week, an average NCAA team would have scored 13.49 points. KU took over after those turnovers on its own 30, CU's 41 and CU's 24. The Jayhawks scored just six points (interception, field goal, field goal).
So, in fact, the difference in the game wasn't Reesing's turnovers. It was the KU offense's inability to capitalize on the turnovers it was given.
• Colorado's sack rate on non-passing downs — 20 percent.
A non-passing down is any first down, second down with 1-7 yards to go, or third/fourth down with 1-4 yards to go. I know KU was coming from behind most of the game, meaning most non-passing downs were still most likely passing downs, but this number is still way too high from a KU perspective.
• KU offensive S&P; on first downs — 1.196
• KU offensive S&P; on second downs — .487
• KU offensive S&P; on third downs — .501
Remember, S&P; measures a team's efficiency and explosiveness. KU had much more success on first downs than second and third downs. For one week, a strong passing game for KU didn't necessarily mean success on tough downs and distances.
• KU's quarter 1 offensive S&P; — 0.542
• KU's quarter 2 offensive S&P; —0.665
• KU's quarter 3 offensive S&P; —0.757
• KU's quarter 4 offensive S&P; —1.229
The first quarter is a huge concern today for KU. Tom Keegan has already broached this topic in a column earlier this week, but it's worth repeating.
KU's offensive simply can't afford to get off to a slow start.
Talking with KU offensive coordinator Ed Warinner this week, he felt KU was just a little unlucky in the first quarter against CU. On one third-down play, CU misaligned itself and ended up in the right spot to make a play. On another third-down play, Todd Reesing had one of his few inaccurate passes that fell incomplete.
Whatever the case, KU needs to be better this week. OU has outscored its opponents 51-0 in the first quarter this season. The Jayhawks can't afford to have their offense put them in a huge hole for the second straight game.
12:20 p.m.
Welcome back to the Newell Post Live, coming to you from Lawrence where No. 24 Kansas is getting set to take on No. 25 Oklahoma.
We'll get to some analysis later, but I wanted to start this blog off with a video and also a discussion topic.
First off, KU hasn't defeated Oklahoma in football since Oct. 4, 1997, when Terry Allen was still the coach.
In the offseason, I featured a Jayhawk Flashback on that game.
The video of that game can be seen on the left.
Also, I wanted to get your guys' opinion on this topic: Which, as a KU fan, would you rather have: a win over Colorado and a loss to Oklahoma, or a loss to Colorado and a win over Oklahoma?
The question made for good debate in the office this week. Tom Keegan said he'd rather have a loss to Colorado and a win over Oklahoma, because at least then, you would have a victory over a strong opponent. I can see his point, as what has hurt the Jayhawks over the last three years, at least in the public eye, is the lack of victories over big-name opponents (Missouri last year and Virginia Tech two years ago are the only two ranked teams KU has beaten in the last three years).
I think I'd go the other way, though. If I were a KU fan and my team had started 6-0 after beating Colorado, I don't think I'd be too down even after a loss to Oklahoma. The Sooners traditionally have been powerhouse, and at 6-1, I would still feel like KU had plenty of opportunities to beat a big-name opponent after taking care of business against the teams it was supposed to beat. I think the CU loss does more damage to KU's reputation than a win over OU would help.
So what do you think? Which scenario would you prefer? Make sure to vote in the poll on the left.
More like this story on KUsports.com