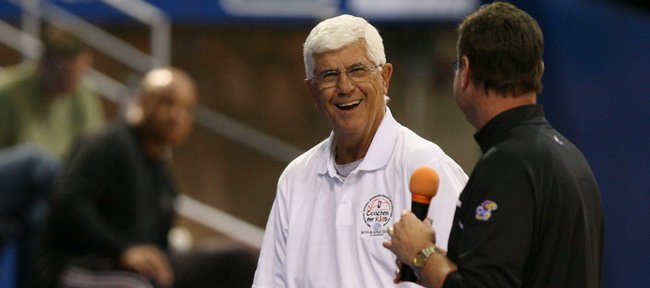 Good buddies Bill Self and Billy Gillispie sat in the lower-level, west-side bleachers of Allen Fieldhouse on Friday night, listening intently to NBA legend Del Harris, who served as guest speaker at Self's annual Kansas University basketball coaches clinic.
It was a personal reunion of sorts for the two Bills, who worked together from 1997 to 2002 at both the University of Tulsa and Illinois.
"I love watching practice," said Gillispie, who was fired as head coach at Kentucky last March 27 after two seasons in Lexington.
"I hadn't seen coach (Self) practice, obviously, since I left to go to UTEP after I was with him at Illinois (in 2001-02)," added Gillispie, who watched Friday's two-hour KU hoops practice with great interest.
"Believe me, coach always has their best interest at heart," he said of seventh-year KU coach Self, who isn't afraid to speak up while putting his players through drills. "He's always trying to make them better, always worried about making sure the team gets better as well. It always works. He always knows what buttons to push."
Gillispie left Friday's practice agreeing with those who believe the Jayhawks will vie for Big 12 and national honors.
"I think they are going to be great," Gillispie said. "It looks like they've got a loaded roster. They've been recruiting great and winning all the time. They obviously coach them great.
"As a fan, you always want your team to win every single game. Nobody wants that more than the players and coaches, but it's almost impossible to do. I don't guess it's been done since (Indiana) 1976. Just like always, they (KU fans) have high expectations. They should expect great things from the team. It's so difficult to advance. There are so many good teams and so many things that can happen. They'll definitely be one of the few teams in the country that has a great chance to win it, I would think."
Gillispie, who had a stormy two seasons at Kentucky, was asked if one could soon expect to see him back on the bench coaching again.
"I hope so," Gillispie said.
College or pro?
"I don't know. I'm just over here enjoying this experience here right now. It's not about me. I just came to help any way I can with this particular clinic, get to see a lot of coaches, friends, and enjoy a great weekend."
Gillispie will speak X's and O's to several hundred coaches at the clinic today.
"I came here because I'm great friends not only to coach (Self), but the entire staff," Gillispie said. "I feel very honored. I'm definitely missing the game, and I love watching practice, those kind of things, but coach has been so good to me. I would never have had any opportunities if not for him. He's got such a great staff and leadership up top starting with (athletic director) Lew Perkins. This place ... what a beautiful facility they've built. I'm just having a great time visiting here."
He expects to see Self in Lawrence a long time.
"I can't speak for coach, (but) it's such a perfect fit — it has been since Day One," Gillispie said. "He's the best guy in the world. He knew (how much he'd like KU) before he got here and every single day that he's been here. I think for many, many, many, many, many years to come they'll definitely be happy (at KU)."
Harris in town, too
Del Harris, 72, returned to Allen Fieldhouse for the first time since the mid-1980s, when he worked a game as an NBA scout.
"It has a brighter look than it did at the time," said Harris, former head coach of the Houston Rockets, Milwaukee Bucks and Los Angeles Lakers and assistant on other teams. "If you didn't know this was a historic building, there'd be no way you could tell it (was over 50 years old). They've done a great job with it. It looks state-of-the-art."
Like Gillispie, Harris thinks KU will field a strong team.
"Well, I like what I see. I think they have a lot of depth," Harris said. "They are athletic, working hard, and I think everybody here has good reason to feel totally optimistic."
Bumps, bruises
Jeff Withey (stress fracture, right knee) and Brady Morningstar (right ankle sprain) shot on the side while sitting in chairs at practice Friday. Withey is out four to six weeks. Morningstar, who wore a protective boot on the foot, may miss a week or so. Both players are not eligible to play until the end of first semester.
Recruiting
Brandon Knight, a 6-3 senior point guard from Pine Crest High in Fort Lauderdale, Fla., will make an official recruiting visit to KU next weekend, Knight's dad told Rivals.com. Rivals.com's No. 1-rated player has visited Kentucky and UConn. ... Adreian Payne, a 6-10 senior forward from Jefferson High in Dayton, Ohio, has canceled next week's visit to KU, Rivals.com reports. He is considering Kentucky, Arizona, West Virginia and Michigan State. ... Terrence Jones, 6-8 senior from Portland's Jefferson High, still may make an unofficial visit to KU, Rivals.com reports. He has a list of Kentucky, Oklahoma, Oregon, UCLA and Washington. ... Harrison Barnes, a 6-8 senior forward from Ames (Iowa) High, wrote his own blog concerning last week's visit to KU. It is available at this Web address. He said, "Late Night was great. I really had a great time," in the blog.
More like this story on KUsports.com