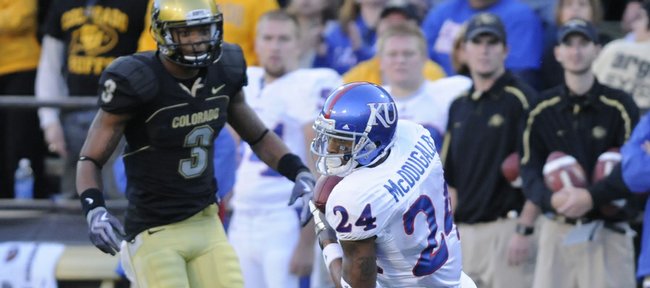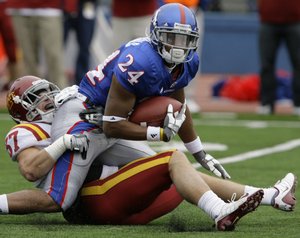 In a perfect world, violence would be non-existent, vegetables would taste like brownies, and college football players would finish the season on the same side of the ball on which they started.
In reality, people fight, vegetables taste like vegetables, and college coaches — spurred by injuries or underachievement or exposed weaknesses — are forced to make difficult midseason changes.
Hence the current predicament of Kansas University wide receiver Bradley McDougald, who saw his first defensive snaps of the season in last week's loss to Colorado and, according to KU coach Mark Mangino, will play both receiver and safety for the remainder of the season.
"It's difficult, but sometimes, out of necessity, you have to do it," said Mangino, whose No. 24 Jayhawks will host No. 25 Oklahoma at 2:30 p.m. today. "And what you need is a young guy who's willing to do it and willing to understand there's going to be some frustration and some disappointment early on."
For his part, however, McDougald seems to be handling the re-positioning amicably.
Despite signing with Kansas because it was one of the few schools that would allow him to play offense instead of defense — "That was the whole No. 1 reason for me coming here was to play offense, and to play receiver in a high-powered offense," McDougald said — he indicated this week that the switch, which came about a few weeks ago, wasn't causing too much frustration.
"We have great receivers," he said Tuesday, "the guys in front of me, the guys behind me. So wherever they need me. If it's not on the offensive side of the ball and I'll have a bigger impact on defense, then that's just what I'll do, because we're a hungry team. We're looking for a Big 12 championship, so I'll do whatever."
While there are the obvious technical issues that come with a midseason position switch — mastering the complexities of a college playbook, learning to communicate on-field with a new set of teammates — there are also a number of mental factors involved.
For one thing, there's a certain discomfort in being pulled away from your natural position and deposited in a foreign unit. For another, the switch from a glory position like receiver to a more anonymous defensive assignment can be a disappointing prospect.
"That's why a lot of players like playing receiver over DB," cornerback Daymond Patterson said. "Because when you do make a play, everybody sees it. It can be a two-yard touchdown, and everybody remembers you scored a touchdown. But defense, you can get five pass breakups a quarter, 20 in a game, but that gets thrown out the window."
Patterson's words carry a good deal of weight based on the events of his first season in the Kansas program.
After starting the 2008 season as a promising receiver, catching eight passes for 130 yards and two touchdowns in a victory over Louisiana Tech, Patterson was shifted to cornerback following the Jayhawks' disastrous outing against Texas Tech, in which they were burned for 63 points and 556 yards.
In the end, the switch came down to coaches' desire to infuse speed and athleticism into a struggling secondary, which Patterson, one of the team's fastest players, could certainly provide.
But for a young player still trying to find his way in a Div. I program, the implication that he's not producing in his original position can lead to a shattered psyche.

"Most of the time, if you're doing amazing at receiver, they're not going to just move you from receiver to DB," Patterson said. "... Most people, when they get moved, feel like they haven't been doing what they need to at that position. So you've just got to make sure you keep your confidence up and just continue to go out there and believe in yourself."
In the case of McDougald, underachievement does not appear to be the underlying issue. Much like Patterson's situation a year ago, the switch speaks more to Mangino's long-standing philosophy of using his best players on defense, and McDougald — whom Mangino called the most impressive true freshman he has had during his tenure at Kansas — certainly seems to fit that bill.
In six games at receiver this season, he has caught 21 passes for 226 yards and was the team's third-leading receiver — behind potential All-Big 12 selections Dezmon Briscoe and Kerry Meier — through five games this season.
What's more, he's still working at receiver 75 percent of the time in practice, a figure that seems to be enough to keep the player happy.
"I'm not too worried about it," McDougald said. "We have a lot of great receivers, like I said. So if we can replace me with another receiver and move me over to defense where I'm needed, that's just the transition I'll have to make."
More like this story on KUsports.com