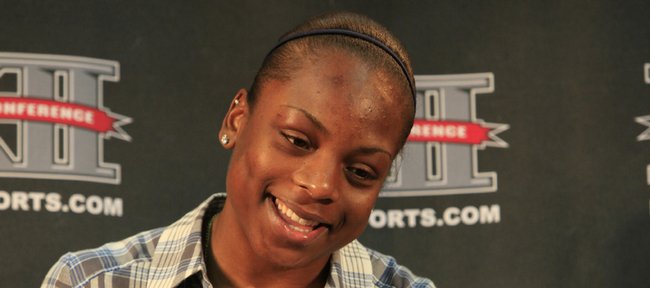 Photo Gallery
2009 Big 12 Women's Basketball Media Day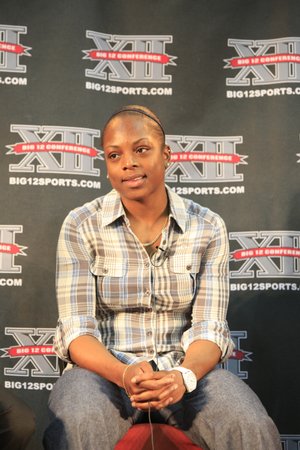 2009 Big 12 Women's Basketball Media Day, held Oct. 21 at the Sprint Center in Kansas City, Mo.
Videos
Kansas women's basketball season preview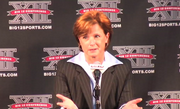 After finishing strong last season, the KU women's basketball team is seeking an elusive NCAA Tournament berth in 2009-10.
Kansas City, Mo. — Texas A&M; coach Gary Blair thinks Kansas University's women's basketball team has its own Michael Jordan and Scottie Pippen.
Their names are Danielle McCray and Sade Morris.
"Jordan and Pippen were always who you looked up to as a duo. I think that's a good comparison now," Blair said at the Big 12 Women's Media Day on Wednesday at the Sprint Center.
The coach added the words he had to say next.
"McCray," he said, "is definitely Jordan."
And so it goes for McCray, who was selected last week as the coaches' preseason pick for the conference player-of-the-year award.
With Oklahoma's Paris sisters (Courtney and Ashley) graduating, the Olathe East product McCray has suddenly found herself in a Jordan-esque role — carrying the hopes of her team while also becoming the new face of Big 12 women's basketball.
"Danielle McCray, in my mind, is the best player in the country that a lot of people don't know about," Iowa State coach Bill Fennelly said at the podium — and he was answering a question about the Big 12 in general. "Now, she's going to get her chance to shine."
So what do other conference coaches see in McCray?
For one, they see a player that seems to keep getting better.
Missouri coach Cindy Stein used to be able to game-plan against McCray, but she said it's becoming increasingly difficult.
The coach used to have her players try to take away McCray's outside shot, but now McCray has started driving to the basket. Stein would have her players guard McCray's right side, but now McCray takes it left. McCray used to struggle with coming around the corner on screens. Now, she does that well, too.
Every time she receives new film on McCray, Stein sees something she hasn't seen from the senior before — whether it's a new move or an additional wrinkle off a screen.
"She improves during the season," Stein said. "That's what makes it worse."
Perhaps more importantly, coaches view McCray as a player who could shape the future of KU women's basketball.
Deb Patterson, in her 14th season at Kansas State, sees McCray having the same potential to lift a program as former KSU star Nicole Ohlde did.
The similarities are there. Both Ohlde and McCray are Kansas natives who emerged after a few years in their respective programs. Both played for USA basketball, and both were selected as preseason players of the year in the conference.
"You get a player like Danielle who just is such a great person and a great representative of what you want your program to be about," Patterson said, "then she excels and establishes not just a regional identity, but a national identity."
Patterson has seen first-hand how a marquee player can raise a program to new heights. And that's why she already calls McCray "one of the most significant people in my 13 years here working in Kansas to have come into the picture in Kansas athletics."
Blair also believes the signing of McCray very well could be the turning point for the KU women's program under coach Bonnie Henrickson.
"When a new coach comes in, you've got to have somebody in that state that believes in you, instead of going to another place to play ball," Blair said, "and that's what McCray did for Bonnie."
McCray is one of the main reasons KU has gained instant respect this offseason, despite the fact that the Jayhawks haven't made the NCAA Tournament since 2000.
KU was picked by coaches to finish in a tie for second in the conference, even after going just 6-10 in the league last year.
Much of the lofty expectation can be attributed to McCray.
"As a senior, I think she's the best pro prospect in the league," Oklahoma State coach Kurt Budke said. "Because of that, I think they're a legitimate threat to win the Big 12."
Added Patterson: "Her versatility element with the athleticism with the explosiveness ... those are attributes that every coach in this league dies to have."
Fennelly believes his ISU team defended McCray well last season during its home game against the Jayhawks.
McCray still scored 27 points.
It's part of the reason that the coach had McCray on the mind when asked Wednesday about the conference in general.
"She's already had a great career, but unfortunately for her, she's kind of had to play in the shadows of the Paris twins and a few other people," Fennelly said.
"I think the whole country is going to find out how good she is."
More like this story on KUsports.com