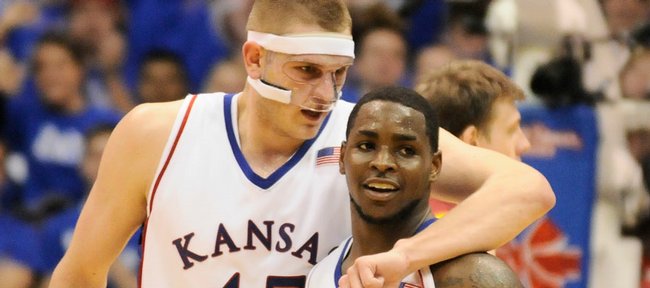 Sherron Collins, who played a sixth-man role on Kansas University's 2008 national championship basketball team, agrees with those who believe the 2009-10 Jayhawks ultimately could match the accomplishments of that wildly successful squad.
"Maybe ... if we get on the same page like we did then," said Collins, KU's senior point guard from Chicago. "Talent-wise, you might say the teams are similar. I think it's a little better (this year), though."
The 2007-08 Jayhawks, who went 37-3, boasted current NBA players Brandon Rush, Mario Chalmers, Darrell Arthur and Darnell Jackson, as well as Russell Robinson, who is in the preseason camp of the Cleveland Cavaliers, and Sasha Kaun, who plays in Russia.
It remains to be seen how many of the '09-10 Jayhawks wind up in the pros. Junior center Cole Aldrich and freshman guard/forward Xavier Henry are expected to be NBA lottery picks. Collins, sophomore guard Tyshawn Taylor and several others also entertain NBA dreams.
"Coach (Bill) Self even compared the two teams. He said if we played them ('08 champs) right now, they'd beat us real bad," Collins said. "That's exactly how he said it. When February rolls around, maybe we'd have a chance. We've got to become a team first."
Self doesn't dispute the notion this could be a repeat of 2008.
"I do think there are some similarities," Self said. "I don't know if this team is quite as athletic, fast. This team may be bigger. This team is probably deeper, which doesn't always translate to positive things. You can only play so many guys.
"This team is not ready to beat that team. It would not be a contest as of today," Self added. "That team was coming off a 33-5 record, winning a conference championship, losing in the Elite Eight. It was battle tested, hungry. This team didn't operate in pressurized situations as much last year. I felt everybody was happy with their performance, going 14-2 (in league) and to the Sweet 16, a lot of people telling them how well they did. That team before was driven to do better. Hopefully this team will be driven the same way.
"That team didn't rely on newcomers. This team will have to rely on some newcomers. There are some unproven pieces. There are a lot of similarities from a talent standpoint. From a natural talent standpoint, we have some nice players."
And, just like the 2008 team …
"I think they are good kids. They are fun to be around, unselfish. They play like they like each other," Self said. "We don't have guys into the game just for them."
One thing is certain: Comparisons between this year's team and the '08 title squad will be discussed much in the media, but not in the locker room.
"Some of us weren't here in 2008," senior guard/forward Mario Little said. "We'll set our own goals. We won't go off 2008. There's not pressure we have to win because the 2008 team won. We'll just go play."
"Coach lets us know we have a long way to go," sophomore guard Taylor said. "It's good that people see us as the best team in the country, but we know we're nowhere near that yet. If we come in with the attitude of getting better every day, the better we'll be in March."
The 2009-10 Jayhawks, who have practiced four times since Friday's Late Night in the Phog, will take part in Big 12 Media Day festivities today at the Sprint Center in Kansas City, Mo., before holding a late-afternoon practice at KU. The first exhibition game will be 7 p.m. on Nov. 3 against Fort Hays State.
More like this story on KUsports.com