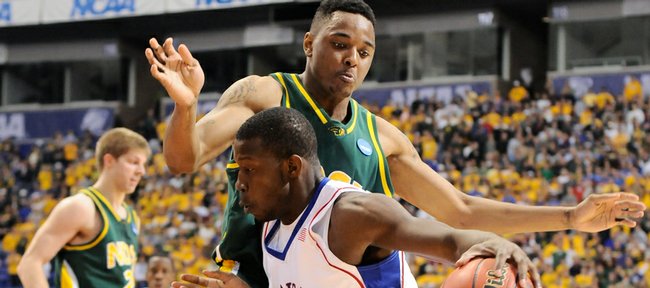 Too polite to issue a no-comment or walk away from an interview, Mario Little nonetheless makes it clear he'd rather not discuss a painful subject — the 2008-09 season, his first as a Jayhawk.
"I'm done with last year. Last year was just ... interesting," Little said.
The 6-foot-5, 210-pounder from Chicago, who arrived at Kansas as Rivals.com's No. 1-ranked juco player, was a shadow of the standout who earned All-America honors his sophomore season at Chipola College.
A stress fracture in Little's lower left leg sidelined him from mid-October until Dec. 5. Just as the leg started to feel better, he broke his left hand at practice on Dec. 16.
"I wasn't at full strength. It was tough to try to keep up with the guys," Little said. "I wasn't able to go until January. I wasn't in shape because I was just sitting down letting my leg heal. I felt out of shape. I had a couple good games.
"That was last year," he repeated.
Little, who played effectively during KU's 2008 Labor Day weekend trip to Canada, made his official Jayhawk debut on Jan. 3 — a zero-point, five-rebound, 10-minute outing against Tennessee.
Playing out of position at power forward, he hit 10 of 10 shots and scored 24 points in victories over Texas A&M; (Jan. 19) and Iowa State (Jan. 24).
After combining for 22 points and nine rebounds in a win against Oklahoma State (Feb. 7) and a loss to Missouri (Feb. 9), Little failed to score more than seven points or grab more than six rebounds in a game the rest of the way.
"I felt I was in a slump a long time. I don't think I got out of it," said Little, who averaged 4.7 points and 3.2 rebounds in '08-09 after averaging 15.2 points and 5.5 boards at Chipola.
Little had surgery on April 17 in which a rod was placed in his lower left leg.
He was back on the court in mid-June, preparing for his second and final season at KU.
"My leg is good. My shin is good. I feel like I'm at least 90, 95 percent," Little said. "If I'm healthy, I'm confident in everything I do. I have my own personal goals to get back right and play like I usually play."
That also means playing where he's most comfortable — at small forward instead of power forward.
"I don't go with the bigs. I go with the guards unless one of the bigs is messing up and they need an extra (big)," Little said.
As to why he prefers the backcourt to the frontcourt:
"You get to create — play instead of just setting screens," Little said. "I can't post somebody up, drop step and dunk, so ... "
KU coach Bill Self isn't ready to proclaim Little solely a perimeter player.
"I don't see him anywhere yet," Self said. "A lot may depend ... do you play him there (3-spot) if Marcus (Morris) is playing there? You still have Travis (Releford) and potentially Brady (Morningstar, second semester). It's kind of a crowded house in that one spot. Of the house, nobody has stepped forward yet. We'll have to wait and see."
Self believes Little is capable of thriving on the major-college level.
"I've not seen Mario play healthy," Self said. "He's moving better than he has at any point in time since he's been here. I think he'll find his way. He showed flashes last year of being effective, but his health was never 100 percent."
Little sacrificed for the good of the team last season. He seriously considered a red shirt, but decided instead to play in pain while helping out a thin frontcourt.
"He helped us win games," Self said. "It was the right decision from my vantage point, not selfish (decision). If he was not healthy this year, we could always red-shirt him this year. We didn't recruit him and he didn't come here to red-shirt. He came to impact our program. He did that the best he could last year."
Little realizes he'll have to earn all the minutes he gets.
"You don't worry about individual stuff here at Kansas," Little said. "If we do well, the pie is big enough for all of us. It's not an individual thing, just come out and work hard, try to contribute to the team."
Little won't call himself one of the best players on the team. He will proclaim himself THE best in one area, though.
"I am the best dancer, hands down," Little declared.
Indeed, he was the most rhythmic of all Jayhawks at last Friday's Late Night in the Phog.
"I thought Mario acted like he looked like he knew what he was doing," Self said in agreement.
KU's coach is rooting for Little to emerge as more than a solid-gold dancer this year.
"Coach and I had a lot of talks over the summer and after the season about me getting healthy and being able to show who I really am," Little said. "I'm definitely focused."
Hoops recruiting update
Terrence Jones, a 6-8 senior basketball forward from Portland's Jefferson High, has eliminated Kansas University from his list of schools. His mom tells Rivals.com the finalists are Washington, Oklahoma, UCLA, Kentucky and Oregon.
More like this story on KUsports.com